Receive an email when this feature launches
Your production planning isn't supporting your business as well as it should.
Short-term thinking hurts your production planning and your entire business, as a result.
If you're focusing on just your next purchase order, you aren't estimating the sizing and timing of what you'll need after that.
With supply chains disrupted and so uncertain, working from one PO to the next may lead to stockouts and hurt your customer's experience.
Your relationship with your manufacturer isn't as great as it could be.
Your rates and terms aren't great, and your cash flow takes a hit.
You aren't sure if your suppliers have availability to get your orders into their production schedule.
You're vulnerable to the volatility of the supply chain.
You need a production plan that will help meet your revenue and demand goals.
Gain clarity on your inventory health over the next year.
Map your growth plans to your inventory needs for the next year — without touching a spreadsheet.
When your growth rates increase or decrease, your inventory needs will adjust accordingly.
Work out roughly how much inventory you'll need for the next 12 months and draft purchase orders to ensure you have enough product in stock when you need it.
Planning into the future gives your team time to plan accordingly.
Get a visual indication of your inventory levels into the future.
Our heatmap will show you which SKUs have good coverage and which don't.
We'll recommend which SKUs need a production order, so you can take that to your vendor to negotiate and create more clarity into your future needs.
When you're ready, draft and issue a purchase order for the necessary SKUs.
Take timing into consideration.
Production orders give you a long-term view to help you estimate your needs into the future.
As time passes, you can convert those estimates into concrete purchase orders, at which point your inventory needs will be more accurate.
We'll help you find the spectrum of plans and where the potential pitfalls are.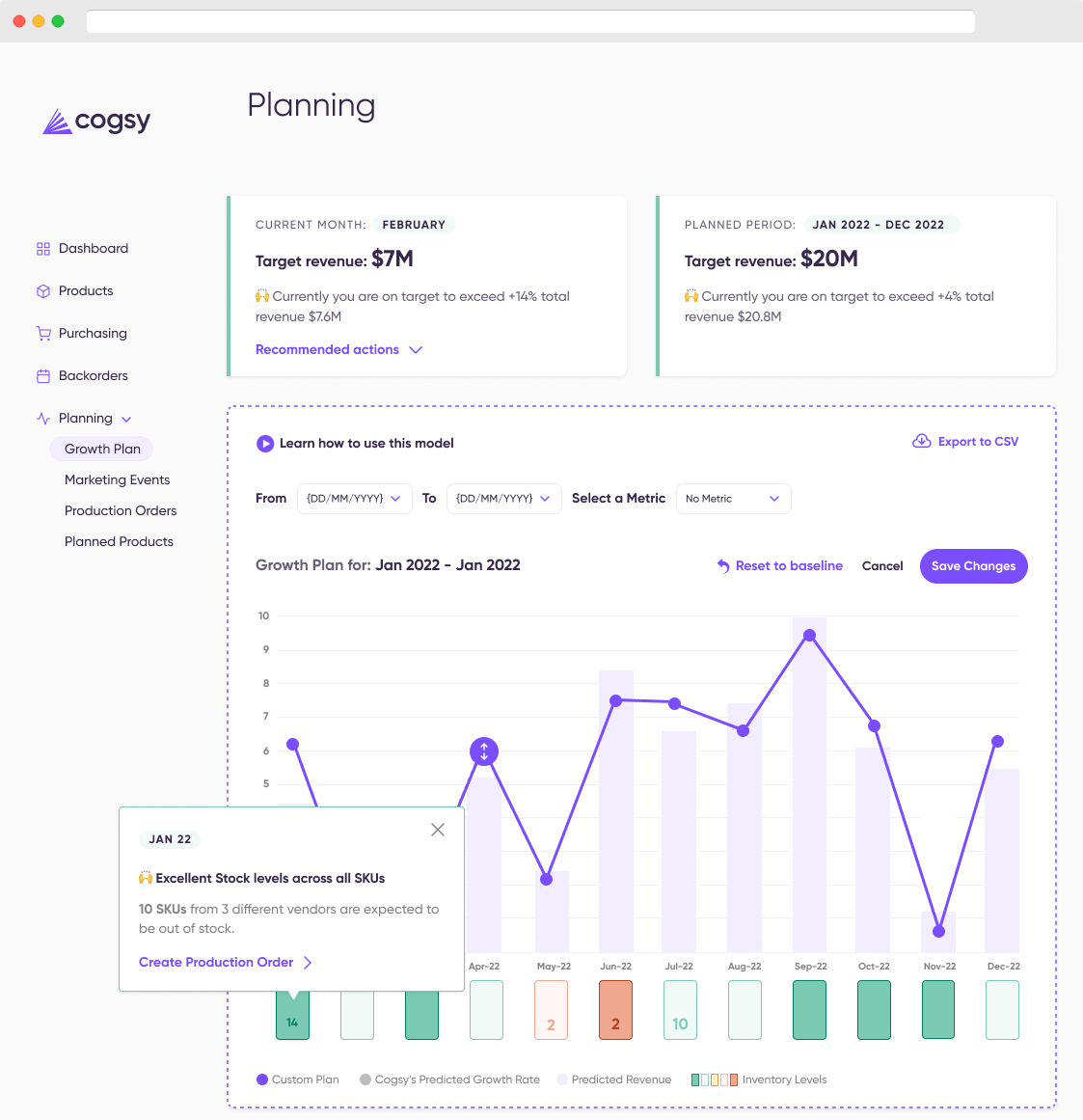 Start productive conversations with your suppliers.
Improve relationships with your suppliers.
Vendors value predictability and consistency. Communicating with them about your 12-month plan will create stronger connections.
By telling your manufacturers approximately how much and when you'll need over the next year, your manufacturer can ensure availability in their production schedule.
Negotiate better terms with suppliers.
Leverage the predictability you're providing your manufacturers to negotiate better rates based on the total minimum volume you'll order within the year.
When you're in good standing with your manufacturers, you may earn the option to place smaller production runs more frequently.
You also may earn the right to move to the front of a supplier's production line when you're in need of an urgent PO.
Gain an advantage over your competitors.
Quality relationships with suppliers provides you a massive advantage over competitors, especially when supply chains are disrupted or customer demand surges unexpectedly.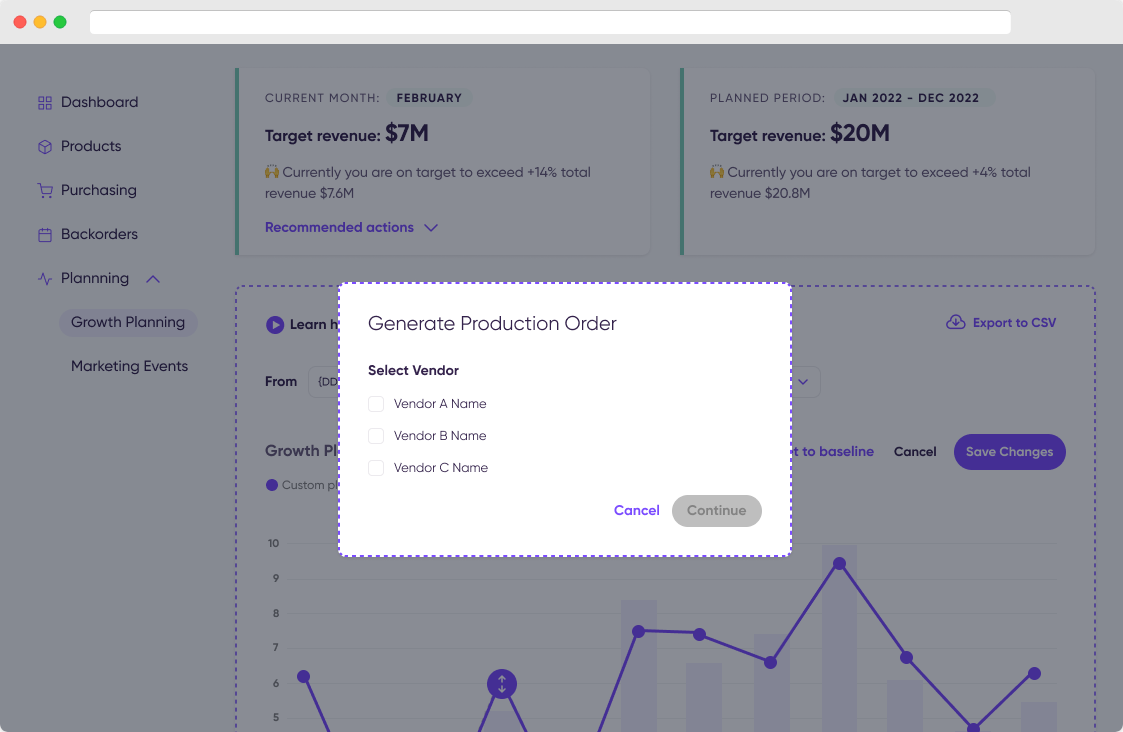 Set your business up for future success.
Gain a clear picture of your inventory needs, so you can prepare accordingly.
Visualize when your stock levels will be healthy and unhealthy.
Be proactive and adjust your purchasing when things are going off track.
Create better relationships with your suppliers.
Negotiate better deals and rates, and save your team money.
By improving your future production planning, free up your working capital for initiatives that can grow your business.