The holidays are still months away. But with ongoing supply chain troubles, brands need to plan for the year's BFCM sales days to ensure they stay in stock.
If you're like most DTC brands, you probably feel like you have plenty of time to prepare for Black Friday and Cyber Monday (BFCM).
After all, this year's biggest shopping days are still months away. But if you don't start thinking about your BFCM deals now, you might fail to meet the ever-increasing customer demand.
Last year, Shopify sales grew 23% during the holiday (totaling $6.3B globally), and there's no sign it'll slow down in 2022.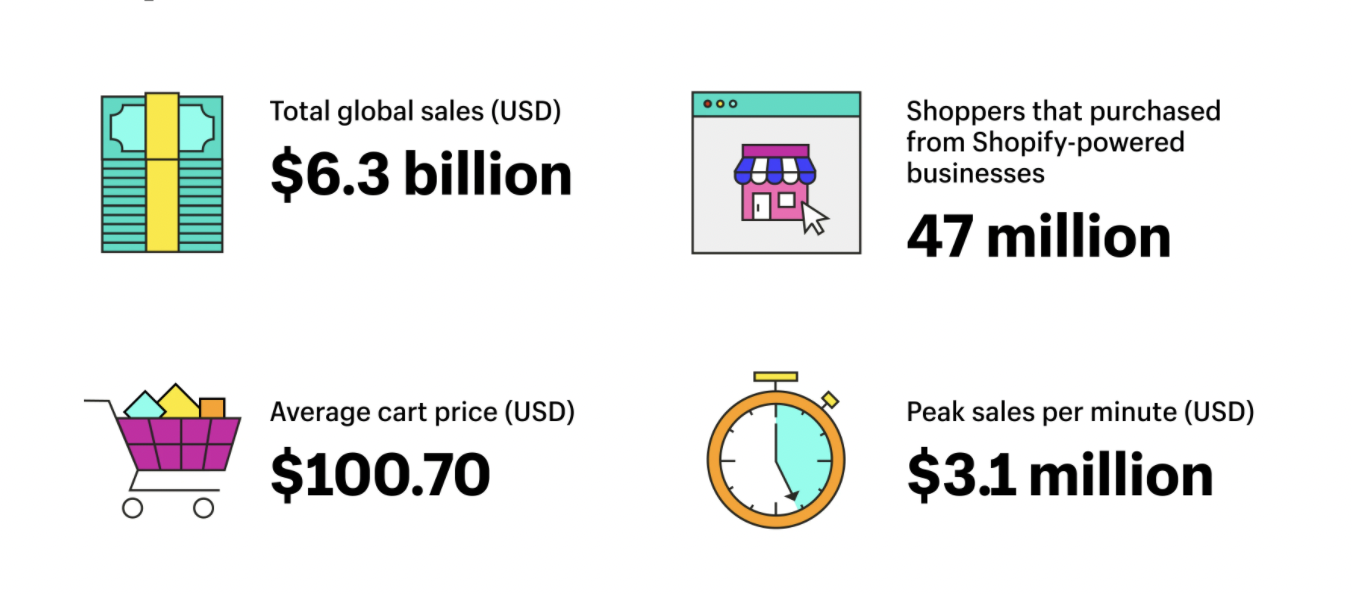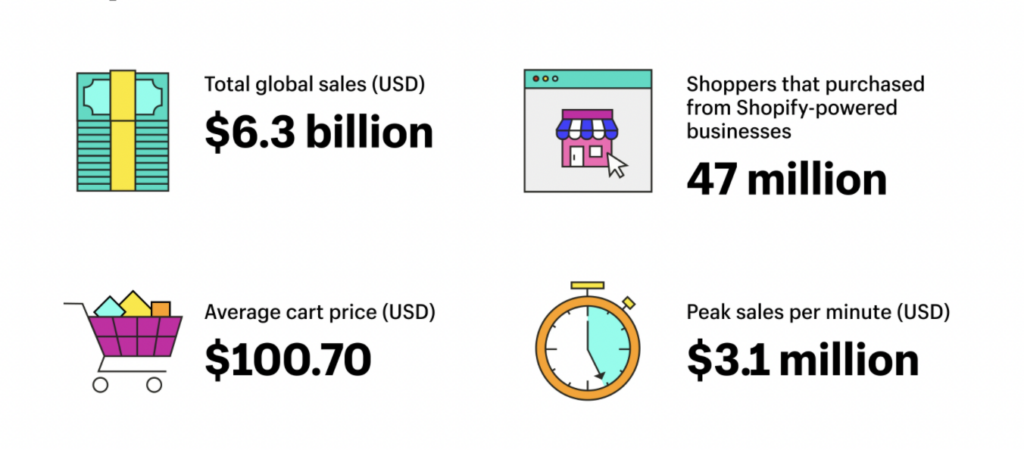 If you want to take advantage of what should be another record-breaking holiday season, you need to start your inventory planning now. That way, you have enough on hand to avoid stockouts and fulfill all Black Friday sale orders.
Why brands should start preparing for BFCM now
Because of the surge in customer demand, Black Friday and Cyber Monday have always been super challenging to plan for operationally.
And with more consumers shopping small (47m shoppers purchased from Shopify stores last BFCM), there's an even bigger opportunity for your brand this year. But you have to prepare for that surge in demand now if you intend to fulfill it (which might mean choosing the right inventory planner for your Shopify store).
Most years, BFCM lead times sit around 8-10 weeks. But this year, they're sitting around 6 months on average (or ~3x longer than usual) due to ongoing supply chain issues.
Then, factor in global conflicts. And suddenly, we're looking at tremendous slows in production schedules and increases in lead times.
Meaning, if you don't place your Black Friday and Cyber Monday orders within roughly the next month, you'll risk dealing with a stockout on top of the holiday craziness. As a result, you'll miss out on the biggest revenue opportunity of the year. And you'll frustrate customers in the process.
Why? Because shoppers are on a time crunch during the holidays. So you can't solely rely on back-in-stock notifications or selling on backorder. If you go out of stock, they'll likely just purchase the item from a competitor instead, and you'll completely lose out on that revenue.
Luckily, by preparing for Black Friday and Cyber Monday now, you can ensure you stay in stock and take full advantage of this massive revenue opportunity.
How to prepare for the Black Friday Cyber Monday weekend in 5 steps
Successfully preparing for Black Friday and Cyber Monday means hammering out 5 key elements:
Let's quickly run through each one.
1. Accurately forecast demand
First and foremost, you need to know how many customers will want to do holiday shopping with your brand. This is your base-level demand and determines how much inventory you'll need to avoid a stockout.
With this base-level forecast, your brand can determine the optimal quantity you'll need to order to avoid a stockout, assuming you run no promotion for your Black Friday deals. And on the flip side, how much inventory would be too much, so you avoid dead stock when the holidays are over.
So, how do you accurately forecast demand?
Many brands start by setting revenue goals and forecasting based on those goals (called "top-down forecasting"). But this strategy is seldom successful.
That's because top-down forecasting ties up too much working capital in inventory (that brands might not have demand for later). So, by the time they sell through this excess inventory, they've accrued so many holding costs that they've wrecked their margins.
Instead, ensure accuracy by creating a bottom-up forecast. AKA, start with your current stock levels, historical sales trends, and production schedule to determine your base-level inventory needs. Then, cautiously layer on growth assumptions.
If you're doing this manually, be aware that human errors and typos can often creep onto these spreadsheets and throw off the end results.
To avoid these human errors, use an ops optimization tool like Cogsy to accurately forecast your brand's demand in seconds (without ever touching a spreadsheet).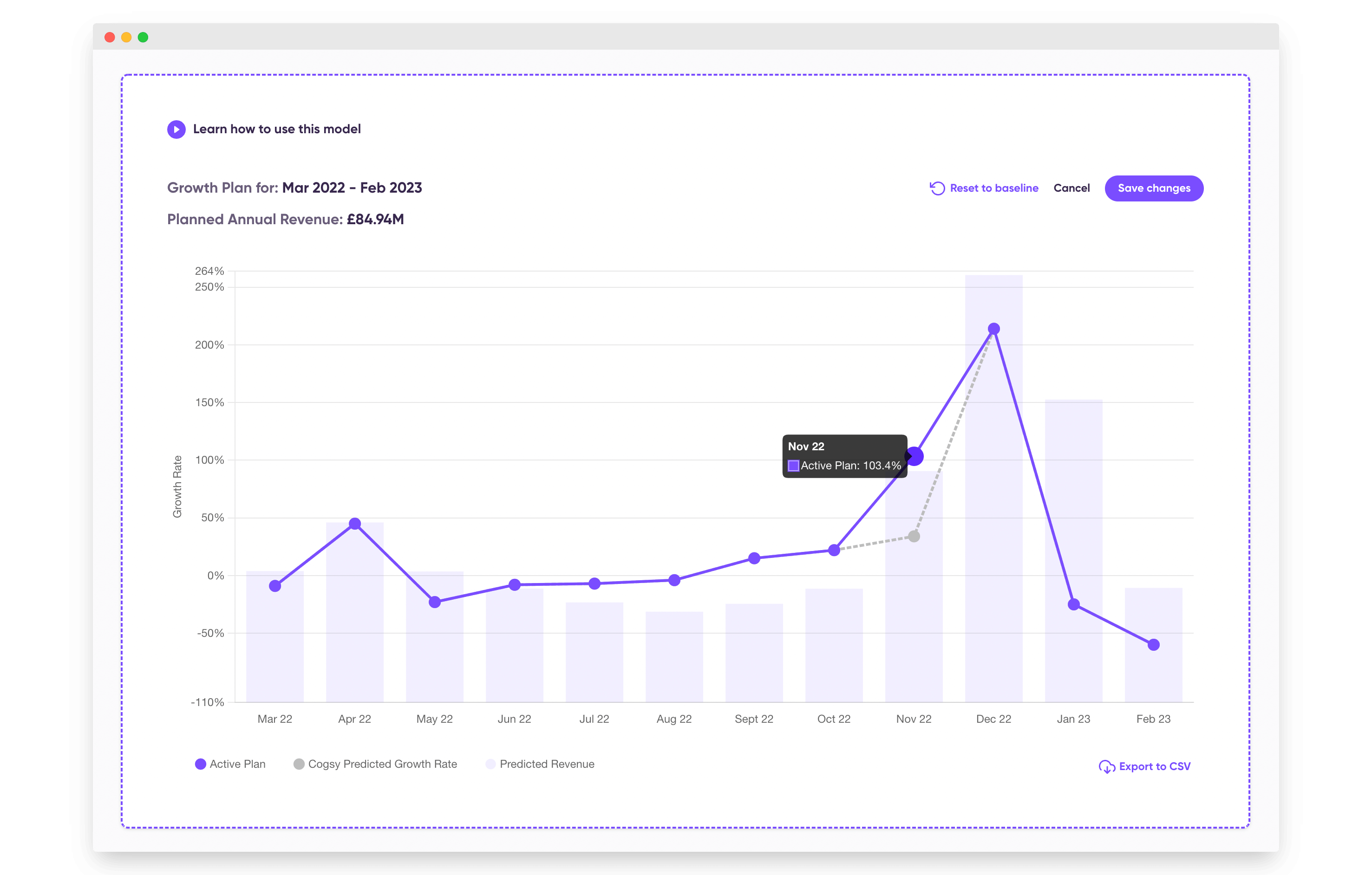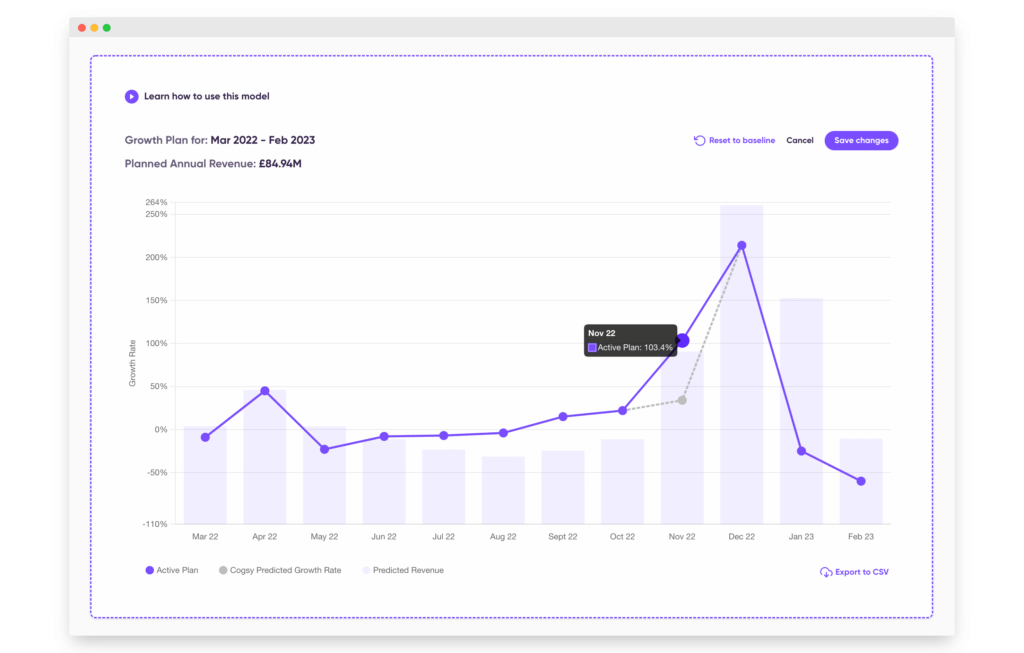 2. Determine your marketing promotion
It might seem early, but you need to pick your BFCM promotions. This way, you can start building a marketing strategy and making educated assumptions about how they'll affect your base-level forecast and change demand.
For instance, what products will you discount (if any) and by how much? Will you offer product bundles?
Last year, Caraway, for example, offered an exclusive holiday bundle that paired their best-selling cookware set and bakeware set at a discounted rate.
(BTW - Caraway's Head of Ops, Mark Riskowitz, broke down how the popular home goods brand ran this promotion, plus their other bundling strategies, on The Checkout.)
Alternatively, you could bundle slow-moving SKUs with best sellers at a hefty discount. Or maybe take this one step further with a "gift for them, and a gift for you" campaign.
For instance, ready-to-drink chai brand Kimbala often gifts their perishable products to customers right before they go bad. And this move has massively helped build brand loyalty.
But imagine if during the holidays they offered this "free sample" to anyone that ordered during the promotion. Meaning, buyers get a free gift to keep when they order a gift for someone else (or themselves) during your marketing event. And you can get rid of dead stock while boosting customer loyalty.
Whatever promotion you decide to include in your BFCM offers, it will change your forecasted demand. And if you don't account for those changes, you'll likely not have enough inventory to fulfill the BFCM weekend's demand.
So, bare minimum, you need to use historical trends to determine 2 things:
What sales like do you expect this promotion to provide?
What SKUs will this lift impact?
Then, layer these assumptions onto your base-level forecast.
Or, if you're using Cogsy, you can do this automatically by inputting the promotion into your marketing event calendar. The tool will automatically update your forecast based on this new information, making the final projection even more accurate.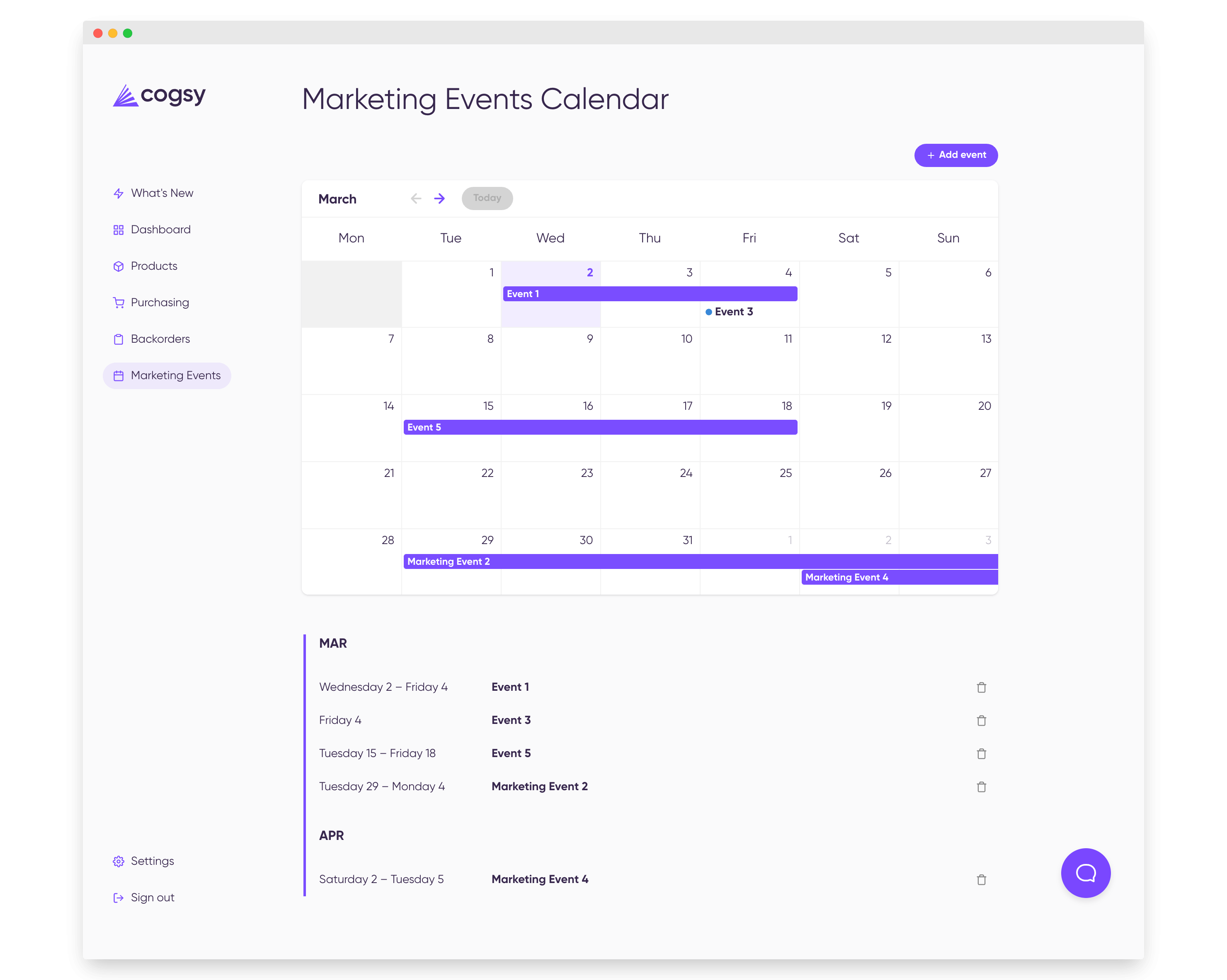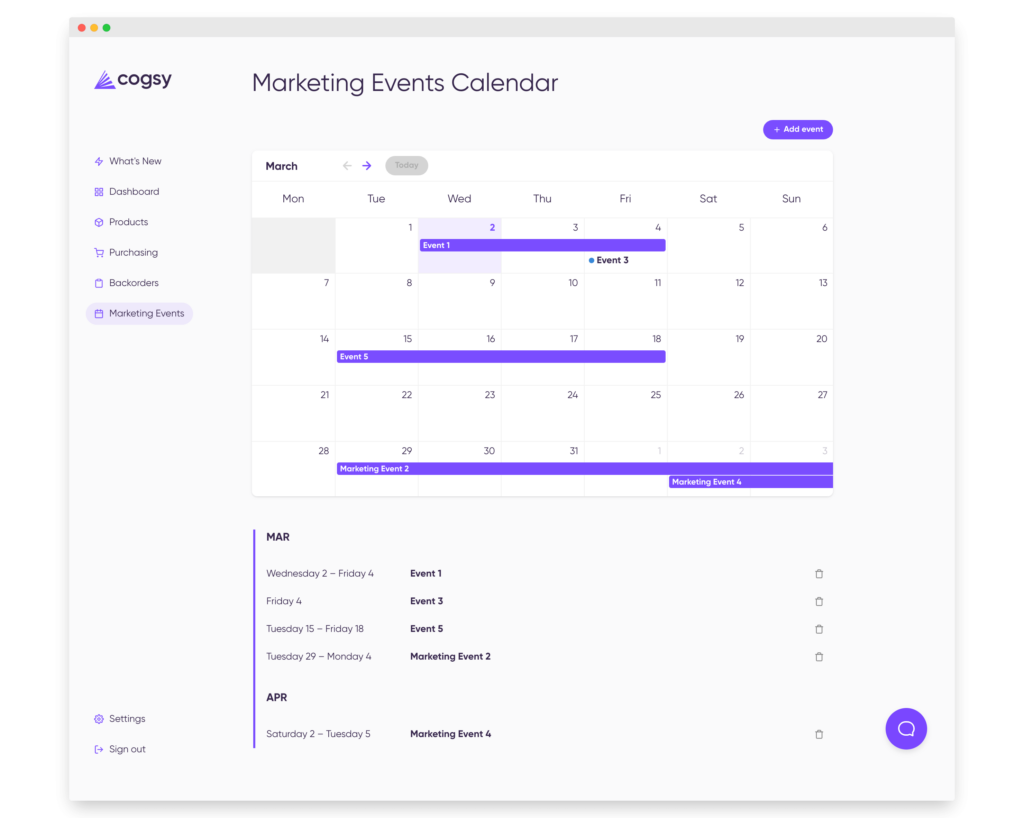 3. Build your operational plan
Once you have an accurate BFCM demand forecast, you're ready to build your operational plan. Or, in laymen's terms, you'll want to determine how much inventory you'll need to reach your revenue goals.
But here's the thing–even the most accurate forecast won't be perfect. And with today's fast fluctuating consumer demand and fears of a recession, it's hard to plan more than a few weeks out.
So, here's what you can plan for: There'll be a margin of error between what you predicted and what actually happens. And how much inventory you need depends on whether your initial forecast is too aggressive or not aggressive enough. To determine which, track your real-time performance against the plan to gauge its accuracy. Admittedly, this is nearly impossible with spreadsheets.
That's because spreadsheets only ever reflect a single moment in time and are time-consuming to update. So, your team will need to update these numbers daily to ensure you have an accurate picture of what's happening and plenty of time to pivot, if necessary.
Or, the better option: You can let Cogsy do all this for you. Once the tool forecasts your demand, it will automatically build an operational plan. You can then move different levers (like expected month-over-month growth or seasonality) to see how these changes will affect your BFCM plan and revenue goals. And as a result, you'll get a few different growth scenarios–some more aggressive than others.
Cogsy then keeps a 24/7 eye on your inventory and sales trends, tracking your real-time performance against those mapped scenarios. This way, you know how much stock you actually need (not how much you think you'll need). And you can pivot quickly and place POs accordingly.
The tool will even automatically build optimized purchase orders for you based on what's currently happening with your brand's operations. And when it's time to submit these POs, you just need to double-check that everything looks good and hit "submit."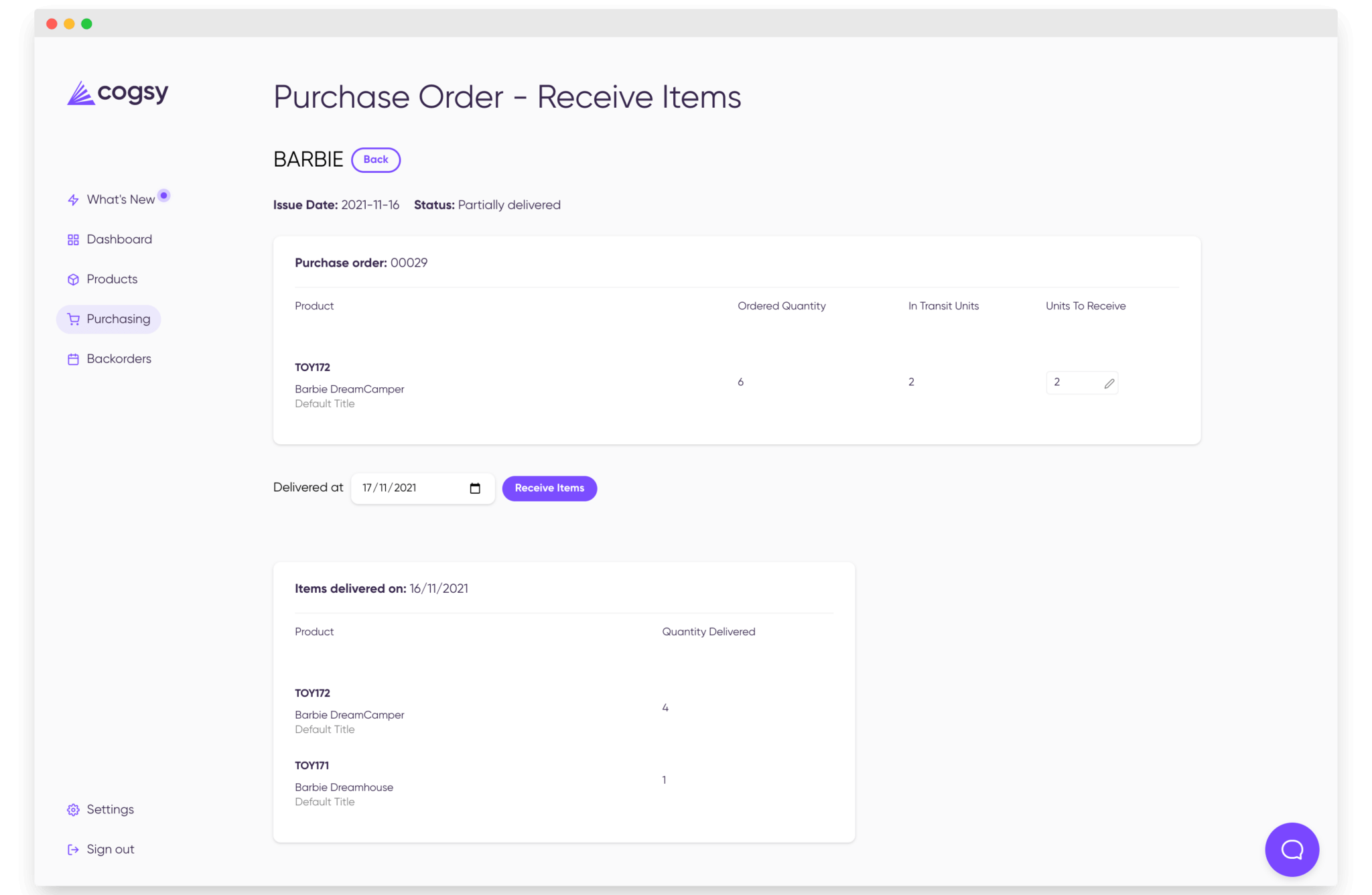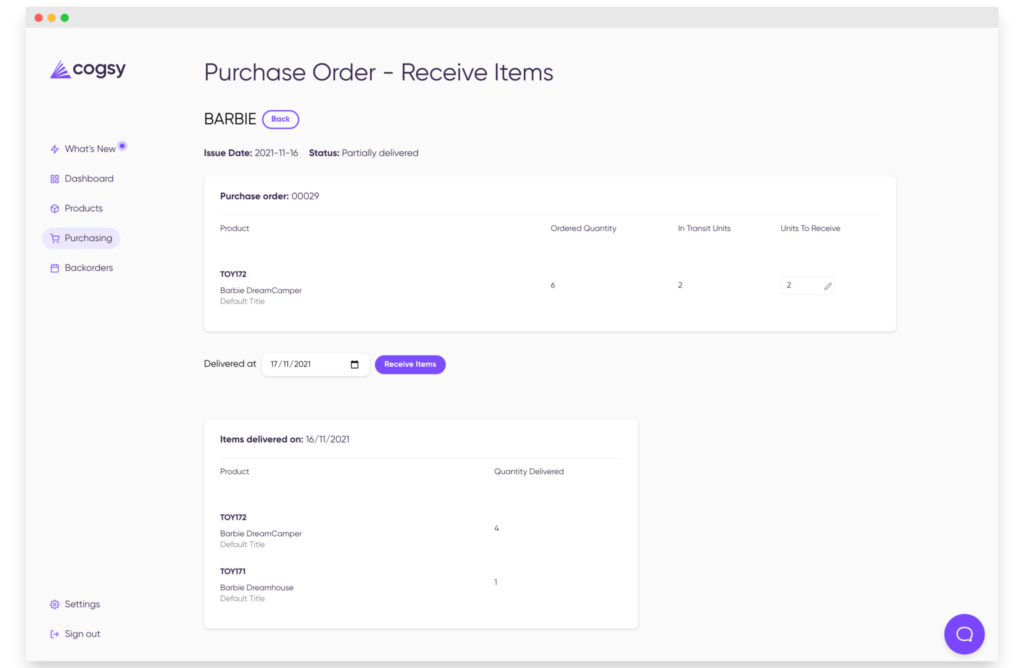 4. Audit your supply chain
As I said earlier, lead times are longer than usual on average. But that doesn't necessarily mean that your brand's lead times have increased.
So, before you place your BFCM order, reach out to your supply chain partners and ask what their lead times look like. And if they're normal (compared to your historical lead times), try putting some pressure on how these experts expect lead times to change in the next few months.
Per Pranay Srinivasan, founder of Manufactured.com, "[Today's geopolitical instability] will affect the supply chain all over the world when shipping routes get disrupted." So, you need to understand how these global events will impact your brand's supply chain.
With this information, you can hopefully receive your PO just before your Black Friday promotion starts. If this holiday inventory comes too early, you rack up holding costs and diminish your margins. Too late, and you'll likely face a stockout and miss part (if not all) of the promotion.
Both are costly mistakes, but the latter is more expensive. Roughly 15% of all missed opportunities happen when cash is tied up in stock that is not ready to sell. And the biggest sales events of the year are not opportunities you can afford to miss.
Luckily, the Cogsy platform provides your brand a single source of operational truth. It tracks how much inventory you have (sold and unsold) in real-time. Plus, any stock that's been ordered and is on its way.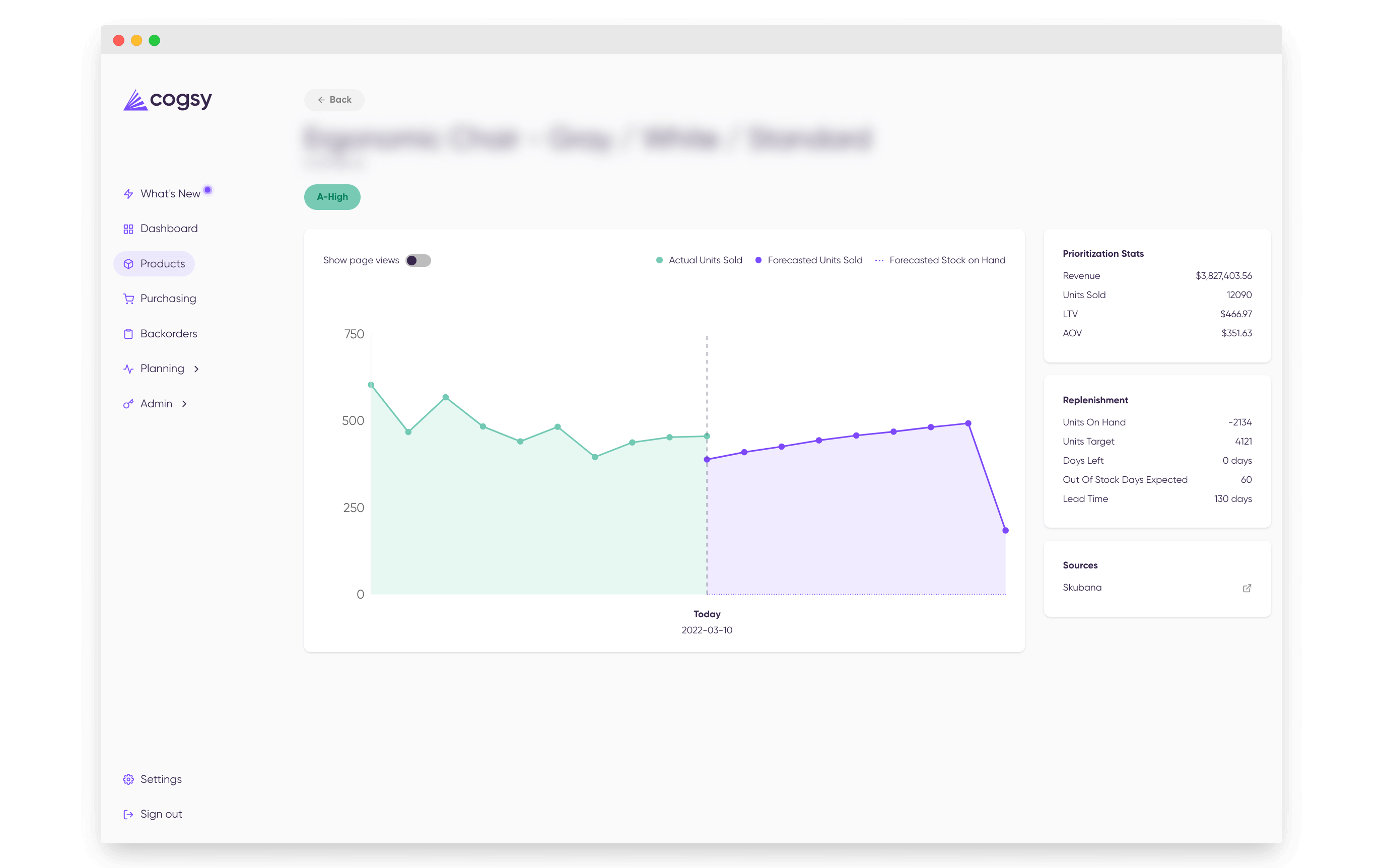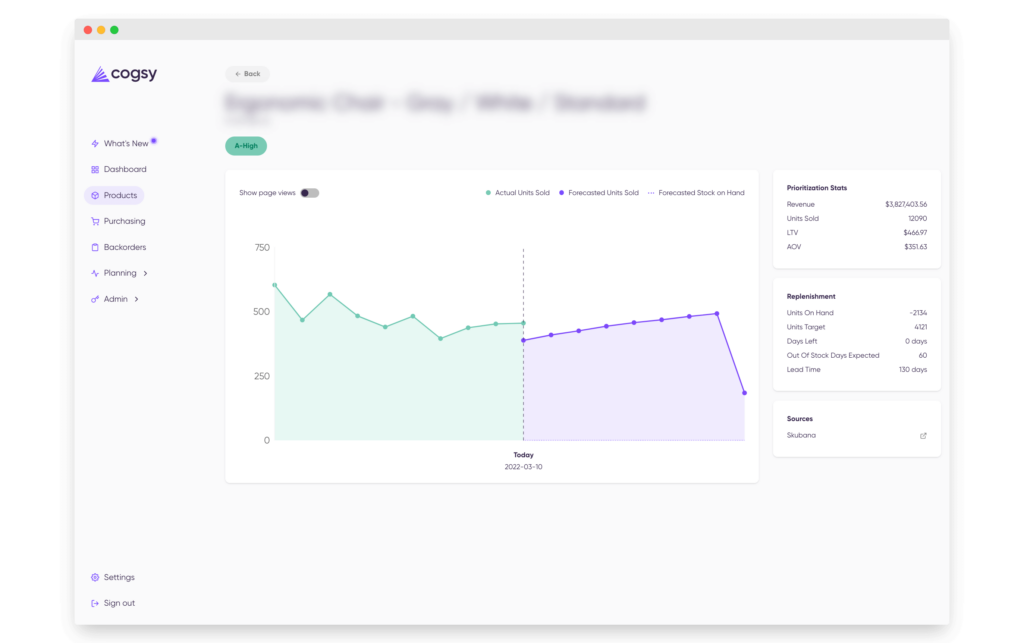 You can even plug the answers you get from each supply chain partner into Cogsy to visualize your supply chain. The tool will then send you a replenish alert, reminding you to place your BFCM order at the perfect time (not too early, not too late).
5. Plan for the worst-case scenario
Due to an unpredictable supply chain, you can't rely on preparing for the best-case scenario alone. And that means you need to plan if things go wrong (just in case).
Especially if last year's holiday experience is any indication, you can expect longer lead times and more stockouts the closer we get to November.
And while Cogsy's replenish alerts ensure brands get those orders in on time, we, unfortunately, can't predict the unexpected. So, if the supply chain goes haywire again, you might need a plan B.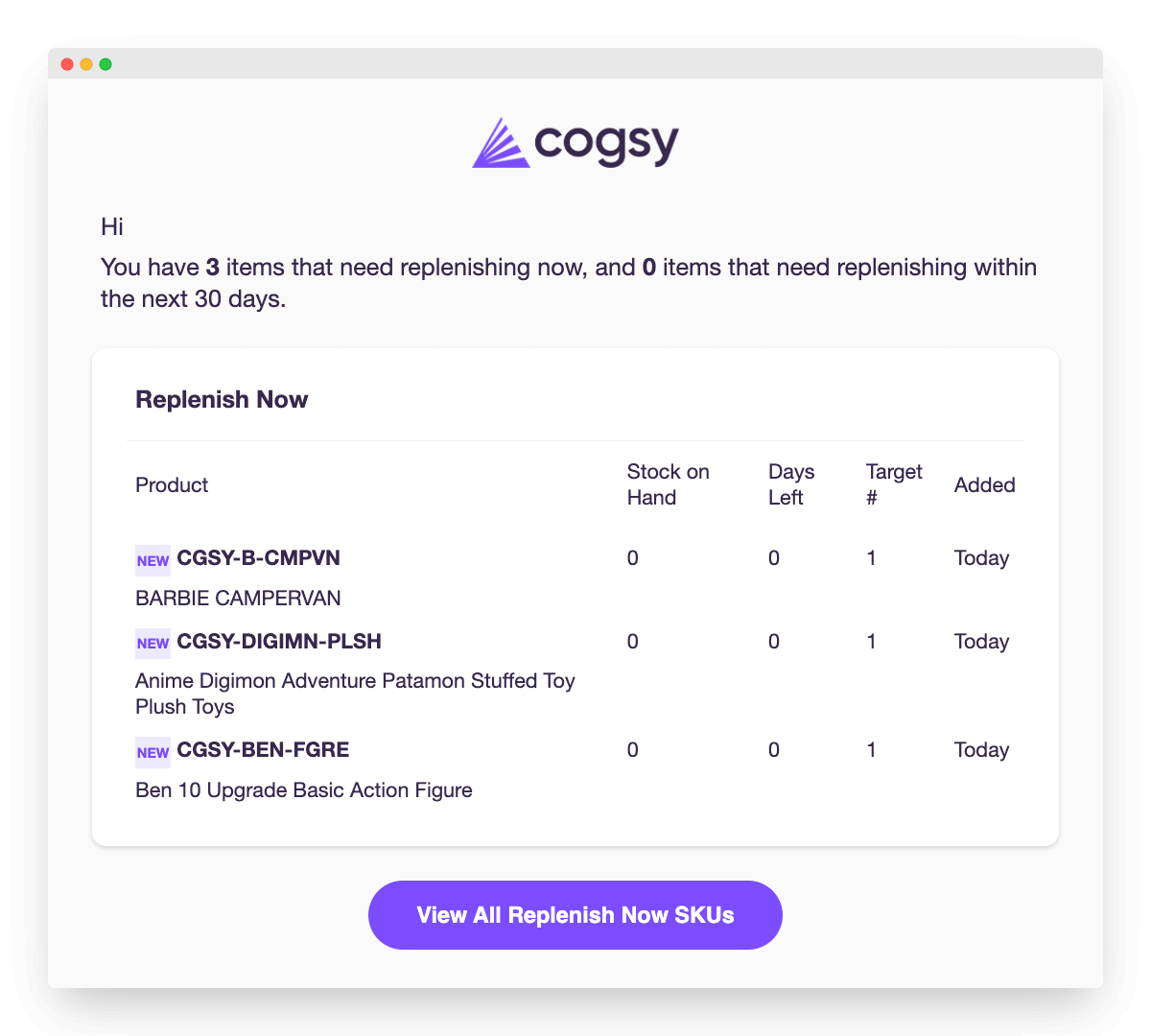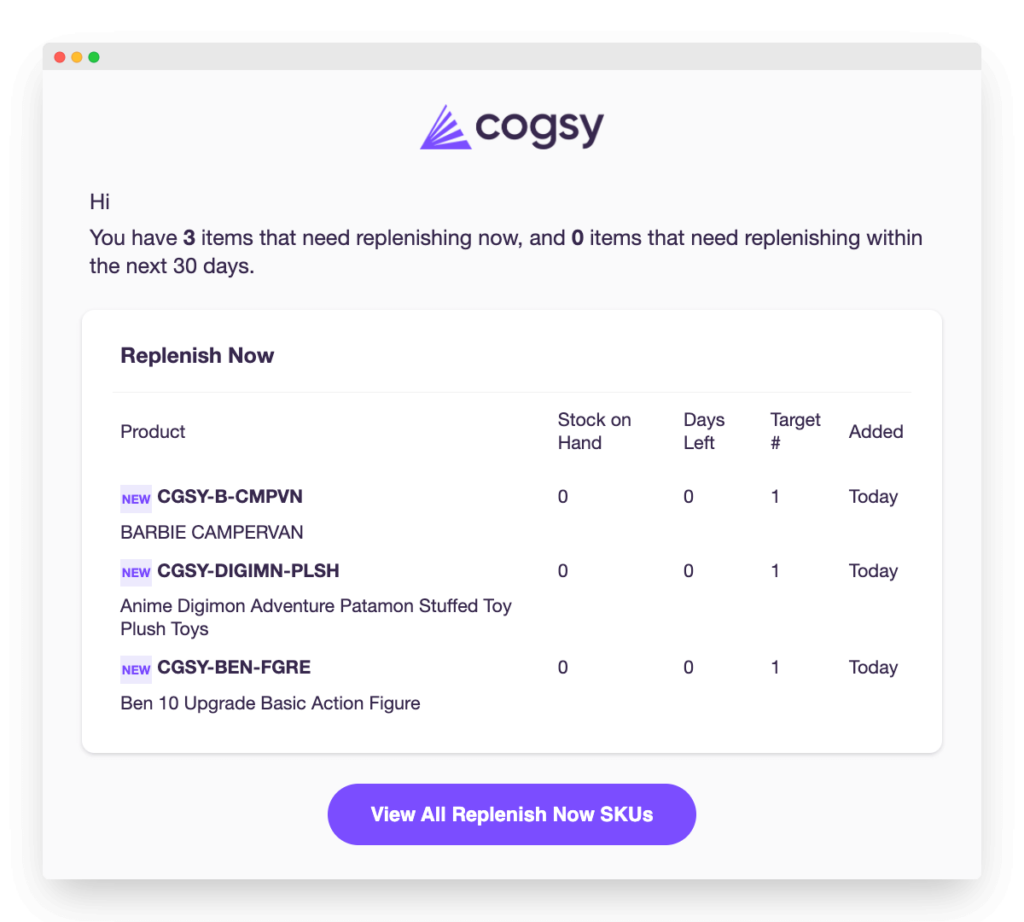 And there are 2 strategies you'll want to rely on for this year's BFCM weekend: selling on backorder and gift cards.
Selling on backorder is ideal if you go out of stock on a product, but you ordered more and know it'll arrive before the holidays. Just make sure you're super transparent about what's happening and when these orders will arrive.
When you sell on backorder with Cogsy, the tool will automatically highlight the estimated shipping date on their product page, shopping cart, and receipt. This way, customers know what they're signing up for.
But because it's a super stressful time of year, DTC email marketing expert Samar Owais recommends also sending an email at least once a week until the order arrives. That'll keep these customers in the loop.
However, remember that customers are on a time crunch. And if they're wrapping gifts to ship them elsewhere, they might not feel comfortable ordering on backorder.
So, in addition, use a tool like Govalo to offer gift cards when an item is out of stock. With this Shopify plug-in, customers can send gift cards directly to their end recipient.
(BTW-The Govalo team talks more about how this works on The Checkout.)
This encourages people to complete the "gifting" transaction so they don't miss out on the sale. And better yet, it increases your average order value when the recipient spends an additional $59 on average when they come back and shop with their gift card.
Prepare now to increase your revenue later
You can bet that ecommerce stores will see record Black Friday and Cyber Monday again this year. And it'll be a huge opportunity for your brand to grow its revenue.
And partnering with Cogsy makes it easier to hit your most audacious BFCM revenue goals, thanks to:
Accurate demand forecasts using real-time inventory levels and past trends.
Sustainable operational plans (with the power to effortlessly pivot when needed).
Optimized POs (all you have to do is check and submit) with automatic replenish alerts.
Replenish alerts that ensure you place your order at the ideal time.
The ability to sell on backorder if stockouts occur.
Want to see first-hand how Cogsy can make this the most profitable Black Friday and Cyber Monday your brand's had yet? Request a demo today.
Black Friday Cyber Monday (BFCM) FAQs
What are the benefits of a BFCM sale?
During the Black Friday / Cyber Monday weekend, brands experience a surge in traffic to their online store, a boost in new customer acquisition, an increase in customer loyalty, a significant increase in online and in-store sales, and an overall boost in revenue.
When is the Black Friday / Cyber Monday weekend?
Every year, Black Friday takes place immediately after Thanksgiving and is followed by a Cyber Monday 3 days later. In other words, BFCM weekend is the last weekend in November.
Is it better to do Black Friday or Cyber Monday?
Over the years, we've seen that the most successful brands were the ones that prepared marketing campaigns and special promotions for both Black Friday and Cyber Monday.
What are the best Black Friday / Cyber Monday marketing tactics?
To increase the conversion rate during the BFCM promotion, brands combine different marketing strategies to reach out to their target audience:
Influencer marketing
Social media marketing
Email and SMS marketing
Fear of Missing Out (FOMO) marketing
Reach your revenue goal
See how you can generate 40% more revenue and save 20+ hours a week with Cogsy.
Try free