Get your out-of-stock strategy ready before Black Friday hits. Here's how top brands avoid losing out on revenue this holiday season.
This holiday season is going to be a big one.
You and your team have been preparing for months. Behind the scenes, there's excitement for the expected increase in sales. But there's also anxiety stemming from something breaking or not working on the most important shopping dates of the year.
Before customers crowd your digital storefront and struggle to get their hands on your products, there are two things you need to do:
Get ahead of any potential issues (like stockouts).
Have a concrete plan to address those issues if they happen.
This might seem a bit extreme to some of you. But this year, stockouts are a fire waiting to happen, particularly on Black Friday/Cyber Monday (BFCM). So, you can stand by. Or, you can get your team a hose and prepare them to put out the flames.
Let's walk through why you need to prepare a stockout strategy and how you can put out those fires without your customers or your team breaking a sweat.
This BFCM, there's a bigger chance of stockouts than ever before
The direct-to-consumer (DTC) retail space is growing exponentially.
Consider these stats:
In the US, the COVID-19 pandemic catapulted ecommerce growth—five years' worth of growth into less than five months. And the rest of the world has experienced similar trends.
In the first quarter of 2021, ecommerce sales climbed 39% and haven't shown signs of slowing.
This holiday season, online shopping is expected to increase by 7-9% compared to last year.
This is an exciting way to enter the holiday season for any online retailer.
But it's also something to be apprehensive about, considering the difficulty in meeting growing demand due to disrupted supply chains.
Keeping products in stock is becoming more difficult, and inventory has become the elephant in the room for retail brands.
Under normal circumstances, supply chain disruptions happen from time to time. Unfortunately, these disruptions have reached an all-time high.
To put this crisis into context:
Out-of-stock warnings are up 172% from January 2020 and up 360% from January 2019.
As of September 2021, congestion at the ports in Los Angeles and Long Beach is estimated to disrupt between $45B-$90B in trade by the holiday season.
There is talk of the US government deploying the National Guard to help alleviate the situation at the ports.
Adobe Analytics published the following graph to highlight how page views for "out of stock" have exploded over the past two years: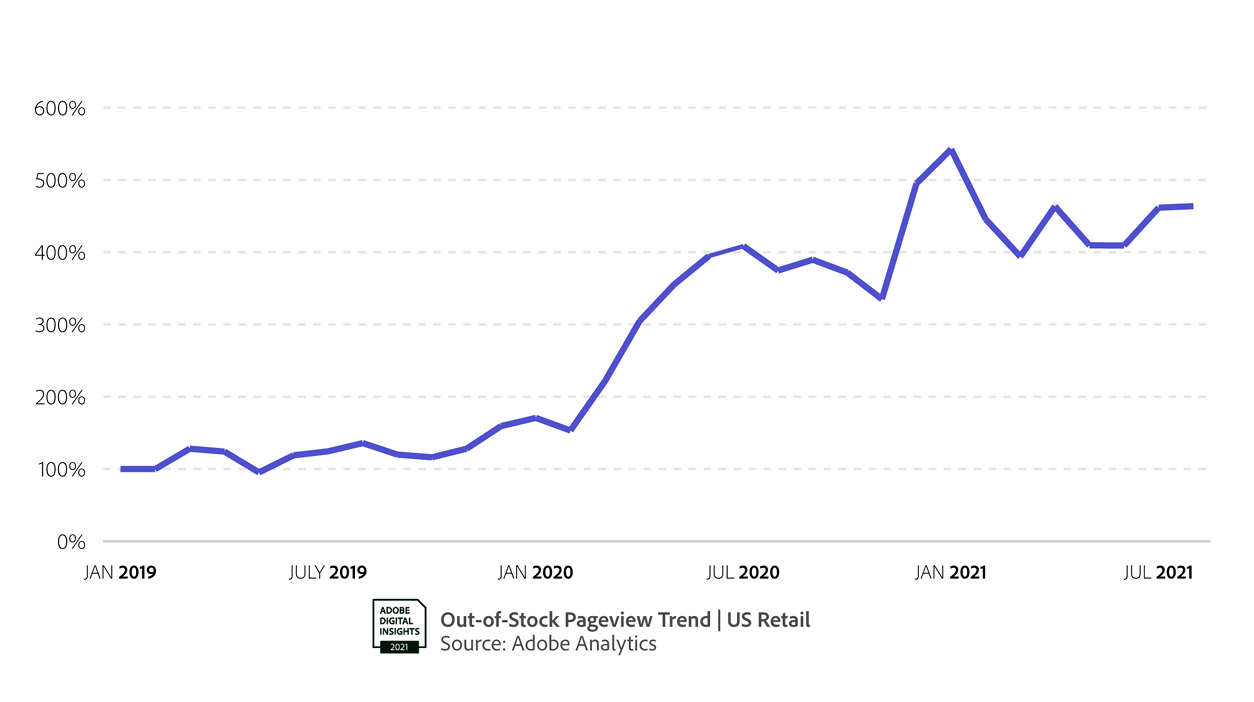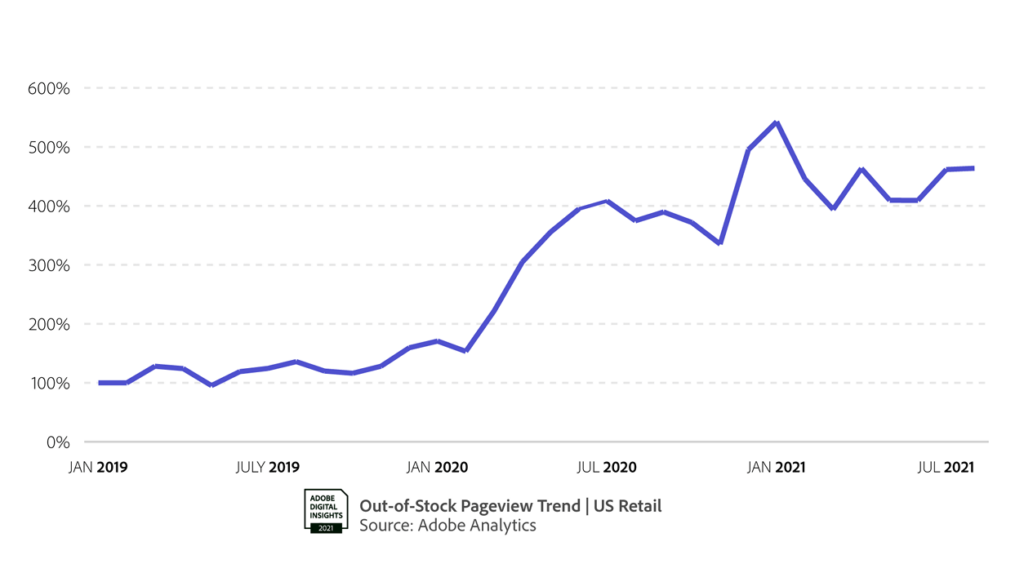 As the holiday season approaches, the increased possibility and danger of stockouts hangs over retail brands' heads.
If your brand experiences a stockout, do you have a backup plan in place? Have you prepared a strategy to manage holiday inventory?
How stockouts can affect your brand
An out-of-stock event during Black Friday or Cyber Monday can be disastrous for brands.
Running out of the product a customer is excited to purchase creates a big dent in customer satisfaction. That's because stockouts create a negative customer experience, putting customer loyalty and future sales at risk.
Brands are more than 14x more likely to sell to a repeat customer than a new one. Losing that first sale to a customer due to a stockout means you may also be missing out on many future sales.
Some brands rely on Shopify Back in Stock notifications to bridge the gap between going out of stock and making the sale. But this approach is an ill-fitting bandaid, not a remedy.
Customers are rarely happy to give over their email address to, in some distant future, receive a notification that their desired item is available to purchase.
Even more rarely will those customers jump at the chance to buy the product they were looking at when they get that notification. In fact, conversion rates for back-in-stock notifications are dismal, between 5-15%.
Additionally, your customer's demand for the product doesn't just dry up when they see you're not in stock. Their desire to purchase is still there, and they'll likely go to a competitor instead.
During this holiday season rife with uncertainty, best-in-class brands will be prepared to avoid these losses.
The most effective time to do this? When a customer's intent to purchase is strongest! That's when brands should let them hand over their credit card and buy, regardless of the item's inventory status.
Here's how.
Create your out-of-stock plan by selling on backorder
While running out of stock is a brand's worst nightmare on Black Friday and Cyber Monday, there's a simple and easy way to mitigate the effects (and losses) of that stockout event.
The solution? Leverage technology to sell on backorder. This way, you convert customer demand and turn out-of-stock products into revenue.
When you sell on backorder, customers can purchase an item that is not currently in stock. And they do so knowing full well that they will receive the item at a future date.
Here are a few examples of brands that are selling products on backorder:
For example, Athleta sets expectations when customers select an out-of-stock SKU variant by adding a warning to the product page. It reads: "On backorder—estimated shipping date November 13, 2021."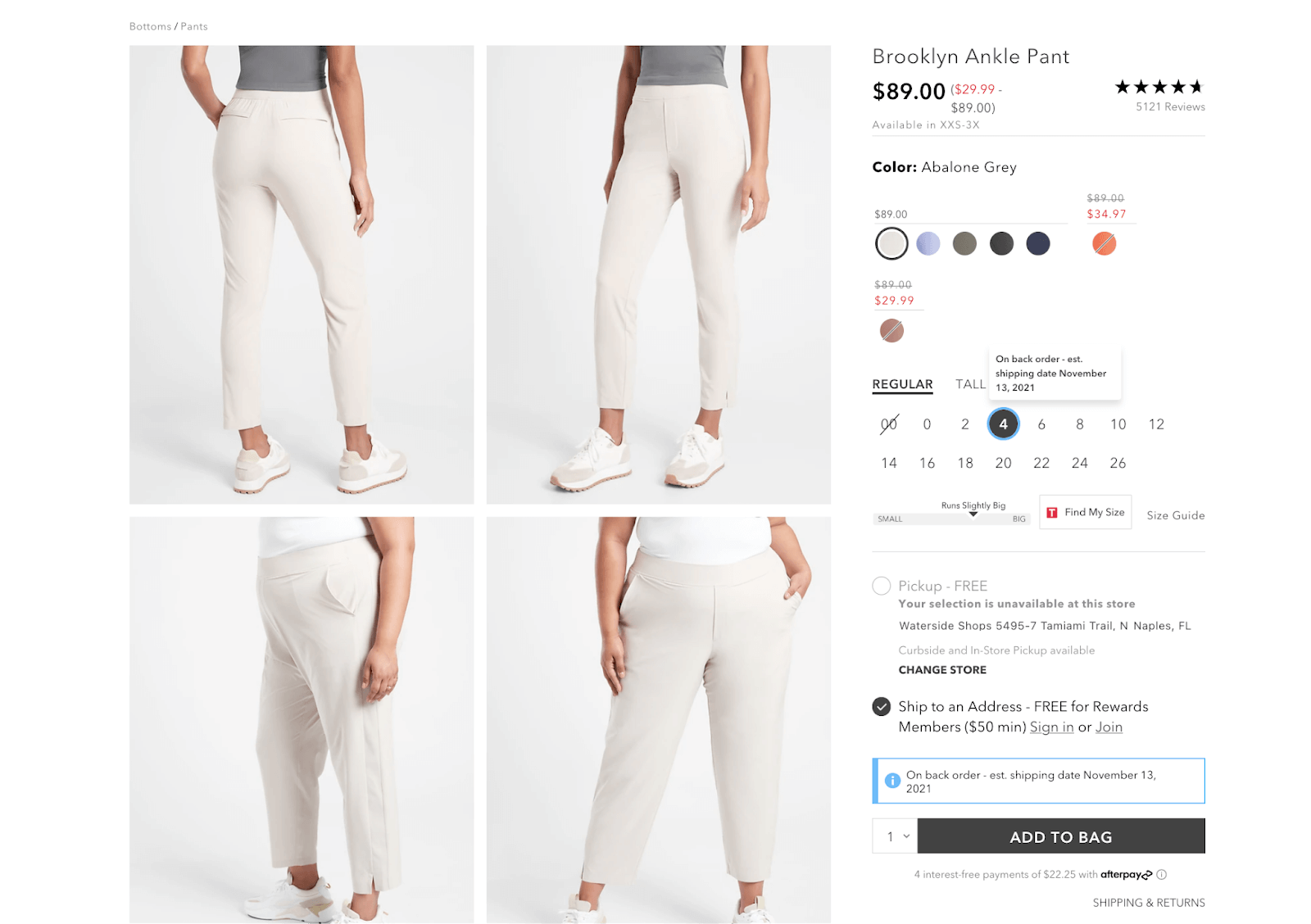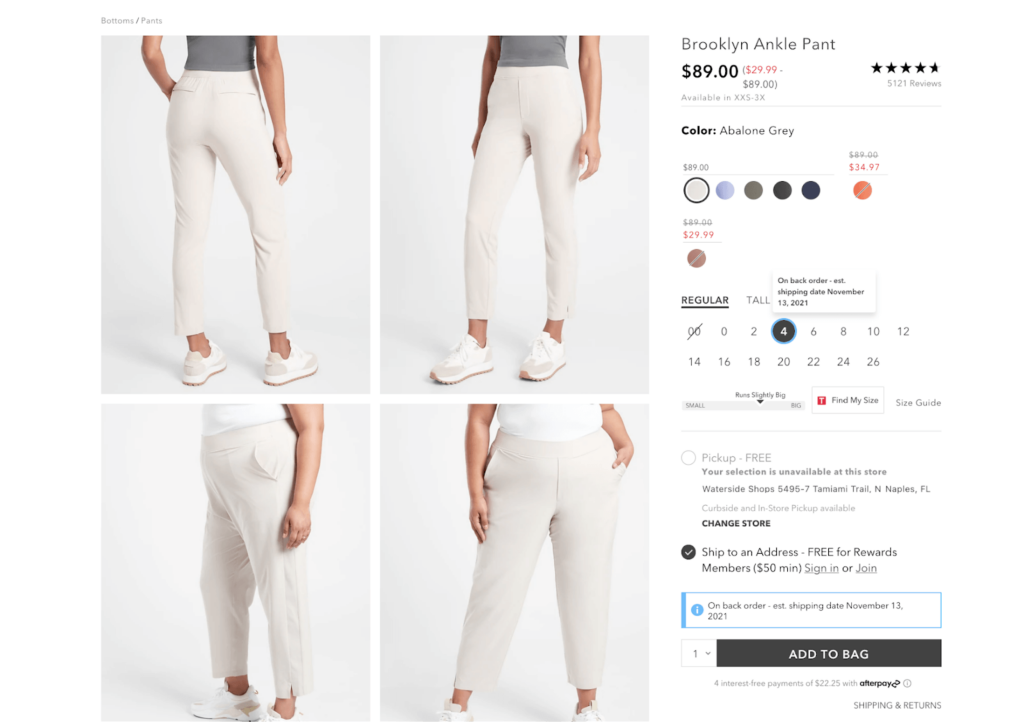 As a merchant, you're probably curious about how selling on backorder can help avoid the losses related to stockouts.
Compared to back-in-stock notifications, the conversion rate for products on backorder is much higher. In fact, brands using this strategy report a negligible drop in conversion rate compared to when the product is in-stock.
So, you'd be selling an out-of-stock product at almost the same rate as a product you have on hand. On top of that, imagine going out of stock on a particular product and not having to worry about it affecting your bottom line—especially during the holidays.
Talk about a sense of relief for your team. The key to selling on backorder, though, is to do it in a way that feels intuitive and straightforward.
Let's dive into how to do that.
Empower everyone involved with aligned information
You can take a few steps so everyone involved in the transaction is on the same page. For example:
Set expectations with customers
While you can natively sell on backorder with Shopify, Cogsy improves the workflow in a crucial way: increasing communication with the customer.
Communication is key to setting expectations and, thus, selling on backorder successfully.
When selling on backorder, the most important thing to communicate is the estimated shipping date. Customers want to know when they can expect to receive their desired item in the mail.
To set expectations, Cogsy publishes the product's estimated shipping date on:
the product page
the checkout page
the email receipt
Here is what it looks like on both Cogsy's dashboard and on the product page: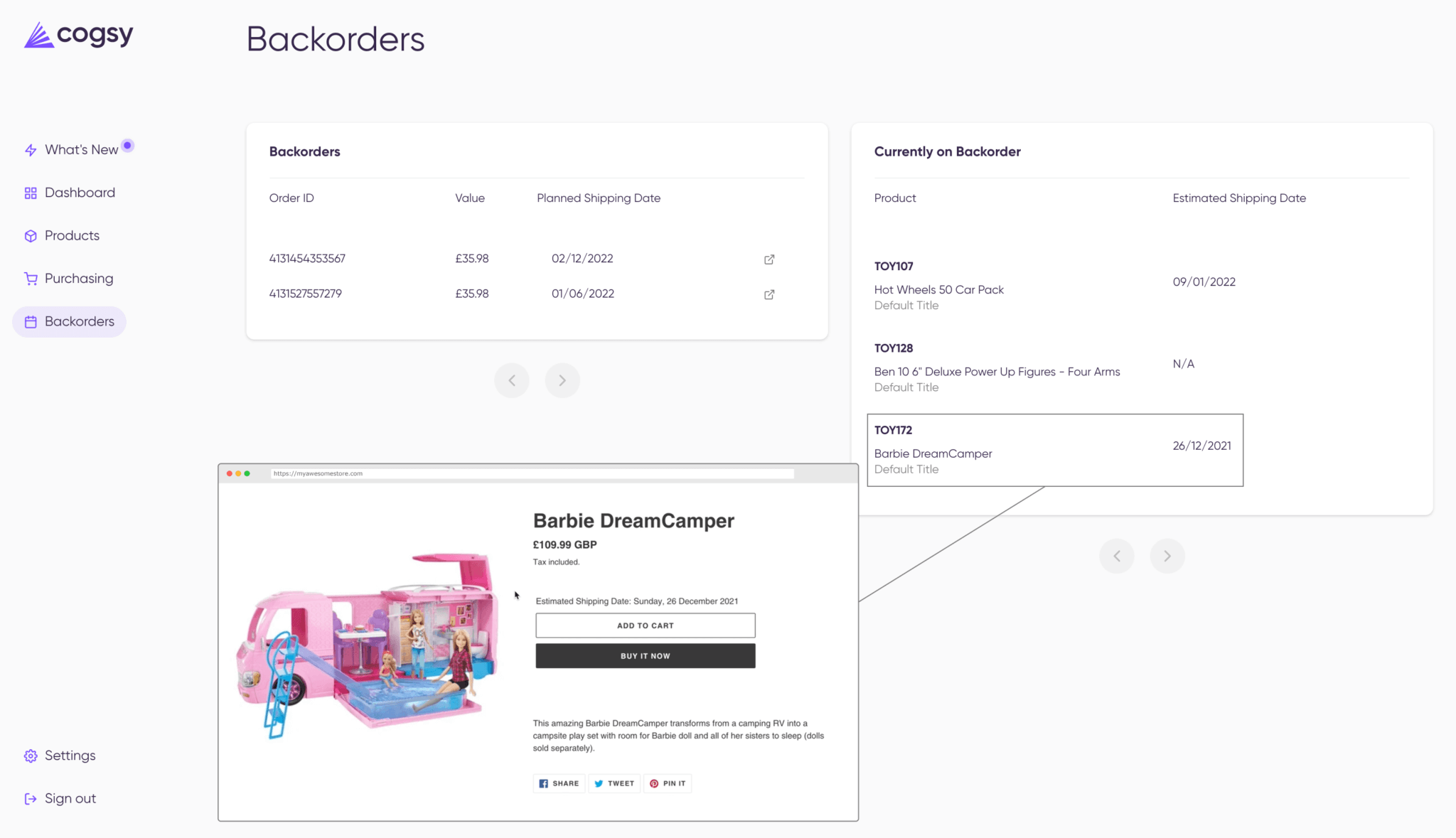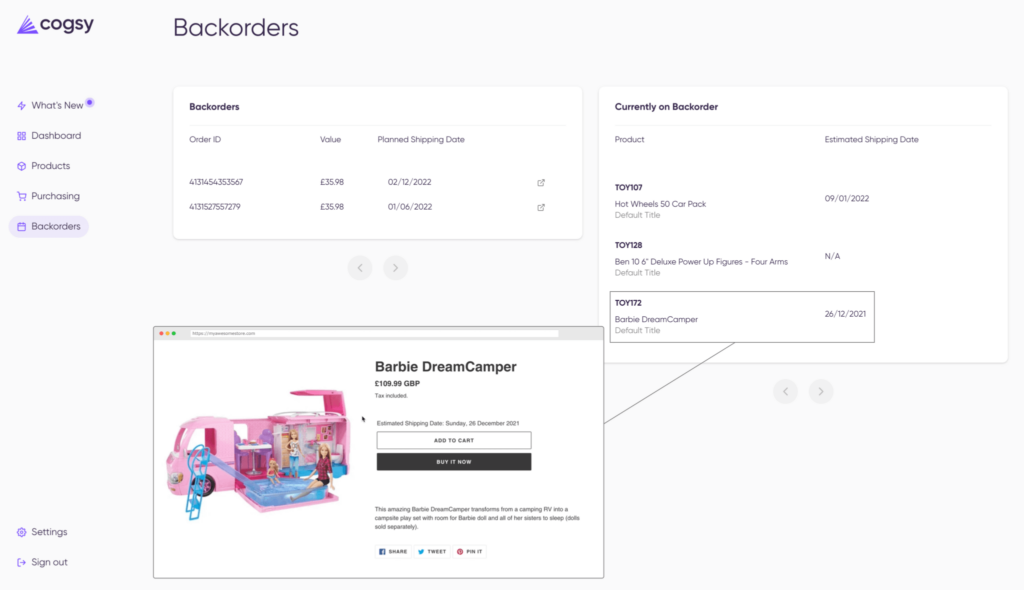 By displaying this information in all the right places, the customer knows what they're signing up for by purchasing on backorder.
Making the estimated shipping date obvious and ubiquitous makes it clear to the customer that they should expect to receive the product in the future.
And in our experience selling on backorder with world-class brands, customers don't mind the delay in shipping. They prefer waiting for a product to be delivered over not being able to purchase it in the first place.
But communication of accurate information is paramount.
When discussing selling on backorder, most brands worry about refund requests. If you share that worry, here's some data to put you at ease.
Our internal research shows refund requests spike when estimated shipping dates are hard to find or change post-purchase. When estimated shipping dates are spot-on, refunds are few and far between.
It's your job to get the estimated shipping date right or be upfront about any uncertainty on that front.
Luckily, Cogsy shows the customer the estimated shipping date in various places, so they won't miss it. Plus, the tool makes shipping estimates more accurate by pulling real-time data.
Equip your fulfillment team with shipping dates
As important as information is to your customer, your fulfillment teams also need real-time access to that same information.
Internal teams need to know which items have been back-ordered by customers and the exact date promised to the customer. That way, teams can actually fulfill those orders as soon as those purchase orders come in.
Cogsy enables these operational workflows in the Shopify admin by marking backorder sales and the date communicated in one dashboard.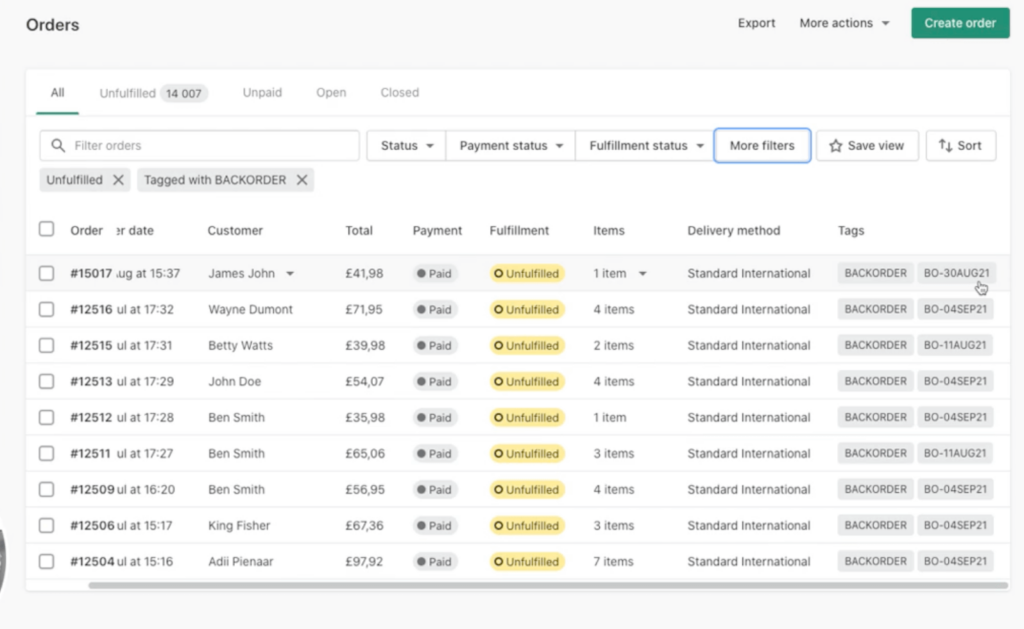 That way, your fulfillment team can plan accordingly and feel confident in their ability to meet the shipping date promised to the customer and avoid unnecessary inventory backlog.
Empower your customer-facing teams to provide quality support
Another team needs to stay updated on order status and promises made to customers: your customer experience team. This includes anyone involved in the customer support process. (Maybe that's you?)
Customer-facing team members need a dashboard to quickly check which products are on backorder and when they're expected to be on hand.
Cogsy does all this and keeps the information in one spot for easy access. This includes a list of backorders on the left and products currently on backorder on the right.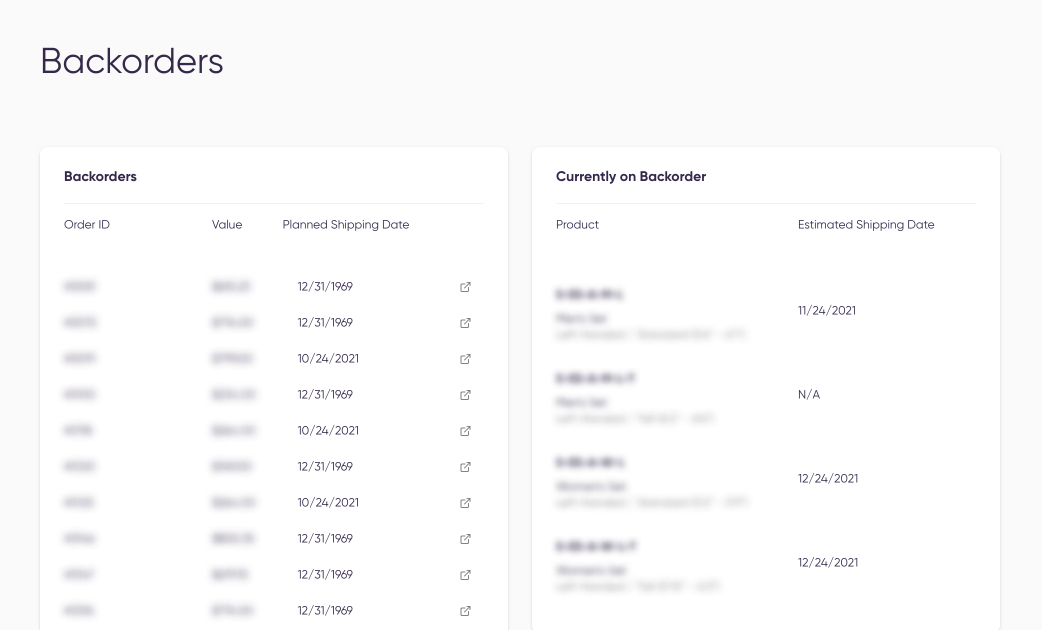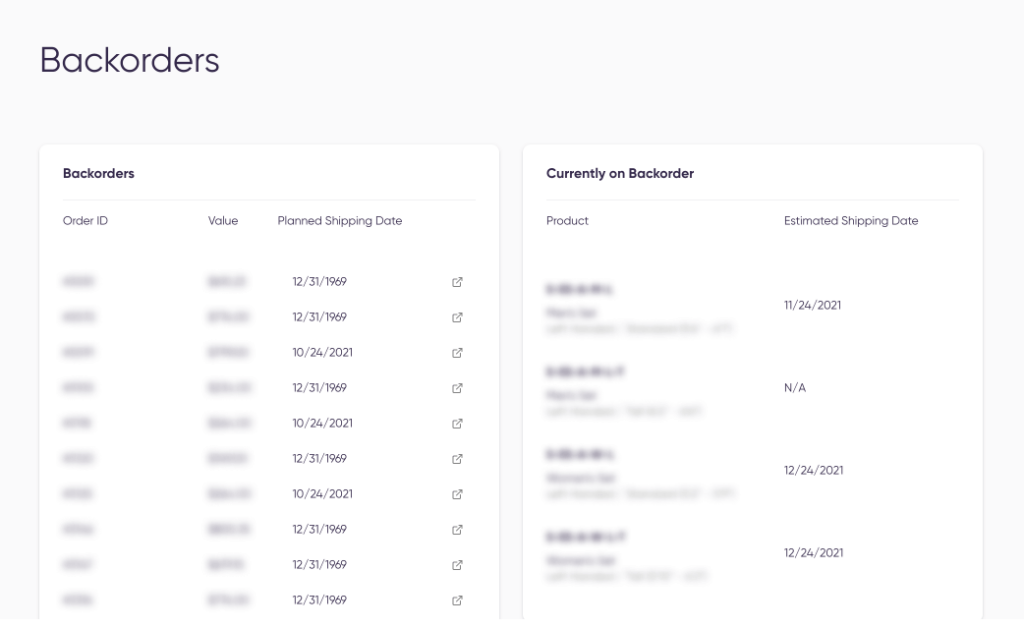 But this dashboard isn't just helpful for customer-facing teams. It's also good for keeping all your teams aligned, including whoever handles operations, marketing, partnerships, and more.
That way, everyone has the same information amidst this hectic season riddled with promotions, surges in traffic, and a cascade of orders.
Prepare your out-of-stock strategy
Okay—so, you know how selling on backorder helps keep your customers and internal teams in the know and how it can increase your bottom line. Now, let's walk through how you can actually implement this stockout strategy.
Enter Cogsy.
Let's walk through how you can get Cogsy set up on your Shopify store and start selling on backorder. (It takes less than five minutes.)
In the video below, we'll walk you through the process from start to finish—from signing up to Cogsy to creating your brand's first forecast and selling your products on backorder.
Step 1: Install Cogsy in the Shopify App Store
First, install Cogsy from the Shopify App Store. (You can check out our pricing and tiers on our website.)
After installing Cogsy from the Shopify App Store, you'll be prompted to add additional integrations for services like Skubana, Anvyl, Google Analytics, and more. You don't need these integrations to get started. But you can connect them to complement your product data if your operations relies on those services.
Cogsy will then run your forecast, which takes up to one hour to complete. No need to sit around waiting, though—we will email you when it's ready.
If you've placed purchase orders with your suppliers and have that data handy, you can input that into Cogsy so we know when to expect those SKUs to be received. Plus, if you'd like to place an optimized purchase order, Cogsy can help you do that, too.
Then, you can choose which products you'd like to sell on backorder. Once you enable backorders for specific products, you are ready to start selling on backorder—if and when a stockout occurs.
When a product goes out of stock, its product pages will automatically have that extra shipping information displayed for your customers.
For example, Caraway, the popular home goods brand and Cogsy customer, has been successfully selling on backorder for some time now.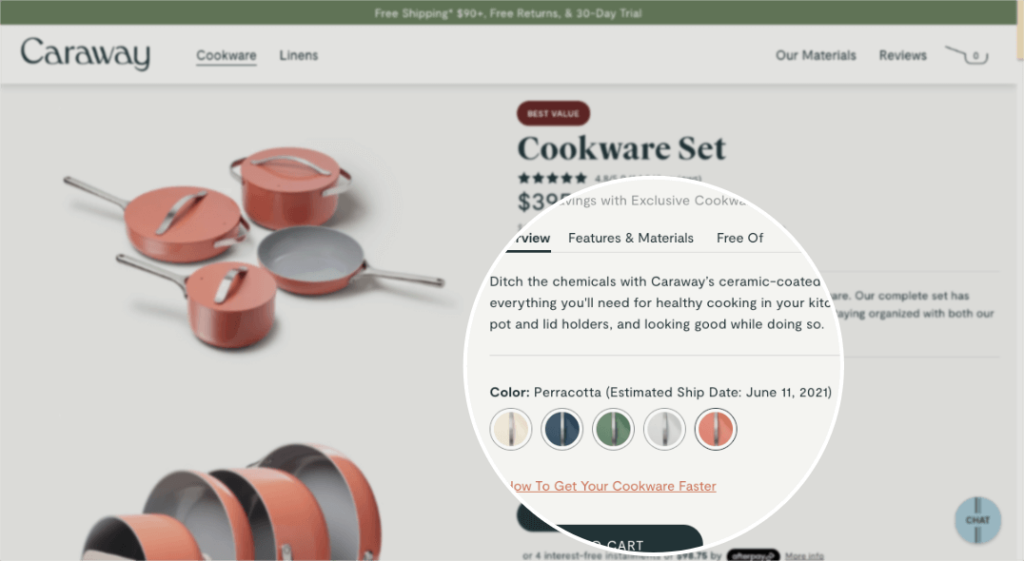 Notice how Cogsy highlights the estimated shipping date on their product page so customers know what they're signing up for. When selling on backorder, setting expectations is our number one priority.
Step 2: Offer holiday sales earlier
Over the years, consumers have been trained to wait for Black Friday and Cyber Monday for the best promotions. This year, though, the supply chain disruptions make it ripe for chaos.
A potential solution is to offer your customers your BFCM deals early.
The trick to making it work is to clarify that this is the same deal—if not better—that they'll access on the actual Black Friday and Cyber Monday dates.
On top of avoiding the stress of BFCM for your team, your customers will be happier, as well.
Earlier sales mean their products are more likely to arrive on time. This is a huge deal when UPS says they likely can't handle the uptick in online holiday shopping, resulting in massive shipping delays.
Best-in-class brands have an out-of-stock strategy
All that's to say: be prepared for the worst so you can come out on top.
Your customers, team, and bottom line will all be happier if you do. So, before the holiday season officially gets here, remember:
Customer demand will be greater than ever.
Inventory and fulfillment are more complex than ever.
Stockouts lead to losing revenue and creating a negative customer experience.
Selling on backorder eliminates those losses.
Communication ​​with customers and your internal teams is key.
Consider offering holiday sales earlier than ever to mitigate out-of-stock events.
If you're ready to start preparing your stockout strategy, go install Cogsy on the Shopify app store now.
Want to build a successful inventory strategy?
Request a live demo to learn how Cogsy reduces stockouts so you always convert your customers' demand.
Request a Demo