Cogsy empowers Shopify merchants to level up their operations by optimizing purchase orders and inventory management.
As a direct-to-consumer (DTC) brand, your product is your lifeline. If you don't put enough on your purchase order, you won't have inventory on hand, and you can't make the sale. Customer experience deteriorates, the brand image suffers, and your sales drop significantly.
So, how you manage your inventory determines your brand's trajectory. Will it trend up (you've got enough product on hand and are selling well) or nose-dive (you're out of stock, need to reorder, and out of pocket waiting for new inventory to come in)?
The difference between those two scenarios is sometimes as simple as using the right tool.
As the missing purchase order flow for Shopify, Cogsy is that tool.
Because creating the right purchase orders at the right time will power the order fulfillment side of your business and lead you toward operational excellence.
And with access to the right data and the right tools, you can take smarter actions more proactively and maximize the success of your online store.
Let's walk through how Shopify purchase order works with Cogsy.
Why your purchase order flow matters
A purchase order (PO) is a document indicating a brand's commitment to buy a certain amount of goods from a manufacturer or supplier. It's the backbone of what a retail brand has on hand to sell.
Getting POs right keeps your business aligned to meet customer demand.
Cogsy helps modern brands do just that by providing proactive sales prediction and inventory intelligence. This way, brands know what to expect and prepare accordingly by placing the right POs with correct SKUs, products, and variants.
Imagine creating the optimal purchase order at the click of a button. That's what you get with Cogsy. Plus, we've prepared a purchase order template you can customize and get the next order ready ASAP. The days of using spreadsheets for demand planning and managing inventory are long gone.
With Shopify inventory and sales updated in real-time, Cogsy automatically creates recommended purchase orders long before stock runs out—for the right amount of products at the right time. This removes guesswork and self-doubt from the equation.
We've got you—we'll take care of making your inventory purchasing as optimal as possible, so you can tend to the other areas of your business.
Providing access to full Shopify Purchase Order (PO) visibility
After creating a PO, you eventually need to receive it to update your inventory counts.
Some brands use expensive inventory management systems (IMS) or third-party logistic (3PL) solutions that support an end-to-end purchase order flow.
But for the most part, Shopify store owners don't have visibility after placing an order until they receive it. Cogsy bridges that gap for them.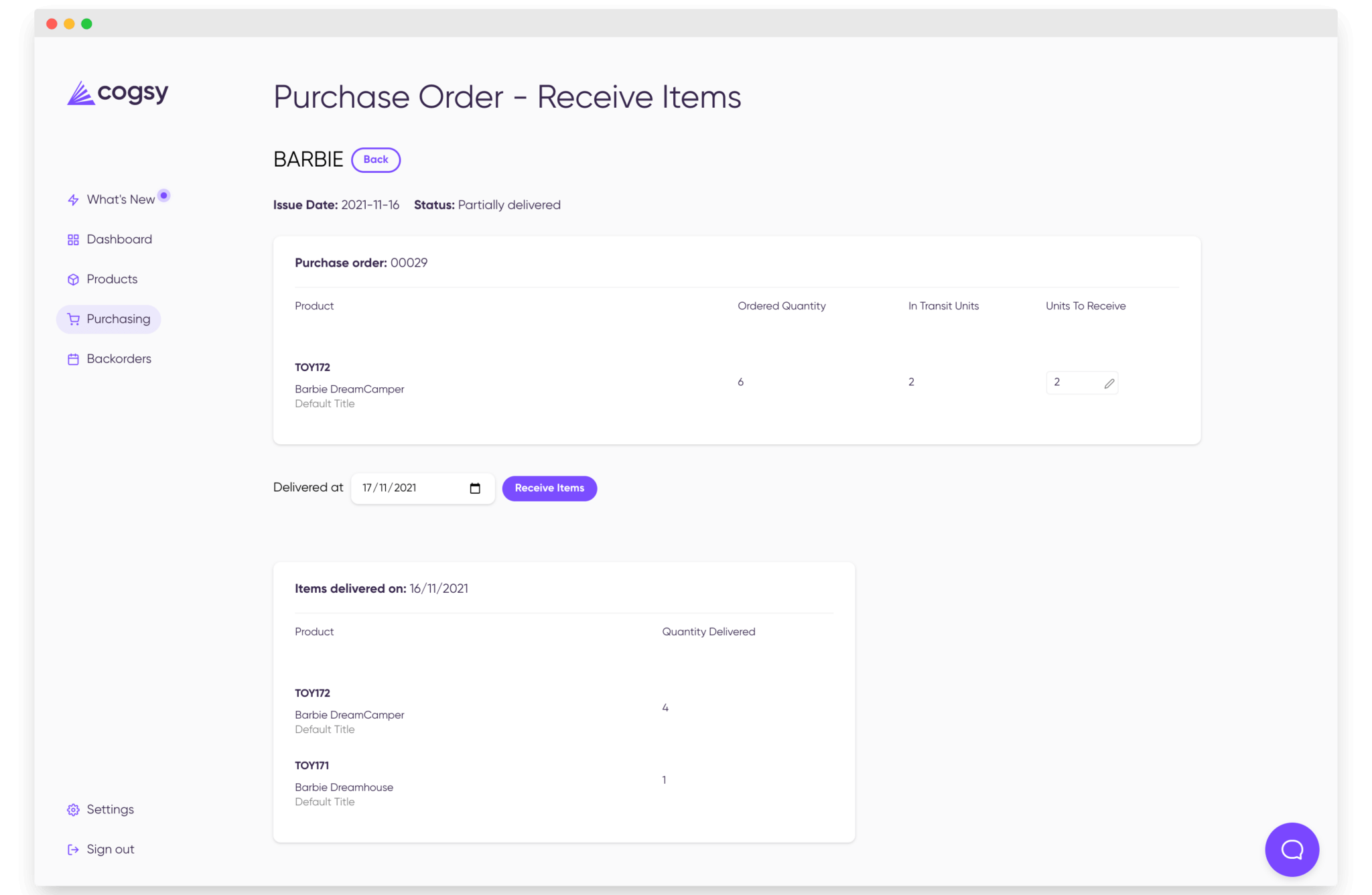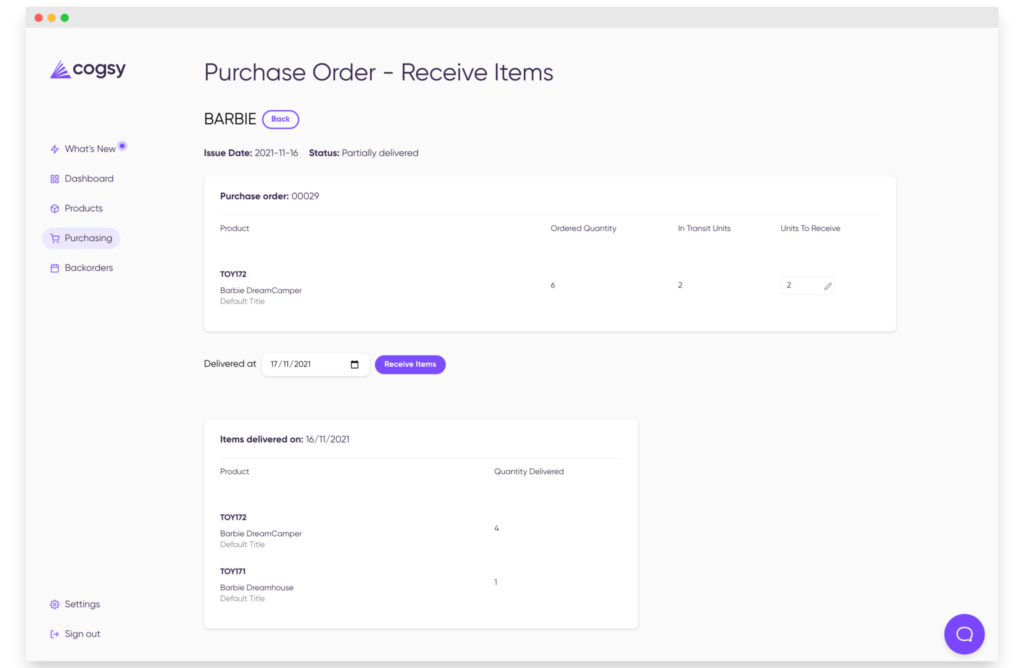 With Cogsy's PO flow, Shopify merchants have complete visibility—from the moment they place a purchase order to the moment they receive it. Within Cogsy, you can:
Track and mark incoming stock as "Received."
If not all items have yet been received, label the order as "Partially received."
And they're relying on the latest inventory data when creating purchase orders, updating POs, receiving stock, and even cross-checking historic POs.
Cogsy's end-to-end Shopify PO flow opens the doors to new workflows that Shopify merchants don't have access to. And they can do it without implementing an IMS or switching to a 3PL that supports an end-to-end purchase order flow.
Adapting to uncertainty with agility
Right now is a time of great upheaval for ecommerce DTC brands. Supply chains are volatile (arguably, more than ever). Customer demand fluctuates faster than a 15-second Instagram story.
And as in all of life, things are constantly changing.
The brands that will thrive in this landscape have the agility to adapt to uncertain times and changing scenarios.
That's why we've built our purchase order flow to reflect all that. It's a powerful way to add the flexibility your brand needs when creating, updating, and receiving purchase orders without compromising the rigor you need in optimal recommendations.
Cogsy's purchase order flow provides proactive precision and agility, designed to be as simple as clicking a button.
Taking smart and proactive action as changes happen within the business influences what happens next: replenishment. For example, when you go out of stock, sell on backorder. 
All of these events trickle down to your brand's bottom line. So, you want these critical decisions to be based on the most updated, accurate data. 
Our priority is making purchasing and order management as optimal and flexible as possible while staying simple and easy to use. We give you agility when you need it and stay out of the way when you don't.
Start optimizing your operations now
As you already know, sometimes, all you need to make game-changing operational improvements is the right tool.
Cogsy's purchase order feature, for instance, gives you a holistic view of what's happening with your inventory without losing track of the order details. Whether you're collaborating with your team or keeping track of things just for yourself, a digital purchase order is a powerful tool in your arsenal.
With it, you can:
Create the optimal purchase order just 1 click
Have end-to-end PO flow that gives you visibility from the moment you place a PO to the moment you receive shipment
Adapt and make critical decisions based on the most updated, accurate data
Proactively optimize your POs will drive real commercial value to your brand
But don't take our word for it – try Cogsy free for 14 days.
Shopify purchase order FAQs
Get answers to the most common purchase order questions.
What is a purchase order?
A purchase order is an official document a buyer issues to a seller. The purchase order contains information about the products ordered, order quantity, and agreed prices.
What are the 4 types of purchase orders?
There are 4 basic types of purchase orders:
Standard Purchase Order
Contract Purchase Order
Planned Purchase Order
Blanket Purchase Order (Standing Order)
How can you make a purchase order in Shopify?
To create a purchase order (PO) in Shopify, you can use their template. It contains essential information regarding your company, vendor, purchase order information, and info about the products you want to order.
Reach your revenue goal
See how you can generate 40% more revenue and save 20+ hours a week with Cogsy.
Try free