Refine your holiday inventory management practices, prepare for a seasonal increase in demand, and make all your customers' wishes come true.
As a retailer, preparing for the holiday shopping season is equally exciting (hello, increased demand) and unpredictable (ugh, stockouts). But with proper holiday season inventory management, you can proactively avoid any bah-humbug moments.
Seeing that it's August, it might seem premature to manage your inventory for holiday sales. But with supply-chain issues, inflation-induced markups, and increasingly early holiday shoppers (37% more US consumers plan to shop earlier than in previous years), you needed to start preparing... like yesterday.
So, how exactly should you prepare for the 2022 holiday season? What are the common seasonal inventory mistakes? And most importantly, how do you ensure your holiday plans produce the best possible outcome? Let's find out.
What is seasonal inventory?
Seasonal (or holiday) inventory items are products that are in high demand only during particular times of the year. The higher sales velocity is typically affected by holidays or special events, or changes in weather.
What retailers get wrong about holiday season inventory planning
The holiday season is the most important sales period for many multichannel retailers, and it typically includes the following recognized holidays:
Thanksgiving
Black Friday
Small Business Saturday
Cyber Monday
Hanukkah
Christmas
Festivus
Last year, ecommerce sales reached $204B by the end of the 2021 holiday season (that's 10.4% growth compared to 2020). And eMarketer predicts it will hit a whopping $236B this year.
But retailers that get their holiday inventory planning wrong miss out on their piece of this holiday pie. So, to make sure that's not you, here are the most common mistakes to avoid:
Inaccurately forecasting demand
Optimal seasonal inventory starts with accurate demand predictions. But without historical data or tools to predict future trends, forecasting seasonal demand can feel like a shot in the dark.
As a result, many retailers miscalculate their holiday inventory needs and find themselves with product stockouts. Or they purchase the wrong SKUs and end the holiday season with overstocks. Both mistakes impact your brand's bottom line and potential for seasonal profitability.
Take, for instance, the dreaded holiday stockouts. These events often lead to lost customers and lost sales opportunities. Why? Because 70% of consumers faced with a stockout will switch retailers given the time crunch.
And if you order too much stock that fails to sell, you end up with excess inventory that continues to accrue holding costs (best case) and end up as dead stock (worst case).
Miscalculating optimal stock levels
Even if you perfectly forecast your holiday inventory needs, you can still miscalculate your optimal stock levels (the ideal inventory quantities your brand should have on hand to adequately meet demand). This is especially true if you manually manage your inventory, which is prone to slow responses and human errors.
When retailers miscalculate their optimal stock levels, they often miss that ideal time to restock. This can create a domino effect of common inventory mistakes, including stockouts and overcompensating that stockout by over-ordering.
Lack of in-demand products leads to sales loss
If stock levels can't keep up with customer demand, you'll end up with sold-out products before the holiday season ends. And since many consumers (as you know) switch retailers when faced with a holiday stockout, you'll also miss out on sales.
Not having enough in-demand products has been a major problem for retailers since the onset of the pandemic. This is due to changing consumer behavior, unexpected demand upticks, and sporadic supply chain issues. As a result, out-of-stock messages increased 172% in 2021, causing brands to miss out on an estimated $1T in sales opportunities.
Lost sales reduce revenue
The short-term cost for holiday stockouts is lost sales, but the long-term cost is customer loyalty and reduced revenue.
That's because customers have more choices than ever, thanks to the explosion of e-commerce businesses in the past decade. And when they're forced to look for an alternative, they're likely to stick with that new brand (when they find it) long-term.
In fact, since the beginning of the pandemic, 40% of consumers have switched retailers. And that means if your brand consistently can't deliver (because you're stocked out), you'll lose customers and shrink your brand's revenue.
Overstocks cause obsolescence
Say your stock levels are too high for a particular SKU (and it fails to sell before the new year). You'll end up overstocked on seasonal items that risk turning into dead stock. And while you can try to get rid of this excess stock with discounts, you'll likely still end up with some obsolete products.
Obsolete inventory (or dead stock) racks up holding costs in a warehouse, shrinking your profit margins. And when you factor in these additional expenses, the total cost of carrying that inventory adds up to 25-30% more than the unit's value on average.
Plus, you have to consider the opportunity costs of this non-moving inventory. After all, not only does it restrict your brand's cash flow, but it ties up working capital that could be better invested elsewhere.
Mismanaging leftover stock
Generally speaking, retailers end up with excess inventory after the holiday season for 2 reasons:
They ordered too much of a particular SKU that didn't sell
They got a lot of returns (typically, right after the holidays)
Either way, dealing with this leftover stock is crucial, so it doesn't impact your bottom line.
Unfortunately, retailers often mismanage this leftover stock and let it sit for too long after the holiday season. This results in aging inventory that racks up holding costs and soaks up cash like a sponge.
On top of that, when stock eventually becomes obsolete, it actually costs the brand money. How? Because when those units finally sell (if at all), they sell at a loss due to rising carrying expenses.
8 best practices for holiday inventory management
Now that you're familiar with the common holiday season inventory management mistakes, let's run through 8 best practices for avoiding them.
1. Improve your forecasting practices to optimize stock levels
Accurate ecommerce forecasting is the first step to successfully planning your holiday inventory. This enables you to optimize stock levels by ordering only the necessary stock to meet customer demand. And as a result, you avoid stockouts and overstocking.
Seasonal inventory is hard to predict due to changing consumer habits. John McQuiston, a Wells Fargo executive that oversees trade finance, even says: "The demand levels [this holiday season] are entirely unpredictable. Consumer behavior is unpredictable." That'll make this "a bit of a crystal-ball Christmas."
Fortunately, there are strategies for improving your demand and sales forecast, starting with your historical data and current inventory trends.
Use historical data
To understand the future, you must first look at the past. Start by pulling up all your past holiday sales reports from the last few years (focusing on the holiday season in Q4).
Then, use the data to understand your best-selling items, how many units were sold, and when the holiday sales start to ramp up. This will help inform which items you need and how many units to order.
Account for current trends
Once you've built your foundation on historical data, it's time to layer on current DTC trends (like real-time inventory levels and growth assumptions). This way, you can adjust forecasts to align more closely with actual demand. 
Many retailers forecast demand with Excel, which is why so many get it wrong. Unfortunately, this manual process is tedious, time-consuming, and prone to human error (and makes forecasting feel like total guesswork).
Luckily, the Cogsy platform helps retailers automate demand forecasting and holiday inventory planning with predictive sales and inventory intelligence. That way, you always know:
What to expect for the holiday season
When to prepare accordingly
How to meet demand without stockouts or overstocks
2. Invest in inventory visibility
Inventory visibility is the ability to view and track products in real-time. That way, you can see exactly how much stock you have and where it's located within your warehouse, fulfillment center, or transit routes.
This is especially helpful for seasonal inventory since 60-70% of consumers holiday shop across several channels. Inventory visibility ensures that all channels correctly show what items are available for purchase.
Inventory visibility makes demand planning more accurate, so your stock levels reflect actual demand. It also informs what inventory to replenish and when, so you can reorder in time to avoid holiday stockouts.
But to have true inventory visibility, you need real-time holiday inventory management. Again, this is where a tool like Cogsy can help.
That's because Cogsy's operations platform monitors your brand's key vitals (like stock levels, planned growth, and upcoming marketing events) in real time. This acts like a "temp check" for your brand, so you know ASAP when something's not looking right.
But the best part? Cogsy turns these static data points into prescribed actions that optimize your inventory and maximize revenue. So, you can take a peek at your actionable dashboard and know the next steps for getting your brand back to optimal performance (and keeping it there).
3. Perform regular inventory audits
If you don't have real-time inventory management, you'll need regular inventory audits (where you coss-check your financial records with your inventory data) to ensure inventory accuracy.
This is especially helpful leading up to the holiday season, so you can make better seasonal demand planning decisions and prevent selling products you don't actually have available. These inventory discrepancies often happen due to damaged goods not getting written off right, purchase orders not being fulfilled correctly, and theft.
Whenever you're auditing inventory, be sure to note your best-selling units and your slower-moving SKUs to answer the following questions:
Which high-demand seasonal items should you stock up on?
Do you have aging inventory that needs to be cleared out (via discounts or sales)?
Which slow-moving holiday items should you avoid reordering this year?
Then, use these answers to inform your seasonal forecasting, warehouse preparation, and demand planning.
For example, you could slightly increase forecasted units for high-demand items to proactively eliminate aging inventory and free up storage space. You could alternatively remove low-performing SKUs from your holiday demand plans.
4. Expand your supplier and shipping network
Thanks to some pandemic-induced challenges (namely, supply-chain issues and longer order lead times), retailers have an added layer of stress to fulfill orders and keep customers happy.
But when you expand your supplier and shipping network, you buffer against any unexpected challenges and can satisfy customers' expectations. How? Because you have more options to rely on when things go awry with 1 supplier or shipper. That way, your fulfillment is unaffected.
For example, you could consider adding a domestic supplier to your mix of manufacturers to ensure that replenishments show up in time for the holidays. Or, you could consider a 3rd -party logistics provider (3PL) to ramp up your fulfillment capabilities.
5. Stock up on (reasonable amounts) of safety stock
As you know, holiday stockouts are a slippery slope to lost customers and lost revenue. But if you keep (a reasonable amount of) safety stock around during the holiday season, you can fulfill any unexpected demand. And as a result, you can continue generating revenue and keep shoppers happy.
To calculate how much safety stock you need, use the following formula:
safety stock = products sold per day * desired days of safety stock
That said, you don't want to keep too much safety stock on hand because there's a fine line where "extra safety stock" turns into "excess stock." And if you don't sell through that safety stock before the season ends, you're stuck managing the leftover inventory.
Not to mention, buying too much safety stock ties up precious working capital that could have been better used for growth initiatives. For instance, spinning up seasonal marketing campaigns or expediting inventory replenishment to avoid a stockout.
6. Place early orders and optimize stock replenishment
Due to concerns over product shortages and slow shipping times, consumers have started shopping before Black Friday for the last 2 years. And if the holiday season begins in October, you'll need to get your purchase orders to vendors ASAP. Like, now.
Plus, even with the most accurate demand forecasting, it's nearly impossible to project the future perfectly. That means you also need a plan (long before holiday shopping begins) to optimize your stock replenishment to fulfill demand spikes and prevent stockouts.
For example, some brands increase their reorder points during the seasonal shopping period or increase their reorder quantity. But the best option? Leveraging an inventory management system (IMS) to automatically track stock levels and notify when replenishment is needed.
While Cogsy isn't technically inventory management software, it has many of the same features (including automatic replenish alerts). It also has the new "Replenish Now/ Replenish Soon" widgets, which show you everything that needs to be reordered and when – at a glance. No guesswork required.
Cogsy even links to a fully drafted, optimized purchase order to speed up your restocking process. All you have to do is check this PO and hit "Submit."
That way, you can respond quickly and smartly to support seasonal demand, avoid stockouts, and continue generating holiday revenue.
7. Prepare for stockouts anyway
You can do your best to forecast demand and plan for it correctly. However, there's still a good chance you'll run into stockouts during the holidays (thanks to changing consumer behavior).
If that happens, you'll need to be prepared to continue taking orders and generating revenue.
Many brands use back-in-stock notifications when stockouts occur, but they're pretty dismal at conversion (only 13% of consumers faced with an out-of-stock item actually wait for it to come back in stock). The more effective solution for brands is to sell on backorder.
That's because when you sell on backorder, you don't have to wait until products are back-in-stock to recoup revenue. Instead, you can maintain your seasonal revenue stream by empowering people to complete the purchase even if you can't fulfill their order immediately.
But how do modern brands ditch back-in-stock notifications in time for the holidays? They use Cogsy to sell on backorder instead.
Because with Cogsy, brands can continue generating revenue even when holiday stockouts inevitably happen. And you can easily set clear expectations on when customers will get their items by automatically and dynamically displaying the next shipment date across your entire store:
On the product page
In the customer's cart
On the emailed receipt
This ability is especially important amidst the tight holiday deadline. That's why it's also important to set expectations and show the next shipment date when selling on backorder.
8. Have a contingency plan for overstock
Products tend to fly off the shelves quicker than you can restock during the holiday season. But sometimes, you end up with low-demand products that cause overstocks.
The following strategies are proactive measures to avoid having too much leftover holiday inventory. But you can change these marketing events post-holiday to eliminate anything that will likely turn into dead stock.
Create attractive promotional offers
Offering holiday product bundles (by pairing 2 relevant items as 1 unit) can entice holiday shoppers to purchase more than they expected. This helps keep seasonal inventory moving and proactively eliminates costly overstocks.
For example, the DTC beauty brand Coco & Eve created a holiday haircare bundle called "Oh My Hair Kit" by combining 2 best-selling products into a discounted package. With the bundle, shoppers saved 21%, compared to buying both items separately. This encouraged shoppers to choose the bundle over a single product.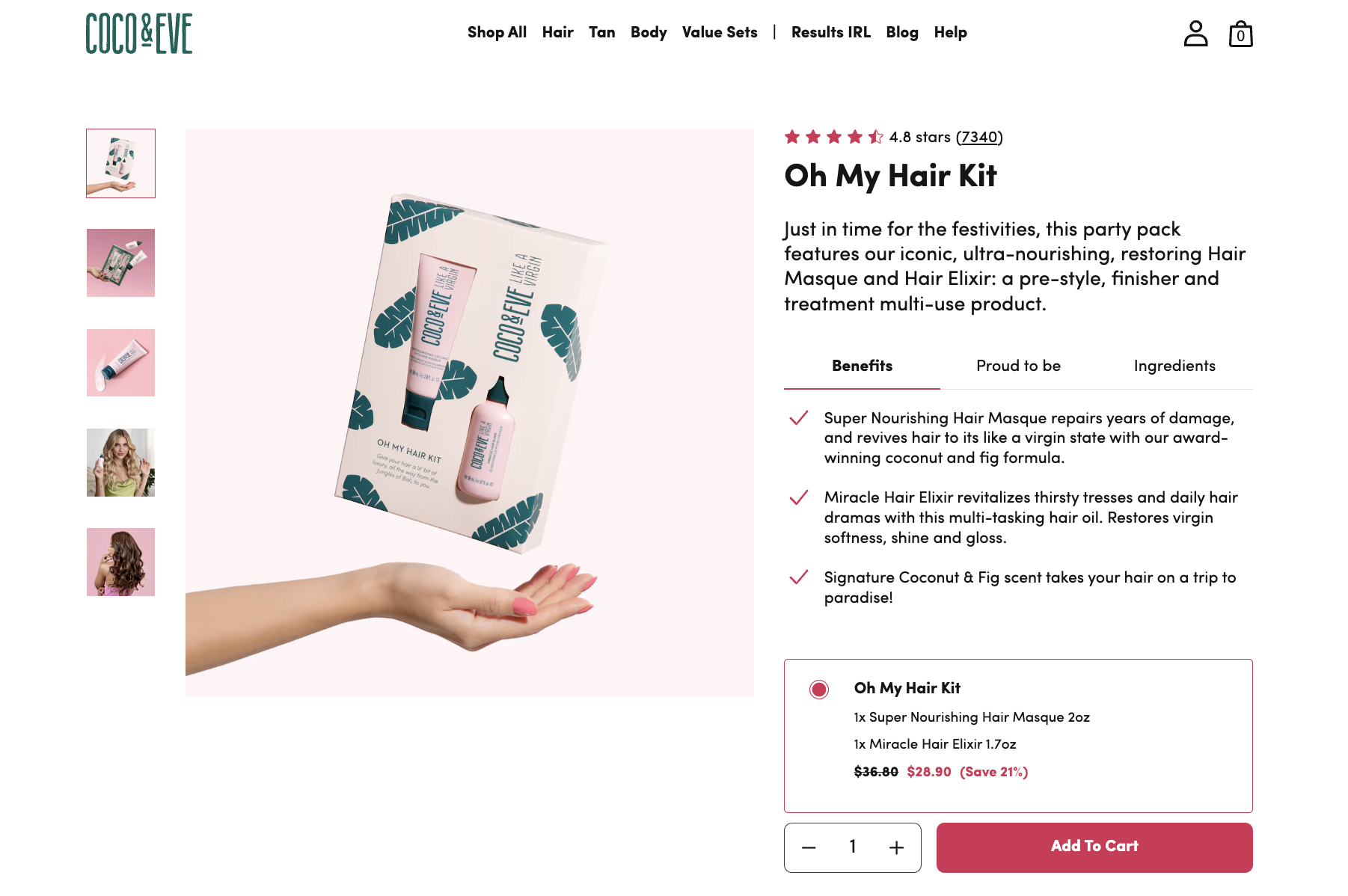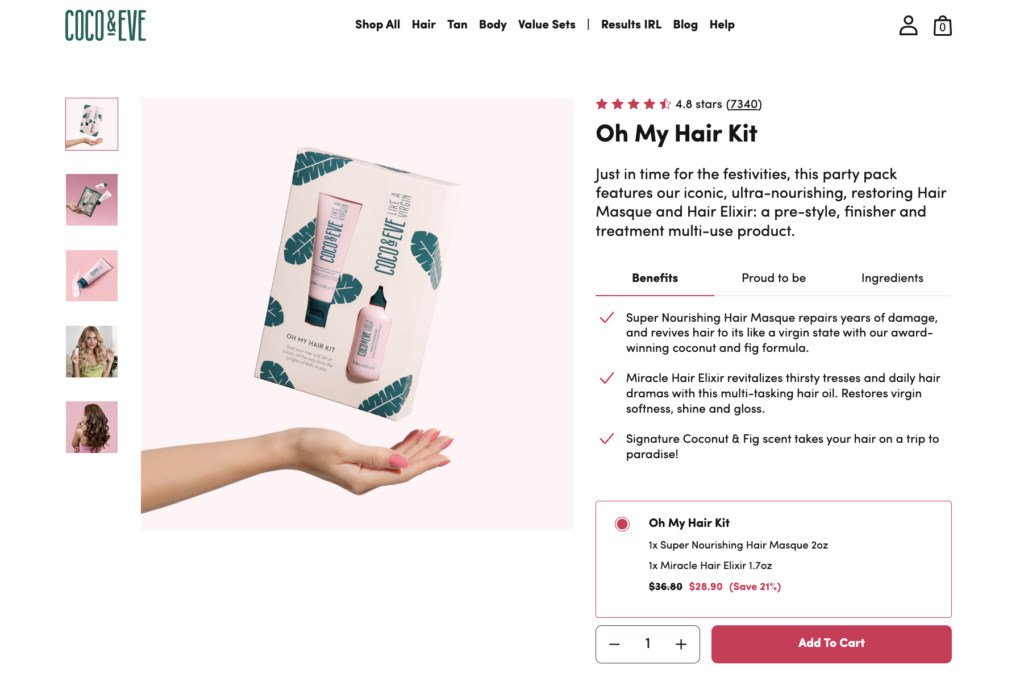 But what if your product bundles don't eliminate all the potential dead stock? You can always offer deeper discounts on those individual SKUs or run a holiday clearance sale after the season ends. This gives post-holiday shoppers a reason to keep purchasing from you.
Take Brooklinen, for example. They offered 15% off everything sitewide (plus free shipping) after the 2021 holiday season.
Similarly, DTC clothing brand Everlane hosted a "Goodbye 2021" sale to help clear out end-of-year inventory. They marked hundreds of styles up to 60% off during the event.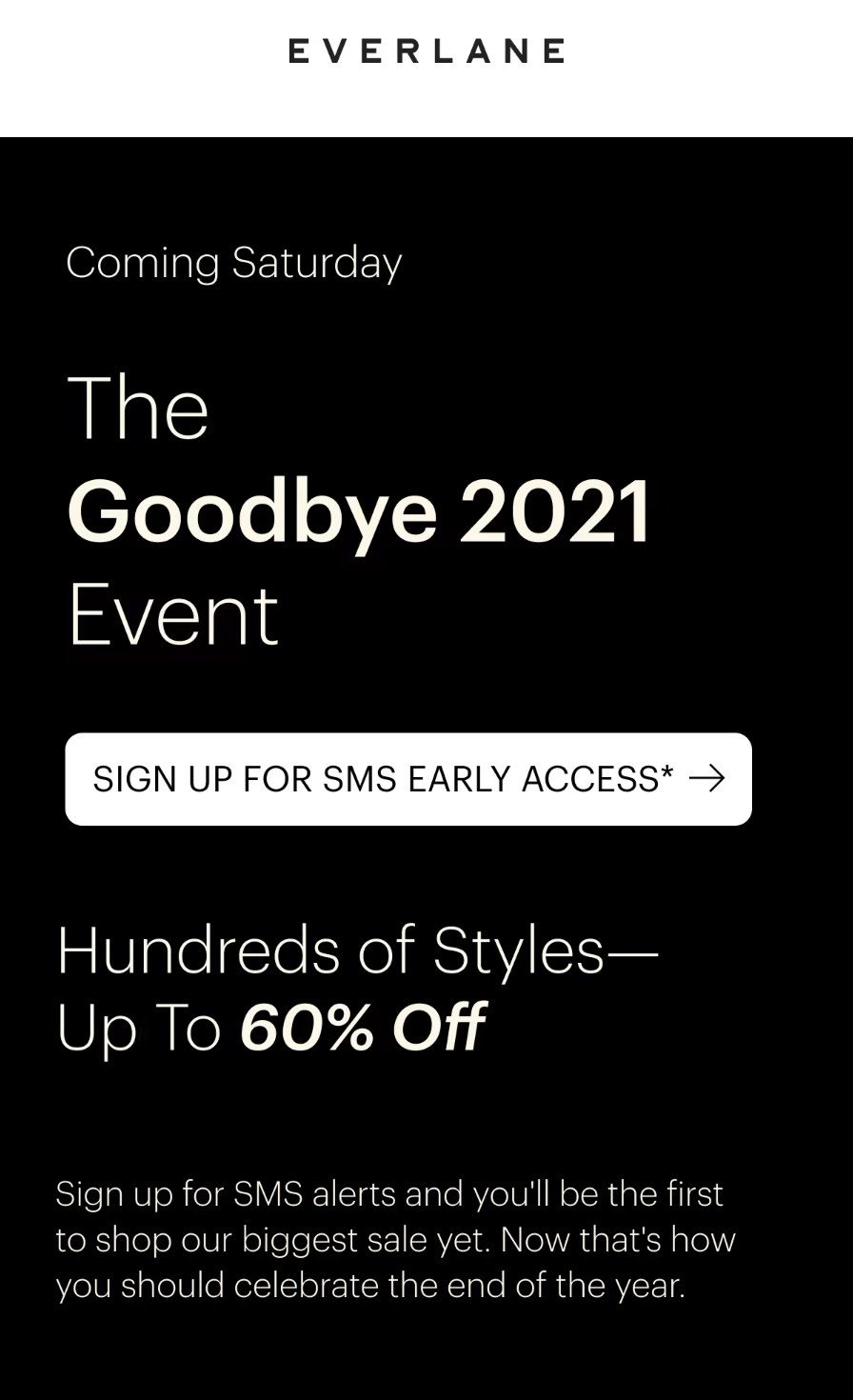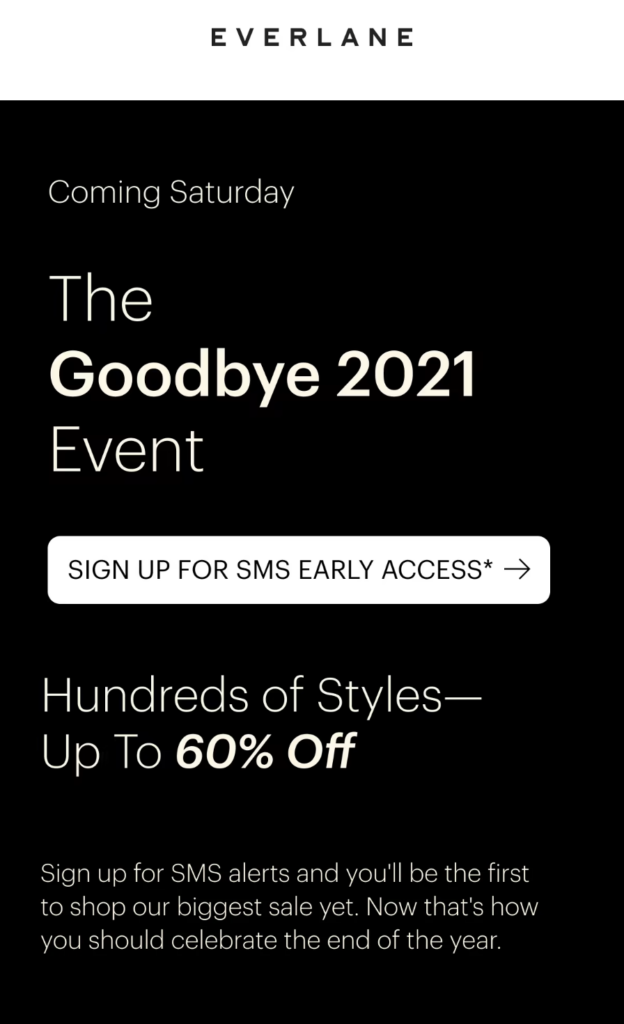 Prepare a marketing campaign
To hype up and increase your seasonal sales, consider running a marketing campaign — whether it's via email, social media, pay-per-click ads, or all 3. This will ensure you get as much traffic as possible to help clear out seasonal inventory.
For instance, instead of dishing all of its promotional offers at once, Dollar Shave Club released daily SKU-based deals to customers via email only. This exclusivity drove shoppers to targeted products and helped grow their email list via organic and paid traffic.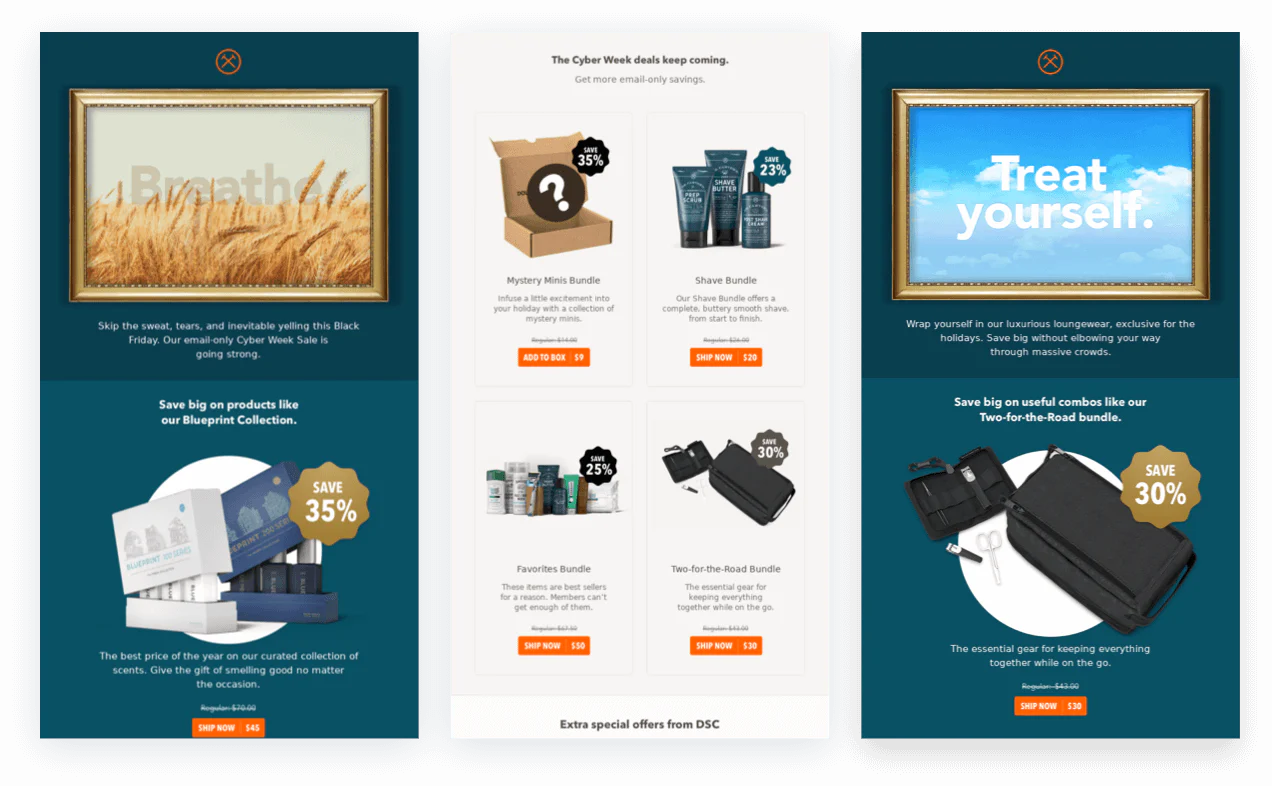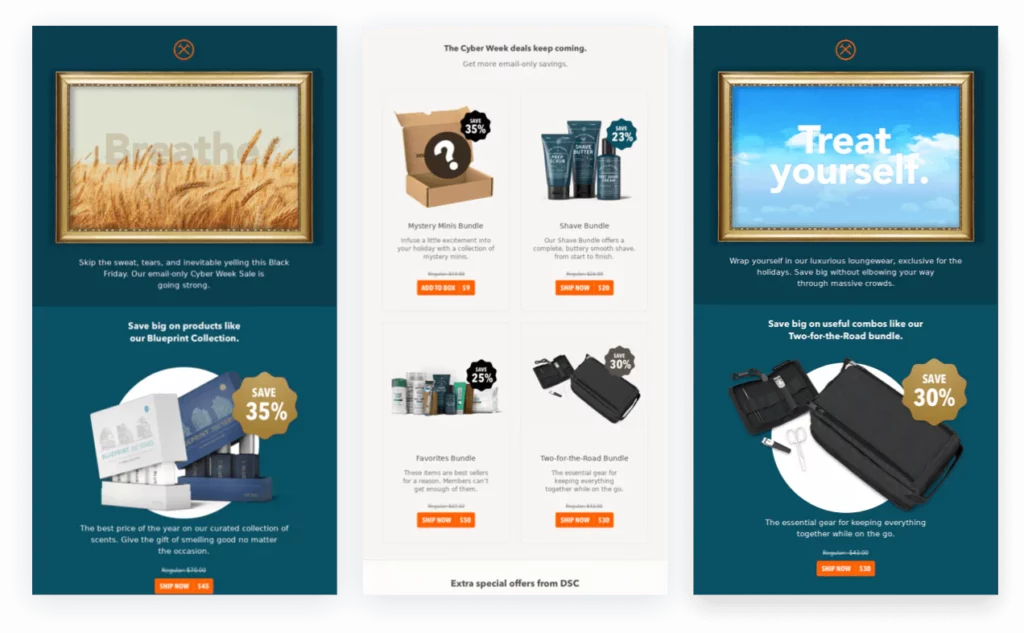 At the same time, you don't want to generate too much hype and run into stockouts quickly. (That is unless you're sunsetting the product and using "while supply last" scarcity tactics to clear out that inventory.)
With Cogsy, you can automatically factor in your marketing events to see how it impacts demand. That way, you know whether you have enough holiday inventory to fulfill orders going into a seasonal campaign (and you're not left with an embarrassing stockout halfway through your biggest sale of the year).
Give to charity
If you still have overstocked items after trying the first two strategies, you might consider giving the inventory to charity. This enables you to eliminate the costs associated with storing holiday inventory and frees up that space for new, better-selling products. Plus, you might be able to claim charity donations at the end of the year as a tax deduction.
Recycle
Finally, consider recycling your excess inventory to eliminate obsolete products if all else fails. This is an easy way to eliminate holding costs, free up warehouse space, and reduce your environmental impact. It's also a great marketing opportunity for your brand since nearly 80% of US consumers consider brand sustainability when making some purchases.
Automate holiday inventory management for guaranteed profit
Improving demand forecasting, placing orders early, and preparing for stockouts are all great tactics for solving most seasonal challenges. But the only way to prepare properly and guarantee profit is to automate your holiday season inventory management.
That's because inventory management tools like Cogsy leverage up-to-the-minute data for more accurate seasonal forecasts. Plus, it constantly monitors your stock levels (the best alert when levels are low) and provides actionable insight to make quicker planning decisions amidst holiday chaos.
With Cogsy, you earn more seasonal revenue thanks to:
Accurate demand forecasts using real-time inventory levels and past trends.
Sustainable operational plans (with the power to effortlessly pivot when needed).
Optimized POs (all you do is check and submit) with automatic replenish alerts.
Replenish alerts that ensure you place your order at the ideal time.
The ability to sell on backorder if stockouts occur.
Want to see first-hand how Cogsy improves seasonal inventory planning and makes this holiday season your brand's most profitable yet? Request a demo today.
Holiday inventory FAQs
Get answers to your most frequently asked holiday inventory questions.
What is the best time to buy seasonal inventory?
The best time to buy seasonal inventory is several months before the actual holiday season starts. Experts predict that some holiday consumers will start shopping in October this year (to score better deals). So, ensure shipments arrive by the fall to prepare for this early demand.
What are the advantages of being prepared for holiday sales?
When brands properly prepare for holiday sales, they ensure they have enough inventory to meet predicted demand and avoid holiday stockouts. At the same time, brands can avoid overstocking less-popular items that later cut into holiday profit margins. Both tactics enable brands to fully realize their holiday sales potential and improve customer experience.
What is the difference between an in-season and an out-of-season product?
When a product is experiencing more-than-usual demand, it's typically an in-season product. And when sales and interest slow for a particular SKU, it's likely an out-of-season product.
Reach your revenue goal
See how you can generate 40% more revenue and save 20+ hours a week with Cogsy. 
Try free