Low stock alerts help businesses become more aware of inventory running low, so they can replenish before stockout occurs. Discover the best low stock alerts here.
When you're a busy direct-to-consumer (DTC) retailer like yourself, the last thing you want to do is manually count your inventory levels and try to figure out when it's time to reorder.
On top of being super tedious, manual counts cost your brand big money (namely, in the form of stockouts) if you do them wrong. Thankfully, automated stock alerts will do a lot of this legwork for you.
With the right operational software or stock alert app, you'll receive notifications whenever your products hit their designated reorder point. No manual stock-taking required (saving you lots of time).
Plus, it'll improve your ordering accuracy, so you always have what your customers want in stock.
Want to know which apps and software reign supreme? Keep reading to find out.
What are low stock alerts?
Low stock alerts are automatic notifications reminding your brand that it's time to reorder a certain product or SKU variant. These alerts are sent by whichever operations platform your brand uses via text or email.
Low stock alerts are most effective when they're based on accurate demand forecasts and your current inventory levels. That's because these notifications are sent out whenever your brand runs low on inventory and it's time for you to reorder.
Ideally, there's also a dashboard where you can monitor your inventory between stock alerts, so you know what you'll need to replenish.
You can set up alerts for your whole business or customize them at the SKU level. The frequency of these reminders and the details they contain can also be customized.
Low stock alerts & inventory management
Low stock alerts have a direct, positive impact on your brand's inventory management. Along with improving your overall efficiency, inventory alerts also help you to avoid dreaded stockout and dead stock situations.
Improves inventory efficiency
Restock alerts can improve your inventory efficiency in a big way. This is largely because low stock alerts are sent automatically. Meaning, you don't have to hover over your inventory trying to figure out the best time to reorder.
When you use manual methods for product replenishment, you'll waste lots of valuable hours without achieving much inventory accuracy in return.
Depending on the size of your inventory, a manual audit could take several days or weeks to complete. And who knows how many errors your audit team will make (after all, nobody's perfect)?
By relying on stock alert automations, however, you don't have to think twice about when to reorder low stock items or what quantity you need to purchase.
Instead, you'll receive texts or email alerts that tell you everything you need to know about what, when, and how much to reorder.
Simply put, automatic alerts help you take control of your inventory logistics. So, you're not placing last-minute orders or racking up human errors in the replenishment process.
In addition to saving you money, this efficiency also supports customer satisfaction. That's because you can better guarantee you have the SKUs customers want in stock and ready to ship.
This not only boosts your brand's efficiency but it ensures you keep products in stock, so you never miss out on a potential revenue opportunity (more on this in a minute).
Avoids stockouts
Stockouts and inventory shortages are a major issue retailers face today.
While these stockouts can sometimes be attributed to supply chain delays, an estimated 70-90% of stockouts are caused by poor shelf replenishment practices.
That's a pretty staggering statistic. But it does emphasize the importance of the end-to-end replenishment process.
If you're not utilizing low stock alerts, there's a much better chance you'll run into replenishment gaps that trigger stockout situations. These stockouts cost DTC brands an estimated $1T annually.
Along with that lost revenue, stockouts also impact future sales, leading to negative reviews and customer turnover.
On the flip side, automatic stock alerts help you maintain a consistent flow of inventory so you can easily meet customer demand.
As you already know, these alerts work like a roadmap, indicating when and what to restock. This way, you never have to turn customers away because you went out of stock.
What's more, if you run a multichannel or omnichannel business, low stock alerts will be critical in ensuring every distribution location has enough on-hand inventory to meet demand.
This is especially important when your sales are expected to surge (like during the holiday season) or when you anticipate longer lead times.
In other words, these alerts ensure your shelves are well-stocked and ready to handle an influx of orders and any upcoming shipment delays.
Minimizes dead stock
Dead stock is all the inventory that DTC merchants fail to sell and has very little likelihood of selling in the future. Unlike returned merchandise, dead stock items have never been sold to a customer.
Unfortunately, dead stock takes up prized space at your warehouse and causes your brand to incur expensive holding costs. And when you spend money on inventory, but those units don't sell, it will negatively impact your bottom line.
While the dead stock is often the result of faulty forecasting, it can also happen because of poor inventory management.
For example, if you're manually managing your inventory, there's always the chance you'll have reporting inaccuracies. When this happens, you might reorder a product with low demand or one that doesn't need to be restocked.
That's where low inventory alerts come to the rescue. These notifications guide your replenishment with incredible accuracy, so you're far less likely to have excess inventory sitting in your warehouse.
By minimizing your dead stock, your brand can protect its profits and really cut down on the amount of waste it accumulates, as well.
The 6 best low stock alert apps
Curious about the best low stock apps for your ecommerce store? We've rounded up the top 6 so you can compare all their pros, cons, features, and pricing.
Cogsy is a comprehensive operations platform that helps all kinds of DTC retailers reach their full potential and peak profitability.
Brands who team up with Cogsy have access to around-the-clock inventory notifications and stock updates. Cogsy monitors your inventory 24/7 to give you full visibility into everything your products are doing.
This inventory visibility is the key to creating accurate forecasts and determining your optimal order size.
Even better, Cogsy goes beyond conventional low stock notifications and helps you optimize your inventory using automatic replenish alerts. These alerts arrive at the ideal time to replenish your stock without needing to export data (without the risk of human error).
In fact, Cogsy's replenish alerts tell you exactly when it's time to reorder and what quantity you need. This information reduces your total lead times by taking all the guesswork out of ordering.
And if that wasn't enough, Cogsy can assist with your POs, too. Cogsy's innovative purchase order feature helps your brand reorder exactly the right amount. (No, really!)
At the push of a button, Cogsy creates a customized PO that meets all your inventory needs. All you have to do is check that PO and hit "submit."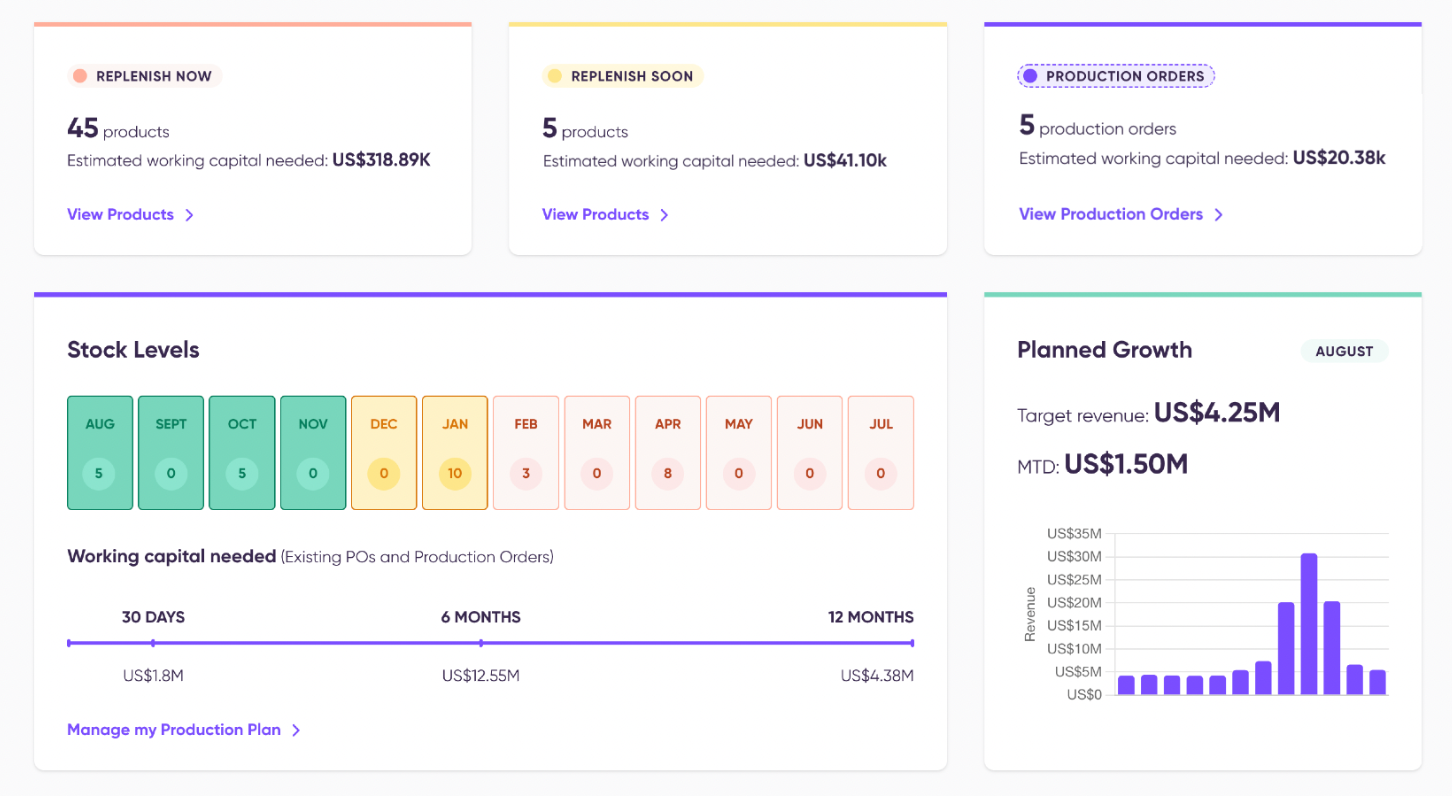 Not to mention, brands can check their actionable dashboard in Cogsy any time they like. Doing so offers peace of mind knowing that you're fully stocked, plus it allows you to see what SKUs need to be reordered now (and which ones will need to be reordered in the next few months). It doesn't get more convenient than that.
Highlights: 24/7 product monitoring, forecasting, custom replenish alerts, and PO creation
Lowlights: the only drawback is that you didn't partner with Cogsy sooner
Cost: paid plans starting at $200 per month for Cogsy's complete operational suite
*You might be thinking "that's too expensive." But it's important to remember that Cogsy's functionally goes way beyond low stock alerts. Cogsy has tools to help with inventory management, new product planning, marketing events, selling on backorder, and so much more.
👉 Check out everything Cogsy can do for you here.
Merchbees allows retailers to set their own low stock limits, so they're notified whenever inventory falls below this stock threshold. The defining thing about Merchbees is that this app sends notifications through Slack or email (rather than SMS or text messaging).
Users can receive alerts at a specific time of day for added convenience and operational ease. Plus, Merchbees has several filters that help you better visualize and manage your inventory. These filters include product descriptions, variants, vendors, and more.
The trouble with the Merchbees app is that it has difficulty supporting a lot of SKUs at once. Meaning, Merchbees won't be able to scale with you after a certain point, so it's really tailored toward small businesses or brands just starting out.
Moreover, it'll be up to the brands to figure out what to do with all that SKU data. For instance, what, when, and how much to reorder (leaving too much room for human error).
Highlights: real-time reports, customized email templates, location-based stock tracking
Lowlights: cannot accommodate a large volume of different SKUs
Cost: paid plans starting at $4.99 per month
Low Stock Alert helps Shopify stores stay updated on their product's inventory and monitor which SKUs are running low. This app sends email notifications that inform retailers when items have reached their reorder point and need to be replenished.
By onboarding with Low Stock Alert, retailers can receive emails on a regular, scheduled basis. Hence, they never miss a sale or turn away a prospective customer. This app also comes with multi-location support, so you know when there's low stock at your inventory warehouses.
With that said, many Low Stock Alert users have commented that the app's basic functionality didn't meet their expectations. For instance, while retailers can set up alerts and perform inclusions and exclusions, that's where the extra features end.
If your brand has a diverse product catalog or unique business needs, Low Stock Alert may not be able to tackle this complexity to your standards.
Highlights: custom scheduling, overseeing multiple locations, tracking inventory data and analytics
Lowlights: basic functionality that doesn't support a diverse set of SKUs
Cost: paid plans starting at $5.99 per month
Notify Me is a stock management app that sends automatic emails and push notifications when products fall below the inventory alert level. This dramatically reduces the time brands take to identify low stock products and place a PO with their supplier.
The Notify Me platform requires roughly 1 hour to send an alert once products have reached their inventory warning level.
Truth be told, that timeframe isn't very fast compared to other available platforms. For example, Cogsy sends these same emails as soon as the stock falls below a certain level (AKA, in real-time).
Still, Notify Me's alerts can help retailers organize their replenishment process so those low stock levels don't run into stockout territory.
Keep in mind that Notify Me has difficulty setting up different warning levels and target emails for multiple channels (like your online store, POS, and so on). This is a significant setback for omnichannel retailers, as it limits where and how they can receive alerts.
All in all, Notify Me might be best suited for single-channel operations or brands who don't have very complex inventory needs.
Highlights: display vendor names in email reminders, set warning levels by products/variants
Lowlights: cannot offer customer support for multiple channels
Cost: paid plans starting at $4.99 per month
Low Stock Notifier offers dedicated multi-location support. That is to say, this app creates multiple notifications per location or specific use case. This is especially great for multichannel brands that need a platform geared toward this diversification.
With Low Stock Notifier, Shopify sellers can send alerts to all concerned parties for all product variants. These notifications are shared via email or Slack. And they can be set up within a matter of seconds — no coding or time-consuming implementation involved.
Despite these positive attributes, Low Stock Notifier has a few flaws. Namely, this app is credited as having simple functionality and a pretty basic user interface.
For that reason, Low Stock Notifier is best for small retailers with a low product volume or a limited number of variants. If your goal is rapid brand expansion, you might look elsewhere for an app that supports this kind of growth trajectory.
Highlights: no code solution, multi-location support, send notifications for specific use cases
Lowlights: skewed toward small businesses with low order volumes
Cost: paid plans starting at $2.99 per month
Stockbot Low Stock Alerts sends emailed reports with a detailed rundown of your low inventory levels. When using this app, you can set alerts for specific items, product variations, or even entire product collections, so they meet your unique needs.
In addition, the Stockbot platform helps users with sales forecasting. That way, you know how much stock you need to satisfy future demand (based on previous sales and order lead times). With this feature, you can save time and money (and hopefully avoid stockouts).
As great as that all sounds, Stockbot Low Stock Alerts doesn't excel when it comes to scalability. So if you need a replenishment partner with robust integrations to help your brand scale, it's probably best to skip Stockbot in favor of a more advanced platform.
Highlights: creates daily, hourly, or weekly emails; unlimited email recipients; real-time reports
Lowlights: lacks integration options that help brands scale
Cost: paid plans starting at $9 per month
Want to take advantage of Cogsy's automated replenish alerts, customized POs, and an abundance of other functionalities? Try Cogsy free for 14 days, and see what a difference having a reliable operations partner can make.
Low stock alert FAQs
Looking for more info on low stock alerts? Our FAQ section has all the answers you need!
What are the benefits of implementing low stock alerts?
Implementing low stock alerts has several benefits for direct-to-consumer retailers. Not only do inventory alerts improve your brand's overall efficiency, but they also help you avoid dreaded stockout and dead stock situations. (Both of which have a big impact on your bottom line.)
Can Shopify notify me when inventory is low?
Shopify has many apps that deliver low stock alerts to product-based brands. These apps will vary in their features and functionality. But generally speaking, they can:
Send emails or push notifications
Offer multi-location support
Set warning levels for each SKU variant
What is the best low stock alert app for Shopify?
While there are tons of low stock alert apps available for Shopify sellers, just a few platforms outshine all the others. Among the best stock alert apps for Shopify stores are: Cogsy, Merchbees, Notify Me, and Low Stock Notifier.
Reach your revenue goal
See how you can generate 40% more revenue and save 20+ hours a week with Cogsy.
Try free