Plus, how the build-your-own bundle strategy is working for the men's personal care brand 3 months later.
Huron turned 3 this July. And to celebrate, the men's personal care brand hosted a big BYOB (build your own bundle) extravaganza. Everyone was invited to it.
Admittedly, the newly launched BYOB feature seems more like a present for Huron's customers than for the birthday brand. But it's turning out to be the gift that keeps on giving.
Before launch, Huron offered several pre-configured, best-selling product bundles. But none of them saw the same success as the build-your-own.
In fact, on the 1st day that customers could bundle their favorite products to unlock perks, Huron beat its Black Friday sales record. The following 5 days, the brands' average order value (AOV) increased 85-110% on average for new and repeat customers.
But these results were not totally surprising. In a recent quarterly customer survey, 83% of respondents said they wanted a BYOB or similar personalization option from the DTC retailer.
Still, Huron co-founder Matt Mullenax told Modern Retail that his team is thrilled by the "initial traction." And that they've since doubled down on their BYOB feature to keep the good times rolling.
But how can you leverage BYOB to get similar results? Let's reverse-engineer Huron's strategy to find out.
👉 Not familiar with Huron? Hear Matt tell his founding story 1st-hand (plus, get all his proven customer retention strategies) on The Checkout.
Leans on bundling psychology
I know what you're thinking – no, duh.
But let's get the obvious out of the way first: Product bundling is inherently a strong marketing strategy (especially when the bundled products come with perks). However, not all bundles are equally effective in every situation.
Take Huron's market, for instance. Personal care is, well, personal. So, not everyone (or even most customers) will use the same combination of the brand's 16 SKUs.
Because of this, pre-determined bundles will turn some folks off, even with the offered savings. Why? Because if that customer doesn't use all the bundled products, it's wasteful.
After all, it doesn't make sense to save, say, 20% on a $50 bundle if it includes an $11 product they'll never use. That said, many folks will try that "complete" bundled set once because of the perceived value, increasing your AOV in the short term.
Meanwhile, BYOB can increase AOV in the long term if your products routinely need to be replaced (like in Huron's case).
That's because – similar to choose your own adventure books – BYOB lets your customers control their experience with your brand. So, they only receive the products they want (while reaping the benefits of bundling, like getting those products at a discount). Those customers are, in turn, more likely to shop at your store again.
This is, of course, assumes your customers love your products enough to purchase them repeatedly. If not, this strategy – like pre-determined bundles – might only increase AOV in the short term.
But what if customers don't need to repurchase my products multiple times? (Think: Furniture brands.)
In that case, you might have several other items a customer wants to bundle and buy over time. For instance, if they built a living room bundle with your brand this year, they might create a bedroom bundle next year. Thus, increasing your AOV long-term.
Marketed above-the-fold
A website above-the-fold refers to any content visitors see before they scroll down the home page. And being the 1st (sometimes only) thing users interact with, this space is generally the location of the most important story, information, or photographs.
For Huron's website, that space has been dedicated to announcing the BYOB feature for the past 4 months (and counting).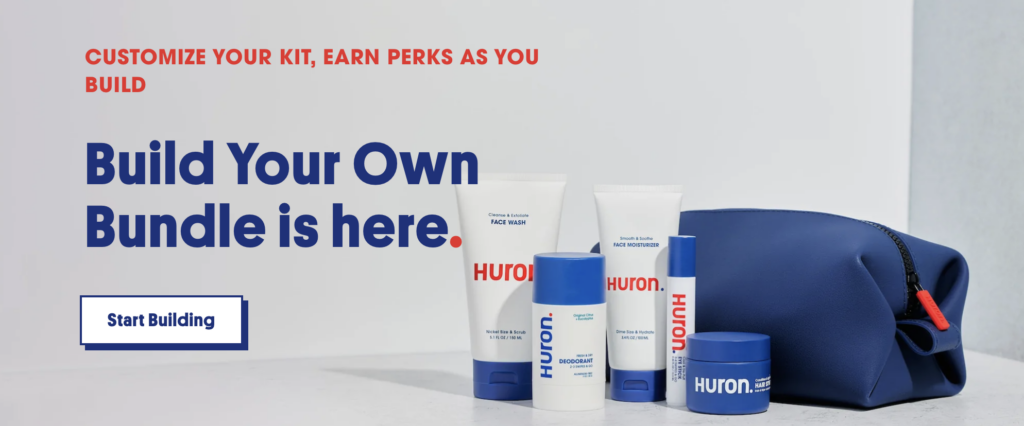 The headline announces that the "build your own bundle is here," making it impossible for visitors to not know about the option. Then, the supporting text succinctly highlights the benefits of bundling over buying items individually: "customize your kit, earn perks as you build."
A back-layered image shows a hypothetical, complete bathroom-routine bundle you could build with the feature.
Finally, a call-to-action button prompts customers to "start bundling [their own bundle]." Customers who click that button are then taken directly to the BYOB feature page (more on this page later).
Otherwise, customers can scroll below the fold, per usual, to learn about the DTC brand and explore its bestsellers. Or, they can navigate elsewhere on the site using the main navigation.
Easy navigation
Not everyone will immediately learn about your BYOB feature and go, "great – I'll do that." That's totally okay.
Letting folks know that they can build their own bundle is step 1. Making it easy for them to start building it whenever they're ready is step 2 (after all, a bundle is a bigger commitment than buying a product one-off).
And that's where your site's navigation bars can come in handy – especially if the above-the-fold doesn't instantly inspire action.
Take Huron's static header, for example. The 1st option along the navigation bar is "shop," and it's likely the most-clicked one. Next to that is the option to "build your own."
When customers click on "shop," they're met with a drop-down menu providing additional categories they can choose from (hair, body, face, more). Meanwhile, "build your own" sends users directly to the page where they can take the anticipated action.
This simple distinction encourages folks to choose the latter "build your own" option.
That's because customers love autonomy (after all, no one wants you to tell them they have to buy something). But "giving customers too many choices can overwhelm and lead to fewer sales," per Neil Patel, co-founder of NP Digital and the leading web marketing expert.
This is especially true if that added step doesn't feel like it gets customers closer to their end goal (in this case, purchasing the products they want). So, sending that 2nd nav bar option directly to the BYOB page removes potential friction that could prevent customers from completing their sale.
🎰 Bet: We'll likely see Huron test "build a bundle" copy in place of "build your own" soon. Why? Because "build a bundle" is clearer and will likely increase clicks and drive more conversions, especially when Huron eventually changes its above-the-fold.
Banner reminder
Say someone comes to your site to browse. That doesn't mean that customer won't ultimately build a bundle.
Sure, if they only expect to purchase 1 product, bundling really isn't an option. But as soon as a 2nd or 3rd item gets carted, they're likely to reconsider. That's, of course, assuming they remember the BYOB feature.
Alternatively, you can always remind them about it throughout your site. Huron does this with a passive top-of-page banner.
This banner switches between 2 messages. The slight animation as these messages toggle back and forth keeps eyes going back to the banner. And both sets of copy support the same goal: to increase Huron's AOV.
The 1st message reminds folks about the BYOB option. It repeats verbatim the above the fold's language to "customize your kit & earn perks as you build."
While subtle, this repetition increases the likelihood that visitors will remember the bundling option long-term, even if they opt out today. That's the worst-case scenario.
Best case, someone clicks on that message. When this happens, they're taken to the BYOB page, where they can learn more and start bundling.
(You could always use a pop-up that triggers when customers add a certain number of items to their cart instead. With this option, you can even recommend related SKUs that customers often buy together.)
Meanwhile, the 2nd message reads: "Free shipping on all orders over $40." Although presented as a separate offer, free shipping is the 1st "perk" customers unlock when building their bundle. Meaning, this banner message again encouraging customers to create a bundle without calling it "a bundle."
However, unlike its counterpart, nothing happens when a user clicks on this message. This way, the shopping experience continues uninterrupted.
Simple user experience
What about when customers finally decide to build a bundle? At this point, the goal should be to make this task as easy as possible.
For instance, Huron streamlines the cart-building experience by listing all its 16 SKUs at least once on its BYOB page.
Best sellers are grouped at the top, providing an easy starting point for new or indecisive customers to start building. Below that, all other products are grouped by category (such as face and body) for a simpler cart-building experience.
Each listing includes the product's name, scent, price, image, and customer rating (out of 5 stars).
This way, people have enough information to identify which products they want without leaving the BYOB page to learn more or validate their decision. Customers can simply click the corresponding "add" button when they're ready to commit.
Once carted, that "add" button evolves to note how many units are currently in the customer's cart. And plus and minus controls easily adjust the quantity (up or down) – without leaving the BYOB page.
Gamified MOQs
When you tell customers to "build a bundle," all they might hear is you telling them to "buy more." And it can actually drive some customers to do the opposite.
So, instead, Huron remixes the classic "buy more, save more" model, focusing on how the customer benefits from building that bundle.
To do this, the men's personal care brand gamifies its softly imposed minimum order quantities (MOQs) by implementing unlockable perks. For instance, spend $40, and unlock free shipping.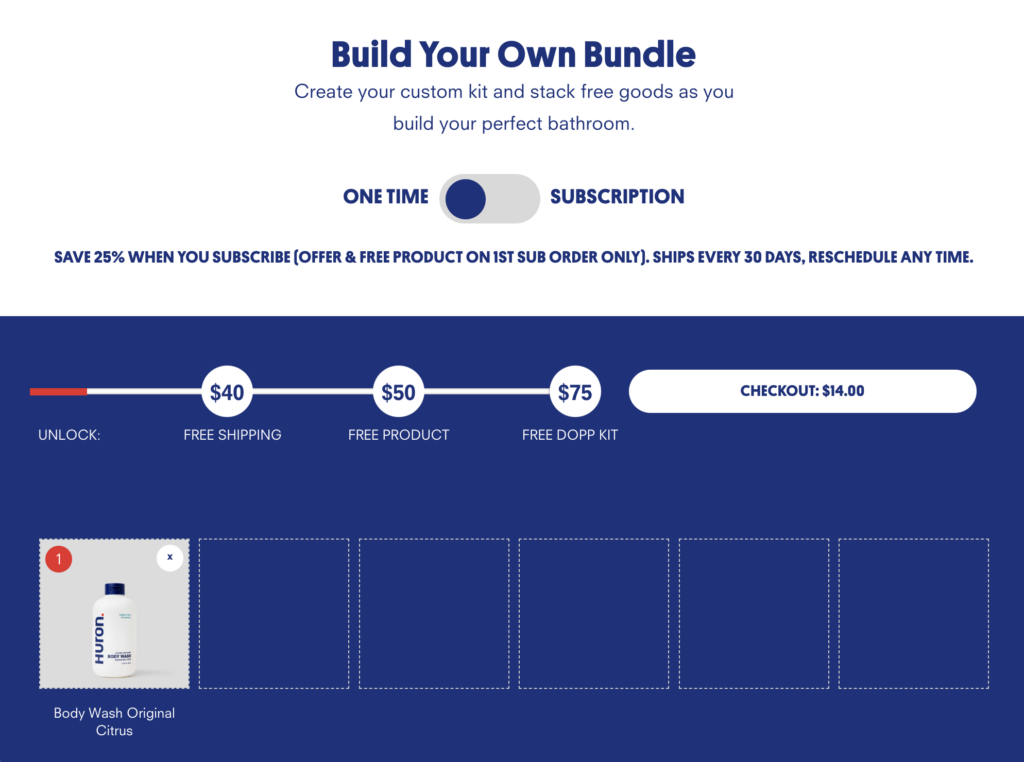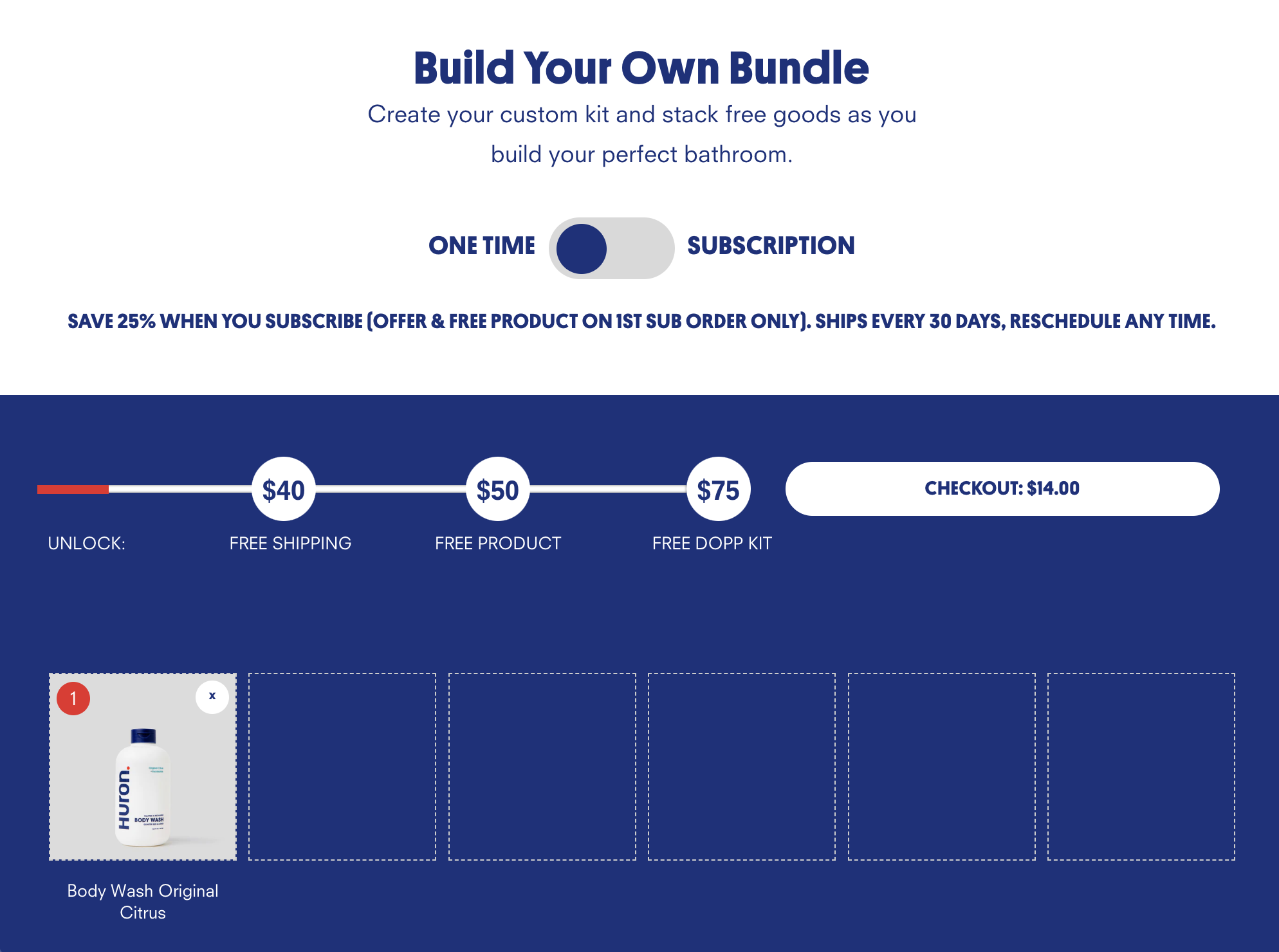 Then, whenever the customer adds an item to their bundle, Huron virtually shelves the bundled products side-by-side, so customers can see their bundle grow.
And a simple spend tracker visualizes how close they are to unlocking the next perk. This tracker encourages customers to add a few more products to reach that next benefit.
For instance, when customers bundle $50+ of Huron products, they're prompted to "choose [a] free gift." And while seemingly small, this can dramatically increase your AOV. After all, what's spending another $10 if it means a free $5-15 product?
You can even use this free gift as an opportunity to lower your holding costs. How? By using this MOQ as an opportunity to offload dead stock or excess inventory makes it a win-win.
🔥Tip: Prompt the customer to select which free gift they want. That way, you can ensure that the freebie is something your customer is excited to receive (and won't instantly end up in the trash).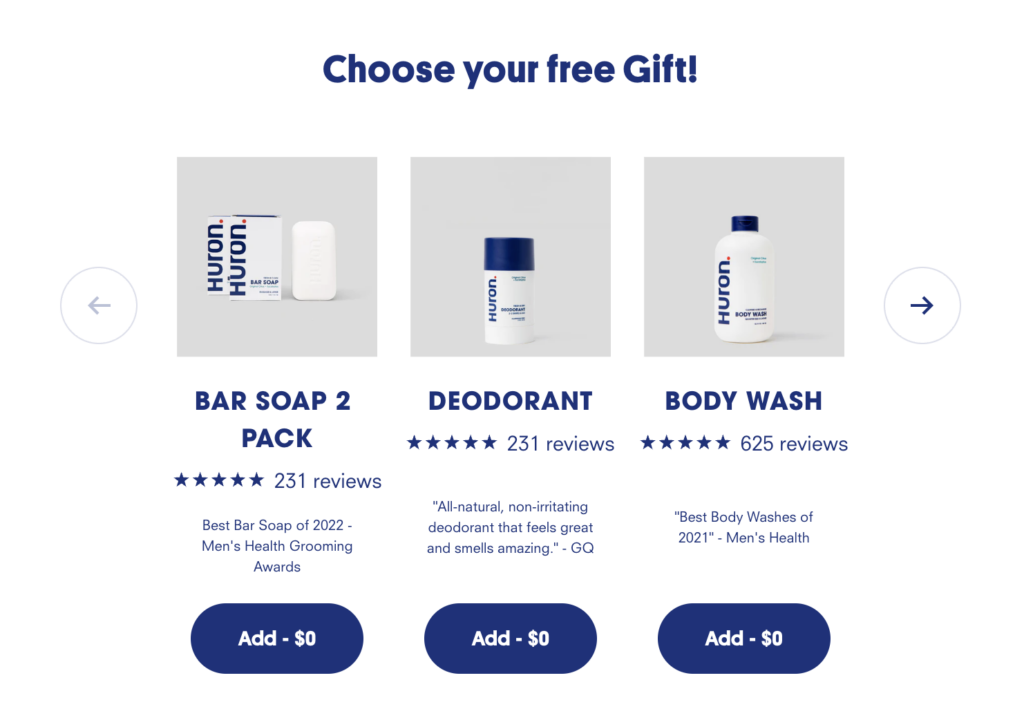 Option to subscribe
These days, it's 5x more expensive to acquire a new customer than retain an existing one. And with rising inflation and market uncertainty, it's only getting more expensive.
So, Huron's leveraging the bundles people build to retain those customers. How? By offering them the option to subscribe and receive that bundle monthly.
Customers even get the added incentive of 25% off their 1st ordered bundle when they subscribe. That's on top of any perks they previously unlocked.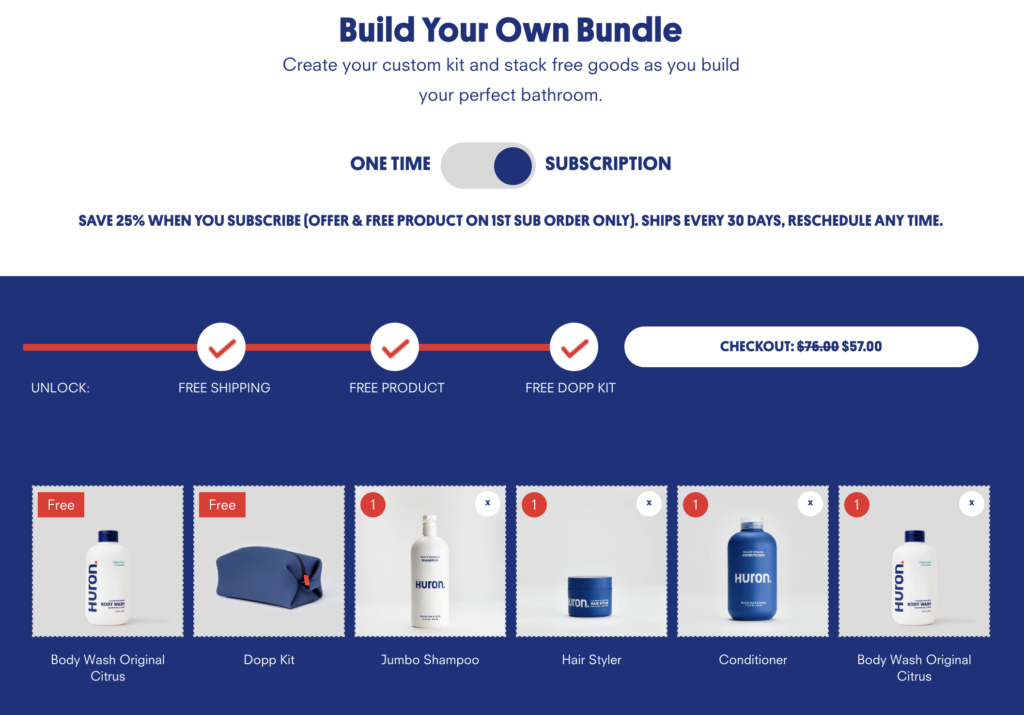 Generally speaking, customers have more brand loyalty for their personal care brands. That said, replenishing these items is urgent. So, if a customer runs out and can't immediately get their next shipment, they will likely find an alternative and stick with it.
By offering subscriptions, Huron ensures that its customers always receive those products before they run out. (The micro-copy "Reschedule [your bundle] any time" removes friction if the customer doesn't think they'll finish the products within 30 days.)
As a result, these subscriptions protect Huron's revenue by automatically charging customers a recurring fee for select products (rather than leaving repeat purchases up to chance).
This way, they don't have to put as much pressure on expensive, one-off marketing events (like Black Friday/ Cyber Monday). Not to mention the brand's inventory forecasting becomes a lot more predictable.
That said, "BYOB was originally built for existing customers, but we've been pleasantly surprised by the take rate of new customers," Matt told us. "These new-to-Huron customers are building a bundle to start and spending substantially more than non-bundle purchasers."
The secret ingredient of successful BYOBs
Admittedly, facilitating a build your own bundle feature can be hard to manage operationally. But it's well worth the effort.
"After collecting ~3 months of data, we can begin testing gift with purchase (GWP) thresholds and product assortment. But so far, [BYOB] continues to be a huge win for us," Matt shared.
But ensuring your BYOB initiative is a huge win comes down to having enough inventory. After all, your AOV only goes up if you can deliver what customers want.
That's where a tool like Cogsy comes in.
The demand planning software is the source of truth for Shopify and Amazon brands. With it, brands can place orders faster, reduce the frequency of stockouts, and minimize the amount of excess stock hanging out at their warehouse.
To do all this, the Cogsy platform monitors your stock levels around the clock. That way, you always know how much inventory you have available (what's just sitting there and what needs to be replenished).
Cogsy then uses that data to build 12-month demand forecasts with pinpoint accuracy. You can even run "what-if" scenarios within the tool to find your best-case, worst-case, and most profitable inventory strategies.
Best part? As new information becomes available, your demand forecasts update automatically, improving your forecast accuracy over time.
That way, you can make smarter, more informed bundling decisions and hit your most audacious revenue goals.
But don't take our word for it – try Cogsy free for 14 days.
Wise up on retail in 5 mins (or less)
Join the 2k+ retailers getting today's smartest ecommerce strategies in their inboxes every Tuesday morning.