In an exclusive interview, Adii Pienaar talks about the biggest DTC trends, ways to adapt to market changes, future predictions, and top brands.
Ecommerce is slowly finding its footing after unprecedented supply chain issues following the COVID-19 pandemic. But more disruptions are on the way.
According to the New York Times, the World Bank said that new disruptions from the conflicts in 2022 have altered trade patterns in ways that could keep commodity prices higher through the end of 2024. This would send new ripple effects through the supply chain.
So, I asked Adii Pienaar what emerging DTC trends (good and bad) these new disruptions are causing and how brands could prepare.
Adii is the co-founder and CEO of Cogsy. But before that, he co-founded ecommerce website builder WooCommerce (acquired by Automattic) and ecommerce marketing automation platform Conversio (acquired by CampaignMonitor). And he's made a career identifying emerging DTC trends.
Here's what Adii spots right now.
DTC trends of 2020: the year that changed it all
As retail stores shuttered their doors amid the pandemic, both physically and digitally native brands shifted their focus to online sales. And the online advertising space got more crowded than ever. Per the Interactive Advertising Bureau, digital ad spend increased 12.2% in 2020 compared to the previous year.  
A similar trend was seen in the physical world. Ports were congested like crazy as more orders were shipped to end-users. Ryan Petersen, CEO of Flexport, even rented a boat to get up close and personal with the chaos and shared on Twitter what he saw.
Yesterday I rented a boat and took the leader of one of Flexport's partners in Long Beach on a 3 hour of the port complex. Here's a thread about what I learned.

— Ryan Petersen (@typesfast) October 22, 2021
"The ports of LA/Long Beach are at a standstill. In a full 3-hour loop through the port complex, passing every single terminal, we saw less than a dozen containers get unloaded," Ryan tweeted. "The bottleneck is yard space at the container terminals."
Even better, once these goods made it off the ships, they ran into truck driver shortages, shipping container shortages, and warehouse shortages.
As a result, retailers struggled to keep up with consumer demand during one of our lifetimes' most widespread supply chain disruptions. And almost as many struggled to stay up to date with the emerging direct-to-consumer trends. Both of which limited growth. 
That's because brands assumed that what they always did would always work. Turns out: That's not true.
Still, when you look up "DTC trends" today, you'll see the same names mentioned over and over again (Nike, Amazon, Casper, Warby Parker, Dollar Shave Club, Bonobos).
You also see the same outdated trends repeated to exhaustion. For instance, hyper-personalized DTC marketing tactics highlighted as the "future of marketing," and cookie-cutter sleek pop-ups in Soho touted as the "future of retail."
But in today's evolved ecommerce landscape, these trends are passe. And they're not unlocking growth for brands like they once did. So, let's explore what emerging DTC trends Adii sees working right now.
Current DTC landscape: 7 of the biggest DTC trends of 2023
Adii's seen several surprising (and not so surprising) DTC trends emerge this year. These are the top 7 worth calling out as we head into the rest of 2023.
1. The new influencer strategy is micro
Hopefully, you didn't immediately roll your eyes at the word "influencer" on yet another trends list. (If you did, hear us out!)
Sure, #sponcon is a hit-and-miss investment full of risks and high expenses. And any brand who's ever been on the coordination side of those high-profile relationships knows how brutal it can be to write a big check for a one-off #ad.
But marketing-skeptical Gen Z shoppers still trust micro-influencers more than any other forms of marketing. Not to mention that influencer marketing can now be a more cost-effective way to expand your brand's reach.
Post iOS-14, advertising on existing digital channels has become extremely difficult. And more than a year after the privacy update, "startups are still struggling to adapt," per Modern Retail.
Comparatively, your ad dollars will go farther when you partner with a handful of internet influencers than pay to get to the top of folk's feeds.
Plus, leveraging micro-influencers can establish trust with skeptical shoppers burned by traditional advertising and big-name influencers that can be "bought by brands." So, ecommerce retailers who understand where their advertising strategies fit in their customers' feeds establish trust much faster.
"[Brands are] no longer the core orchestrator of the dialogue," said McKinsey & Co partner Bo Finneman on The McKinsey Podcast. "You're purely 1 other voice in it. That's a more complicated world to be in... The most successful brands we see today have used that to their advantage, versus feeling as though it's a risk or something they have to try to minimize."
And in such a crowded marketplace, it's even more important to set yourself apart. Ethical, local, smaller, values-based brands will have a definite edge with Gen Z shoppers:
65% of Gen Zers adjusted their shopping behaviors to support local businesses during the pandemic
45% will abandon a brand for their stance on an issue
But leveraging micro-influencers that align with your brand (and are already in front of your target customer) can really take your DTC marketing strategies to the next level. 
Take Graza, for example. Graza is the DTC extra virgin, Spanish olive oil in a squeeze bottle that's actually what it advertises. (Most of their competitors add other oils to lower production costs or sneakily source their olives from multiple countries.)
And in the weeks leading up to their February 2022 launch, Graza implemented an untraditional influencer campaign. Most brands partner with a few big-name influencers with millions of followers and have them post once on their launch date.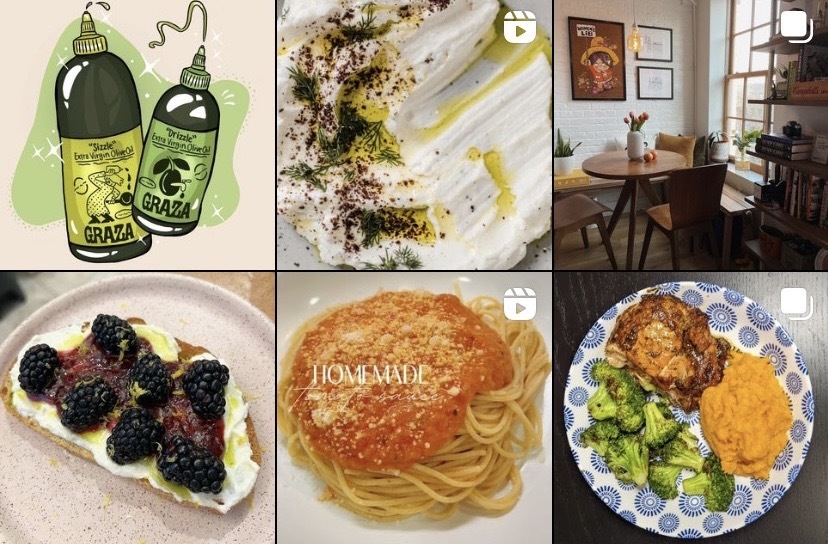 But the olive oil brand partnered with barbecue and pizza enthusiasts with a few thousand followers 2 months before their official launch. And it led the brand to double the impact of their first product drop by collecting pre-orders and enjoying the usual launch day hype.
2. BNPL services are growing in popularity
Over the past few years, consumers have weathered personal financial storms, leading to a 300% YoY growth in buy now, pay later (BNPL) services.
Companies like Afterpay, Klarna, and Affirm provide a nifty checkout button where shoppers can grab a line of credit to make a bigger purchase. And Klarna alone has driven $80B gross merchandise value (GMV) for its retail partners in 2021.
With today's market instability, this feature seems to be a boon for cash-strapped shoppers and retailers alike, boosting conversion rates by 2.1%. But do people really "pay later?"
Well, it depends on whom you ask. Klarna claims that 99% of their BNPL loans are repaid worldwide.
"Our credit loss rates have reduced by over 30% since 2019," said Sebastian Siemiatkowski, CEO and co-founder of Klarna. He even claimed that the company has "avoided adding to an unhealthy debt burden" for tens of thousands of consumers.
But the people using BNPL options seem to disagree:
30% of consumers admitted they struggle to make their BNPL installments (with some not paying other bills to make these payments)
50%+ said they're paying off more than one BNPL plan
22% said they actually regret taking advantage of BNPL options
Because of this disagreement, Emarketer predicts Buy Now, Pay Later usage will ultimately slow down in 2025. And Klarna laying off 10% of its workforce in May 2022 seems to add credibility to the claims of those paying later.
That's not to say don't offer BNPL options. Just make sure to educate your customers on exactly what their payment plan and potential fees look like if you do, especially if you sell to younger customers.
Almost 75% of BNPL users are Gen Z and millennials. And many of them lack the financial education needed to understand what exactly they're signing up for. And as the brand offering the option, a bad buy now, pay later experience reflects poorly on your brand – not just your BNPL provider.
3. More niche DTC categories are hitting the market
DTC retail started as the preferred method for cutting traditional wholesale retailers and bulky middlemen out of the shopping experience. This provided consumers with the product they wanted without extra costs. (Consider Casper and Warby Parker's "lower costs by cutting out the middleman" messaging.)
But as DTC matured, it became the top way to sell fringe products that are "too niche," "taboo," or otherwise "unacceptable" to sell on traditional distribution channels. And as these traditional channels become increasingly crowded, the shift to DTC might be the catalyst niche brands needed.
"Back then, it was all about we gotta get customers," said top DTC consultant Nik Sharma on The Checkout. "Now, we need to get customers and keep them because there are 37 other companies that sell the same thing we do."
But niche brands face a different challenge: many operate in stigmatized markets. So, when they embrace traditional marketing methods like running ads on social, their posts often get flagged for "not following community guidelines."
And it's not just paid that's causing troubles. The products these brands sell are what platforms deem "inappropriate" for a wider audience. So even the brand's organic posts are flagged or "shadowbanned" (hidden by the algorithm to make them less discoverable).
Operating direct-to-consumer allows these brands to reach the right audience and build a loyal following. All without enduring legacy retail's less-accepting attitudes.
For example, intimacy essentials brand Maude got around these shadow bans by focusing on selling candles because it's the only product they can advertise on these censored channels. And their sensual organic content focuses on sex education instead of being overtly sexual.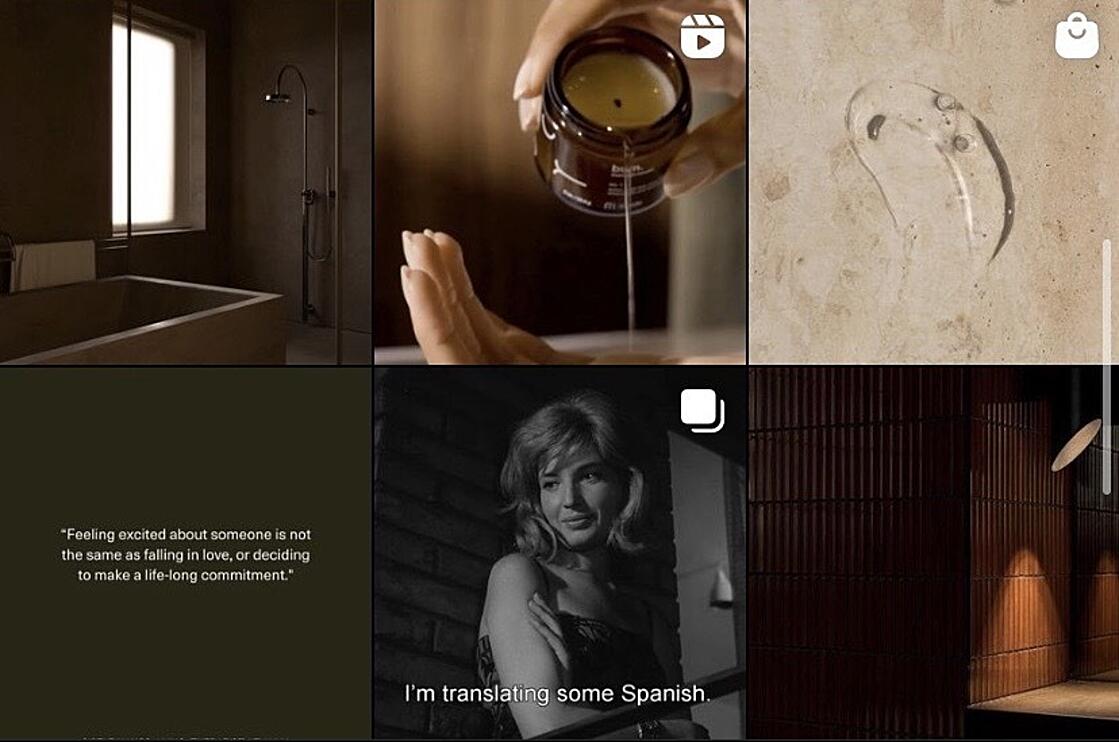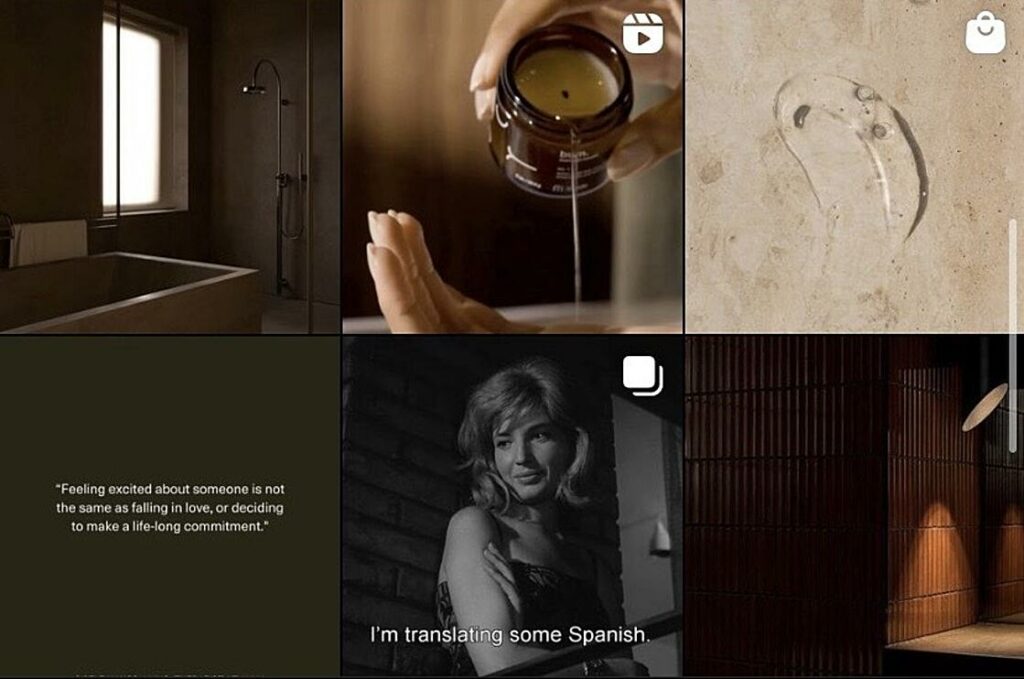 These workarounds have earned them traction on social (77.8k Instagram followers) and helped them become the first sex toy brand to close a series A.
Meanwhile, other niche brands like For Them, which offers gender-affirming binders, and Rebundle, which sells plant-based braiding hair, have doubled down on more niche audiences. And they're investing heavier on their owned channels.
This move bets that meeting a more specific need will pay bigger dividends than trying to meet a wider audience's needs like mattresses, eyeglasses, or candles do.
And Target's recent announcement that they're putting 40 new indie brands on their shelves by the end of 2022 feels like confirmation that consumers are looking for more niche products. And suggests that they prefer to buy these products from brands that understand their unique needs.
4. Social shopping is becoming a new norm
Social shopping (where ecommerce brands try to mimic the social interactions found in physical stores) isn't exactly a novel concept.
People have been selling stuff over video long before TikTok LIVE Shopping took off. (Think QVC shopping in the 80s.)
Historically, social shopping methods were expensive and unattainable for leaner DTC companies. But thanks to social media, even today's smallest ecommerce brands can sell out in a matter of seconds.
Global sales via social channels were estimated at $560B in 2020. And they're projected to reach $605B by 2027.
And that's not even considering the 35% of consumers who said social media ads influenced their purchasing decisions even if they ultimately purchased offline. This number jumped to 75% for Gen Z shoppers.
Even legacy ecommerce platforms are trying to shift to meet the social shopping trend. For instance, WooCommerce recently partnered with Pinterest to offer their 3.6m merchants Shoppable Pins.
Why? Because social shopping has proven to grow brands' audiences and, increasingly so, unlock viral growth. At least, in theory, it does.
In January 2022, makeup brand Jones Road Beauty posted a TikTok featuring their signature Miracle Balm.
Almost overnight, this TikTok got 24k views, and orders for the product came in faster than the company could fulfill the demand. And the team quickly learned that going viral can actually limit your growth if you don't have the inventory needed to meet this unanticipated demand.
The Jones Road Beauty team handled this by pivoting their front-facing social strategy to feature other in-stock products. This way, they could keep the hype going without frustrating customers by marketing out-of-stock products.
And behind the scenes, they moved quickly to replenish their bestselling Miracle Balm.
"We were placing the biggest POs as fast as we could and giving love to other products instead," Cody Plofker, Jones Road Beauty's director of ecommerce, remembered on The Checkout.
Since then, Jones Road has gone viral a few more times (who can forget the infamous shade Bobbi Brown threw at one TikTok influencer). But now, they have a working playbook for handling the many untold operational challenges that come with successful social shopping.
5. Subscription pricing is gaining momentum
Nowadays, it's 5x more expensive to acquire a new customer than retain an existing one. And with rising inflation and market uncertainty, customer acquisition and retention are likely to get even more costly. Subscription models provide a workaround.
For instance, Fohm sells a toilet paper cleansing foam as a one-off product or subscription plan and bases how much you need on the number of bathrooms in your house.
On your side, subscriptions protect your brand's revenue by automatically charging customers a recurring fee for your products (rather than leaving repeat purchases up to chance). Because of this, 75% of DTC businesses are expected to offer subscriptions by 2023.
But for your customers, subscriptions are more convenient than buying products when you remember you need them. This is especially true for everyday products like food, beauty, or household items that people purchase like clockwork.
Subscriptions also position smaller ecommerce brands to compete with the Amazons of the world, who sell the same product and can get refills to customers faster.
That's because customers favor whichever option offers a hassle-free experience, free shipping, and instant gratification, per Entrepreneur. With Amazon Prime, customers get what they need 2-days after realizing they "need it now." But with a subscription model, you get them that same product right before they run out.
Fohm co-founder Jerry Staub told Cogsy that some ecommerce brands are starting to push customers toward subscription plans by removing 1-time purchase options completely.
This can be a lifesaver for retaining new customers amid ever-increasing acquisition and advertising expenses. Not to mention subscriptions remove a lot of the ambiguity that can throw off your ecommerce forecasts. So, you order only the inventory you need and free up cash for other growth initiatives.
"For consumable products, the data is clear that subscription customers have a higher lifetime value that offsets CAC increases," Jerry shared. "And this streamlines inventory demand planning to become much more efficient."
But without the option to buy a product only once, ecommerce brands might be creating a bigger barrier to first-time buyers (making CAC that much more expensive).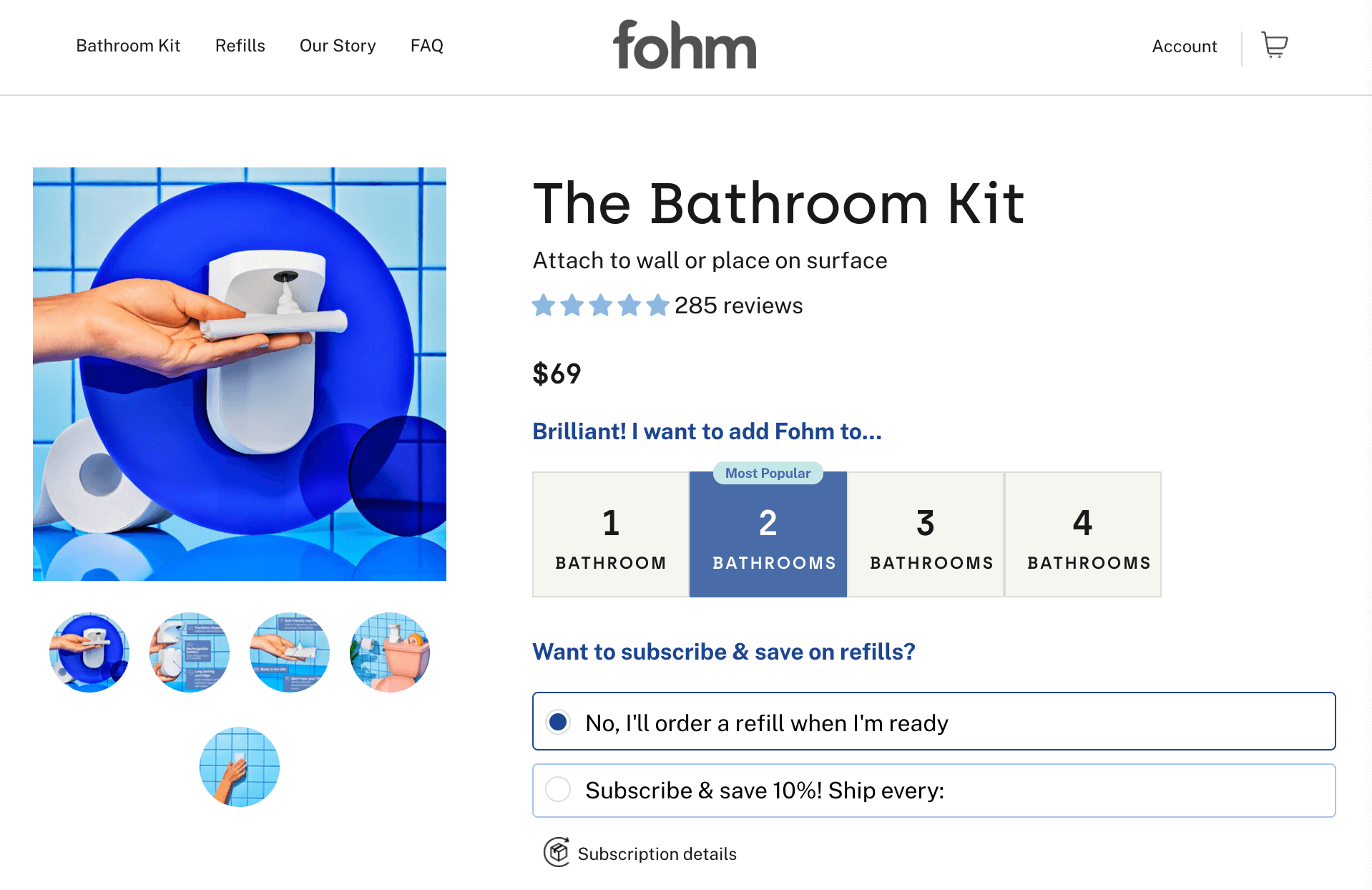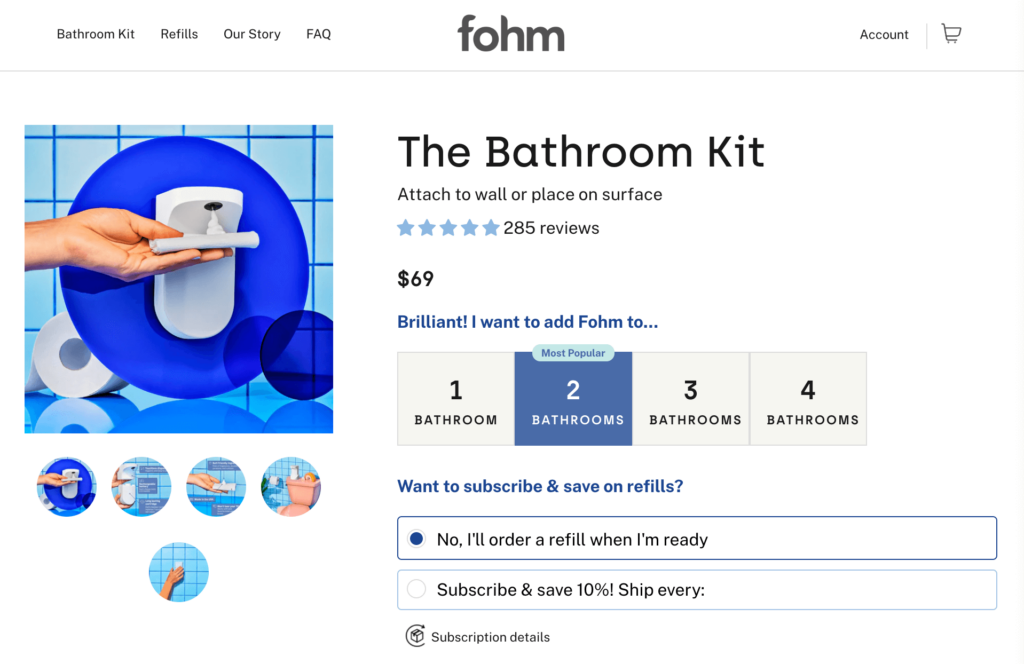 Because of this, Fohm still offers 1-time purchases. And they encourage customers to switch to their subscription plan by providing a 10% discount on each refill. Plus, they ask customers to select how often they want a refill (either every 6 or 10 months) to proactively reduce churn.
6. Backorders are the new back-in-stock
No surprise – but stockouts are on the rise, thanks to the ongoing supply chain troubles. In fact, out-of-stock warnings are up 172% from January 2020 and 360% from January 2019.
Historically, selling out was seen as a good thing. Brands would simply mark the product as "Out of stock" for a few weeks. And they'd (maybe) offer to send a back-in-stock notification when the product, well, came back in stock.
However, this strategy isn't very effective. Back in stock notifications see a dismal 5-15% conversion rate. Not to mention, it's simply a massive missed opportunity for most brands. That's because 21-41% of customers will purchase a similar product from your competitor before receiving this notification. So, the longer you're out of stock, the more it costs you.
That's where selling on backorder comes in. And brands are finding that they can generate even more hype (leading to more sales) when they position their backorders as "pre-orders."
How does this work? You offer customers the chance to purchase products before they're officially back in stock. This way, you can capture demand for a product, even when the product is not yet available. Because of this, selling on backorder sees a marginal drop in conversion rates compared to selling that same product when it's in stock.
To set it up backorders, top retail brands like Caraway use Cogsy. Cogsy then automatically updates the product page, customer cart, and emailed receipt to communicate when the product will ship. That way, customers stay happy because they know what they're signing up for. Plus, Cogsy manages all your unfulfilled backorders in an intuitive platform.
So, how is this pre-order approach different than selling on backorder? The biggest difference is the messaging.
Instead of calling a backorder what it is, brands are now announcing that a product is almost back and offering customers the chance to "pre-order" the long-awaited item. That way, backorders turn into a marketing event, supercharged by this sense of scarcity.
Comparatively, some brands like Our Place are still just announcing back in stock. And in the messaging, they're highlighting that the product is typically out of stock. While also effective, this approach leaves the brand waiting longer to convert their inventory into cash.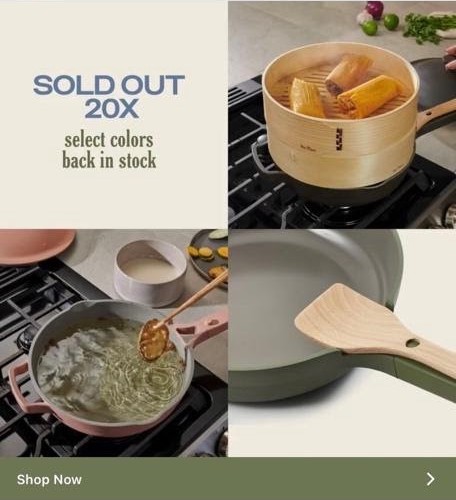 And with 33% of small businesses claiming a lack of capital as the reason they closed during the pandemic, freed-up working capital is everything. And selling products just before the units are physically sitting in your warehouse is how you can get more of it.
With your newly freed-up capital, you can finally fund growth initiatives like hiring and product development or use it to weather pitfalls like inflation or the supply chain.
7. Brands are betting bigger on brick-and-mortar stores
Brick-and-mortar merchants still boast the lion's share of the US retail market. In fact, they account for 85.8% of total retail sales in 2020, per the US Chamber of Commerce.
Plus, in 2021, there were more store openings than store closings. And as of January 2022, announced store closures (742) were down 65% YoY. Meanwhile, openings stood at 1,910 – a 3% YoY bump.
Why are ecommerce retailers putting their shop aprons back on? According to Shopify, the return to offline strategies reflects the CAC pendulum swing. Roughly 10 years ago, it was way cheaper to acquire new customers online than in-person. However, in today's crowded digital space, physical stores help DTC retailers stand out from the crowd.
It's also an attractive time to invest in brick-and-mortar because cash-strapped commercial landlords are more open to flexible leases and favorable arrangements than before, The New York Times reports.
"You're seeing retailers who have skinnied down their portfolios, who are now looking to opportunistically take advantage of a much more favorable rental market where landlords are much more flexible than I think they were before the pandemic," retail real estate litigator Danielle Lesser told Commercial Observer. "So, I think retailers are looking for those opportunistic leases in possibly different areas from where they might have looked 3 or 4 years ago."
So, instead of signing a 5-year contract, you might be able to secure a much shorter lease instead.
For instance, Parade hosted its first-ever pop-up in Brooklyn, NY, last August for 1 weekend only. After that pop-up's success, the popular GenZ intimates brand opened a more permanent store location in Soho.
More common, however, is the seasonal pop-up, where brands open a store for a few months that coincide with their peak seasonal demand. For instance, DTC swimwear brand Andie has 2 storefronts open for summer 2022 (one in Sag Harbor, NY, and another in Berkeley, CA).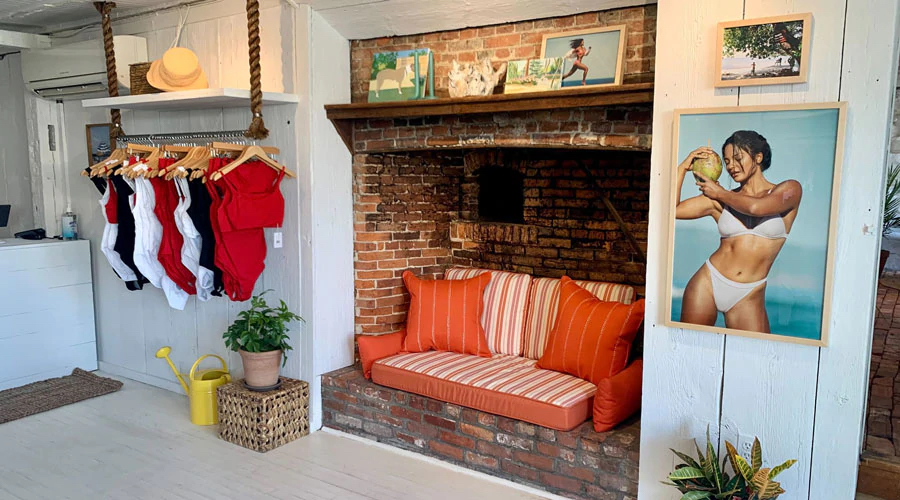 Upcoming trends for DTC brands
Admittedly, we don't know exactly what's next for direct-to-consumer brands. But we can make solid predictions based on what's happening right now. Most notably that the DTC playbook will get a rewrite, brands will spread out their acquisition spend, and more disruptions are on their way.
The DTC playbook will get a rewrite
What worked for Dollar Shave Club (bootstrapped in 2011, swarmed by investors in 2012, acquired by Unilever in 2016 for a reported $1B in cash) will not play out today the way it did before.
That's because dollars that DTC brands put into advertising don't go as far today as they used to. That's partially thanks to Apple's iOS14 privacy updates making targeted ads less, well, targeted -- so it's now much more expensive to get new customers. But it's also due to a more crowded DTC space, especially in categories like mattresses, skincare, and home goods.
So, brands will need to rewrite the winning DTC playbook from how to quickly build "rocket ship" brands to building long-term sustainable businesses. And that starts by achieving operational excellence.
Brands will spread out their acquisition spend
Retailers lose big when they go all-in on 1 strategy. And as I just mentioned, social ads are becoming an especially risky bet. So, rather than spending a lot of money on a few ads and getting little return, diversify your marketing spend.
This might mean working with a handful of micro-influencers that truly love your brand (after all, this is proving hyper-effective and, if done right, can be free). Or it might mean leaning on brand partnerships to get in front of a wider audience.
Networks like Disco make building these cross-branded collaborative relationships easy. Last year, Disco empowered $10B+ worth of transactions via their partnership network. And they helped fast-growing DTC brands like Lalo unlock a 16x return on their marketing investment.
So, Joe Anhalt, VP of Marketing at Koio, puts it: "If you can partner with an untapped channel or new merchant that might help diversify your marketing mix [in the current DTC landscape], you need to go for it."
More disruptions are on their way
With new geopolitical tensions and rising inflation getting piled on top of Covid, it's unlikely DTC will go "back to normal" anytime soon. At least, that's the general consensus.
Archie Durfee, Associate Director of Supply Chain at Ro, predicted on The Checkout that the supply chain will get better, but not any time soon. And it's not going to look like it once did.
"I think there will be some sort of reckoning with the port situation in the next 5 years," Archie explains. "But [from this point on] things are just going to take a little longer, and there's [going to have to be] a certain amount of acceptance."
Brit Morse, an associate editor at Inc that focuses on the supply chain, agrees, assuming the current issues are fixable and future disruptions are preventable.
The White House's economic advisers predict that climate change and other factors will also complicate global trade patterns in the coming years, per The New York Times. So, brands will need to introduce systemic changes to their operations to make them less susceptible to risks.
Adii's top picks: 3 DTC brands to watch
In our conversation, Adii and I intentionally skipped over industry mainstays like Allbirds, Glossier, and Warby Parker. (Just google "top DTC brands" if you want to steal from their playbooks.)
Instead, we think DTC's freshman class can teach us a few things about resilience and innovation. So, here are 3 of the notable incomers that Adii's been keeping an eye on:
1. Yuns
Yuns is not your dad's hardware store. Operating in a space where legacy brands still reign supreme, the ecommerce shop offers a curated selection of tools geared toward beginners.
Generally speaking, traditional retailers like Home Depot and Lowes focus on professionals and are overwhelming for new homeowners. So, the online store offers a pared-down selection of "only the essentials." Most of which are thoughtfully pre-kitted in product bundles.
As of right now, Yuns operates exclusively online, selling other brands' products. And their social strategy filters in tips and user-generated content from micro-influencers.
But Adii predicts that Yuns will double down on this social strategy and build partnerships with more micro-influencers. And that it'll happen around the same time that the brand ventures offline, launches new products (maybe Yun-branded products?), or starts offering services. This way, the team can generate more hype without spending more on ads.
2. Studs
Jewelry is an especially crowded DTC vertical. But that hasn't stopped Studs from standing out.
Dubbed by Vogue as "the Glossier of piercing studios, Studs offers in-store piercing services that are a "far cry from Claire's." Plus, run an online jewelry store that accounts for ~30-40% of its monthly revenue.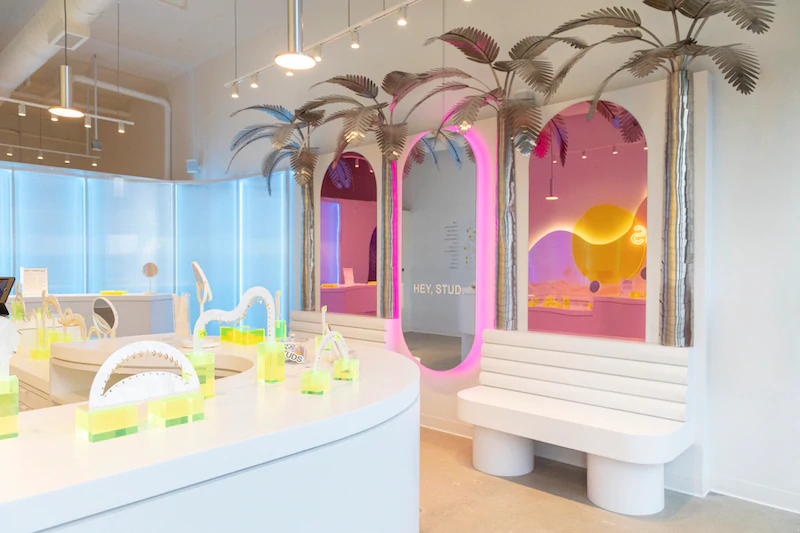 Where its predecessor was typically a cheap-thrill health hazard in malls, Studs offers a health-driven, affordable, and stylish piercing studio, typically in neighborhoods. And despite its Instagram-able, uber-Gen Z neon branding (and wildly successful social strategy to match), the DTC brand prides itself on its piercing knowledge.
Late in 2021, the brand closed a $20M Series B. And after a brief expansion hiatus during the pandemics, Studs opened 2 new studios in April 2022. This brings its total to 11 physical locations (5 were opened this year).
But Adii bets that the Gen Z-focused brand will seek more venture capital to expand its offline footprint and claim a larger market share.
3. Judy
Judy sells disaster preparedness kits and tools designed for the times.
Most of their competitors lean into negative and often fear-inspiring messaging to drive purchases. And they offer what many preppers call "bugout bags" that are usually drenched in camouflage. But this only makes a niche market more niche.
On the other hand, Judy keeps a heavy topic light with straightforward, positive messaging. For example, the evacuation kit brand is "on a mission to help every family stay prepared" and sells "supplies that guarantee peace of mind."
Judy currently only has a handful of products offered exclusively through their website and Amazon. But Adii anticipates that Judy will expand their product line and double down on content that educates consumers on the rise of natural disasters in the next year or so. And when they do, Judy will likely embrace a more omnichannel approach.
Think we missed a trend? Know another brand that's ahead of the curve? We want to hear from you. Drop us your thought on Twitter and tag @CogsyApp, so we see it!
DTC trends FAQs
Get answers to some of the most common questions about the rise of direct-to-consumer commerce.
Why are brands going direct-to-consumer?
Brands go DTC to remove reliance on 3rd-parties, like wholesale retailers and other distributors, and sell directly to consumers. By cutting out the middlemen, brands have more control over the customer experience and make more profits on each product sold.
When did DTC become popular?
The method of distributing goods directly to consumers separately from physical retail is thousands of years old. However, the DTC model gained popularity during the dot-com bubble of the 1990s when online retailers started selling products through the Internet. And it exploded when the COVID-19 pandemic forced stores to temporarily close and consumers to buy online.
Is DTC a fad?
DTC is definitely not a fad. Direct-to-consumer retail started thousands of years ago and has recently gained new momentum thanks to ecommerce growth, a globalizing economy, and advancements in fulfillment. And Profitwell projects that US online sales for DTC brands will reach $151.2B by the end of this year.
What are the biggest current DTC trends in ecommerce? 
In 2023, the biggest DTC trends include micro-influencer partnerships, niching down to reach underserved audiences, subscription models, offline store experiences, and backorders.
Reach your most audacious revenue goals
See how you can generate 40% more revenue and save 20+ hours a week with Cogsy. Try it free for 14 days.
Try free