Making a holistic operational plan for your DTC brand just got a whole lot smarter and easier with our latest feature drop.
When getting ready for a big game, basketball teams make their initial plan off past game footage. (Note the keyword: "initial.")
But come game day, if Phoenix Suns' center Deandre Ayton is under the basket, wide open, their point guard Chris Paul doesn't pull back to run the play. Paul alley-oops it, serving the ball down the court, so Ayton can make the dunk.
Planning inventory works the same way. Except, most DTC brands make that initial plan, then that's it. They don't adjust it based on what's happening on the court. Or if they do, it's when the buzzer's about to go off.
This is a losing strategy. It leads to stockouts and dead stock and, ultimately, slows growth.
So, we've spent the past few months rethinking how you plan your operations. And what we realized is you could use an alley-oop. One that helps you reach your revenue goals with more confidence and less stress.
Now, we're stoked to introduce 2 slam dunk new features that have the power to revolutionize your brand's operations:
Here's how they'll help you win.
(You can also catch this conversation wherever you listen to podcasts–including Apple, Spotify, and Google.)
Make accurate ops plans in seconds, pivot even faster
Making accurate operational plans was never easy, and it took way too long.
First, you had to enter thousands of data points. Then, you needed to chase down your team's edits, so you could go back and fix the errors that somehow made it onto the shared spreadsheet. It took days, if not weeks.
And if you didn't catch all the broken links and accidental mis-entries, your plan, well, wouldn't go as planned.
But with Cogsy's new planning feature, your team can create accurate operational plans in seconds–without touching a spreadsheet.
Instead, simply move different growth levers (like your expected month-over-month growth or seasonality) inside Cogsy to see how they'll affect your inventory levels and your expected revenue.
By mapping out different growth scenarios from the bottom-up, your team can determine whether your plan's predicted revenue fits your intended business goals. Then, proactively get ahead of your brand's inventory needs and set yourself up for massive growth.
You can even track what's really happening against your original plan in Cogsy. That way, your team can proactively pivot as soon as you know things aren't going as planned.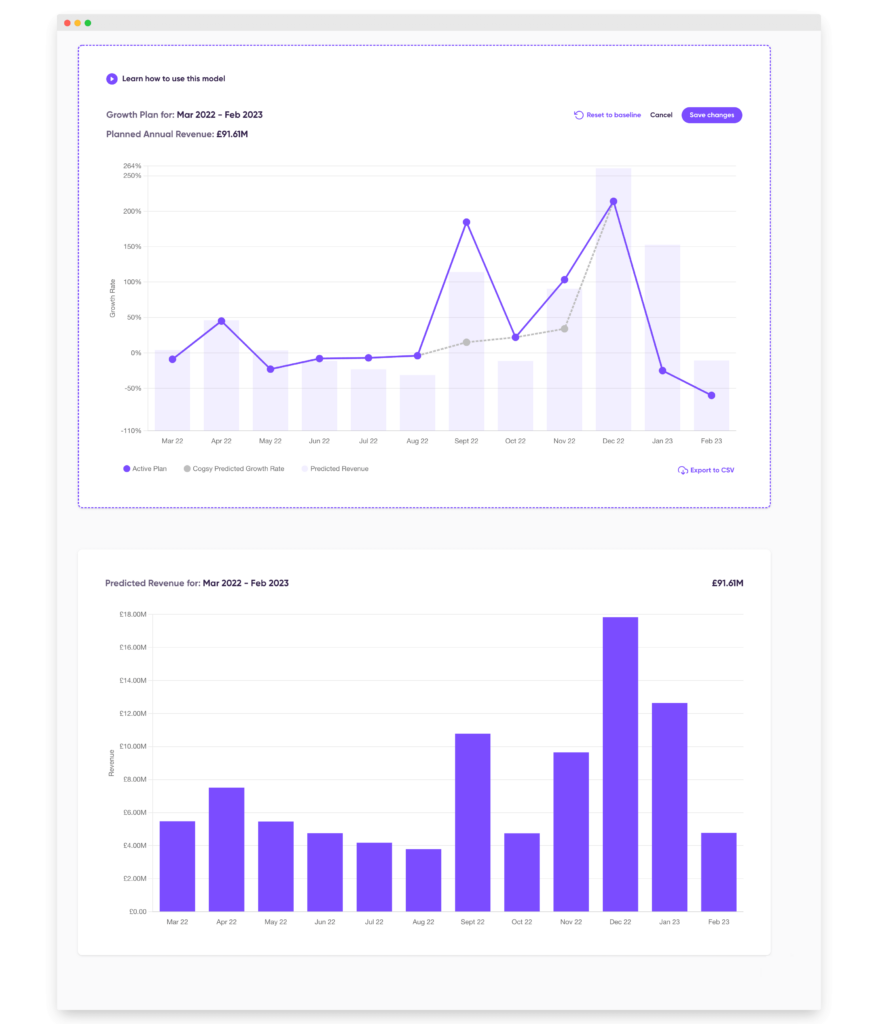 With the new planning feature:
Get a holistic understanding of your brand's operations.
Easily analyze the spectrum of possible future plans.
Proactively prepare for potential pitfalls.
Gain agility when things change unexpectedly.
Strategically reach your revenue goals.
Always order enough stock to support marketing events
The best-laid strategies only work when you have all the information. And when it comes to creating accurate operational plans, that means understanding what's happening in marketing.
After all, name something more embarrassing than running out of stock during your biggest sale of the year. Especially if the stockout only occurred because you had no idea this sale was going on.
That's where our new marketing events feature comes in.
The new marketing event calendar aligns your marketing and operations teams around your growth initiatives. That way, you can make the proper preparations to fulfill the demand generated and actually grow your revenue.
Using the collaborative marketing calendar inside Cogsy, your marketing team can effortlessly communicate upcoming promotions (what SKUs it affects, when it's scheduled, and the anticipated results). Then, we'll automatically update your operational plan.
This way, you can visualize the anticipated jump in demand and place a purchase order with the extra stock needed to fulfill this demand. You can even forecast demand for a new product and actually make good on your promise to customers.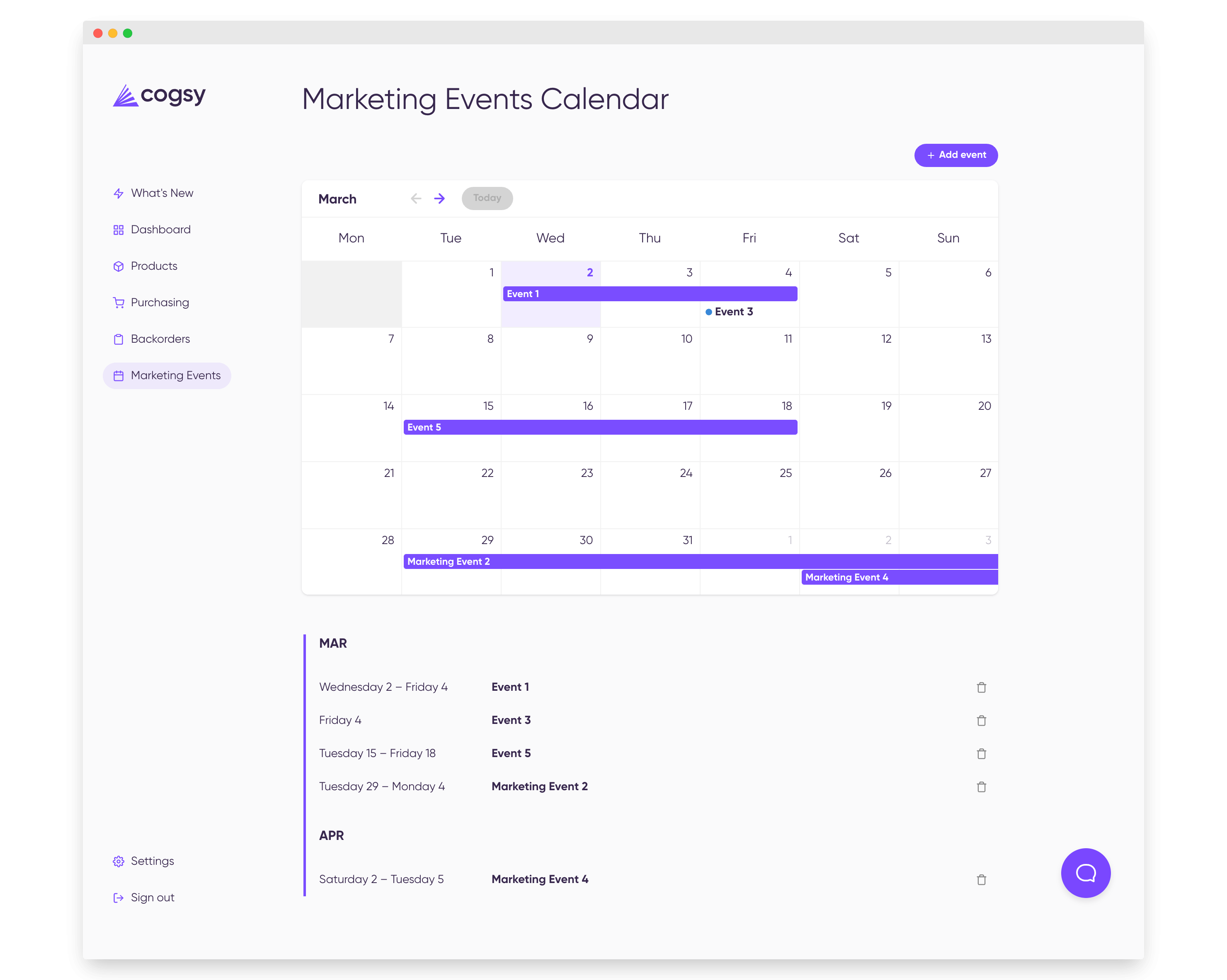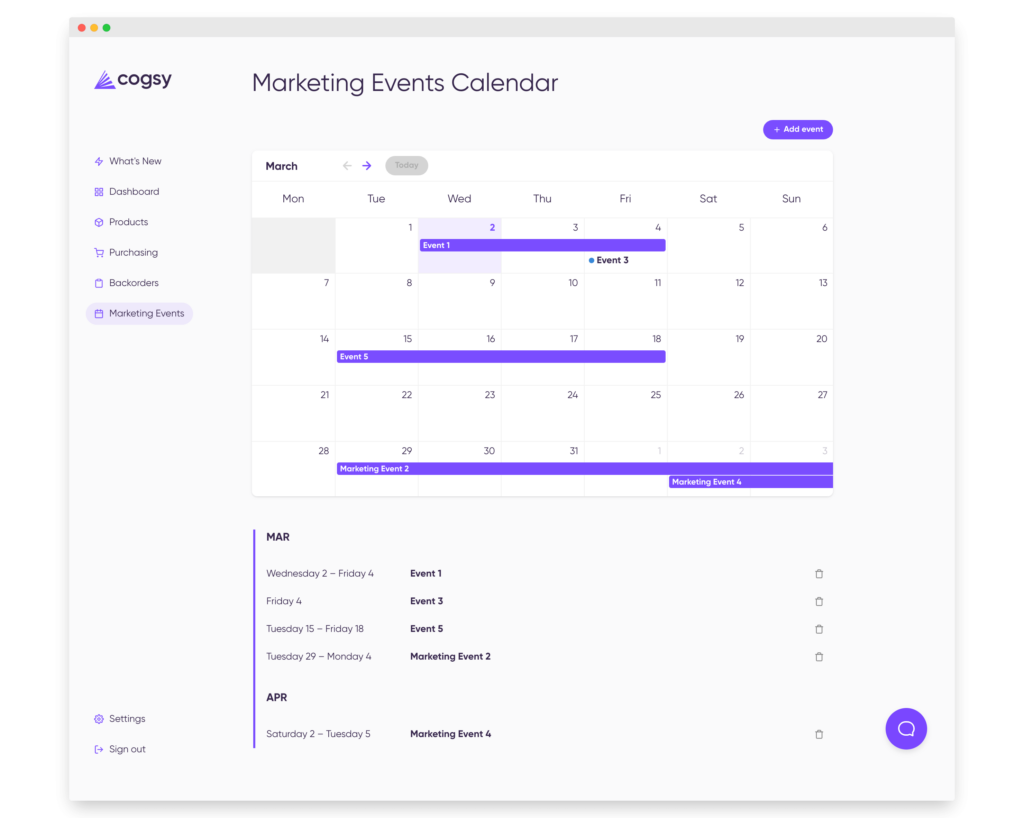 With the new marketing events feature:
Align marketing and ops around growth initiatives.
Empower seamless cross-department collaboration.
Reduce your risk of stockouts during your biggest sales.
Fulfill all the demand generated for your brand's products.
Strategically reach your revenue goals.
Your revenue goals are now within reach
Ready for your alley-oop? Log into your Cogsy account to start using these 2 slam dunk new features today. The faster you set them up, the sooner you'll reach your revenue goals.
New to Cogsy? Schedule a quick demo to see first-hand how your brand can win with Cogsy.
🚀 PS–Expect tons more improvements and new features in the coming weeks!
In the meantime, have suggestions for how Cogsy can be better? Or ideas for features you'd love to have?
Drop us a line–we're all ears and would love to make your ideas happen. After all, who knows what your DTC business needs better than you?
Reach your revenue goal
See how you can generate 40% more revenue and save 20+ hours a week with Cogsy.
Try free