The long wait is over. The Cogsy + Amazon integration is live and ready for you to use now!
Finally get clear on exactly what's happening with your DTC brand's Amazon channel, and reach your revenue goals. How? By quickly syncing your inventory data to Cogsy with our all-new Amazon integration.
Here's what you need to know about the integration:
Introducing the Cogsy + Amazon integration
Amazon released a blowout quarterly report in Q1. One that expanded its market cap by ~$190B.
This ceiling-shattering quarter coincided with nearly 90% of companies facing extraordinary cost increases due to supply constraints. And Amazon apparently identifies with this majority, saying they "can't keep absorbing those costs."
So, to ensure their company keeps growing, they're imposing a 5% fee on 3rd-party sellers who use its shipment and storage services. That means they're passing those costs on to you!
Luckily, you can keep what you pay down with our all-new Cogsy + Amazon integration.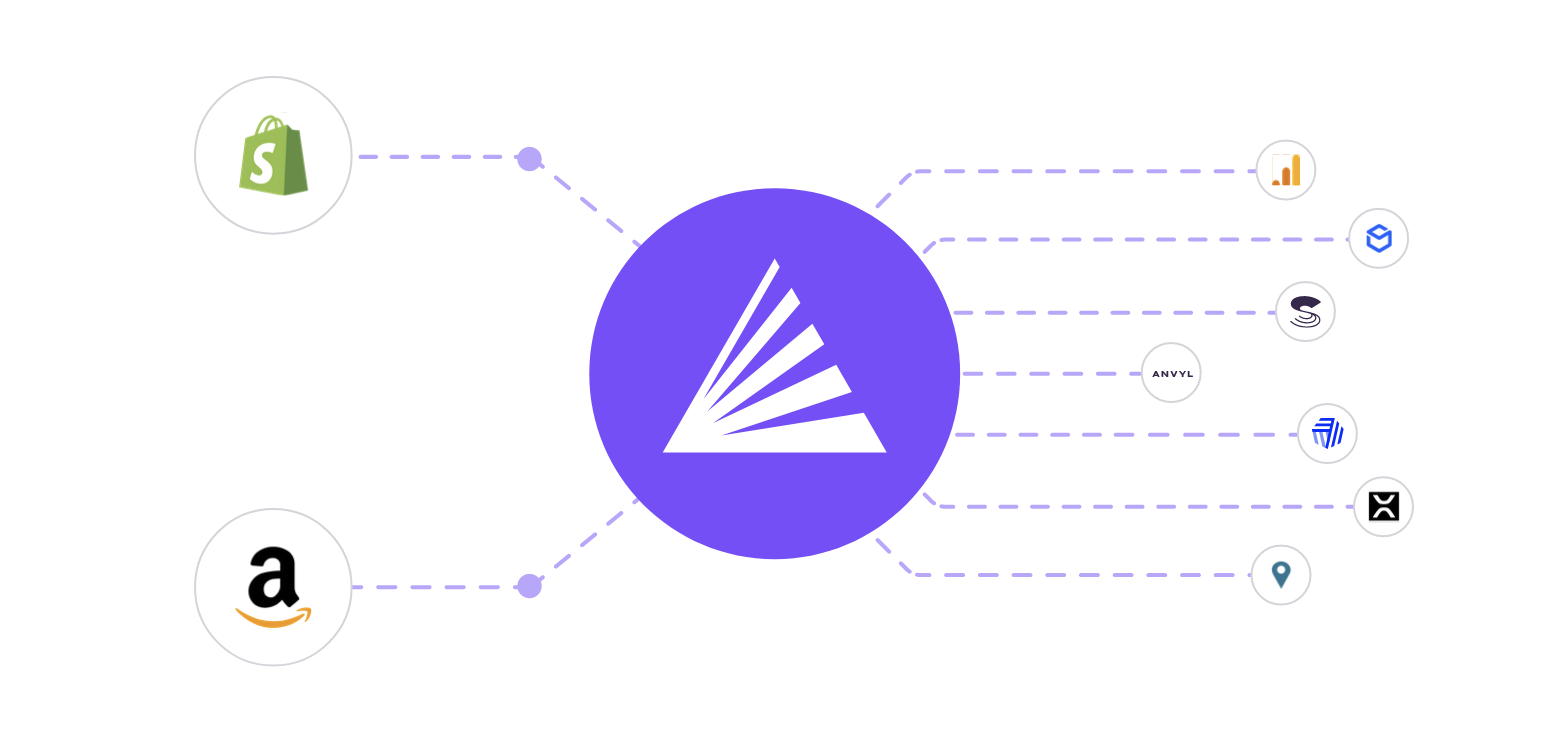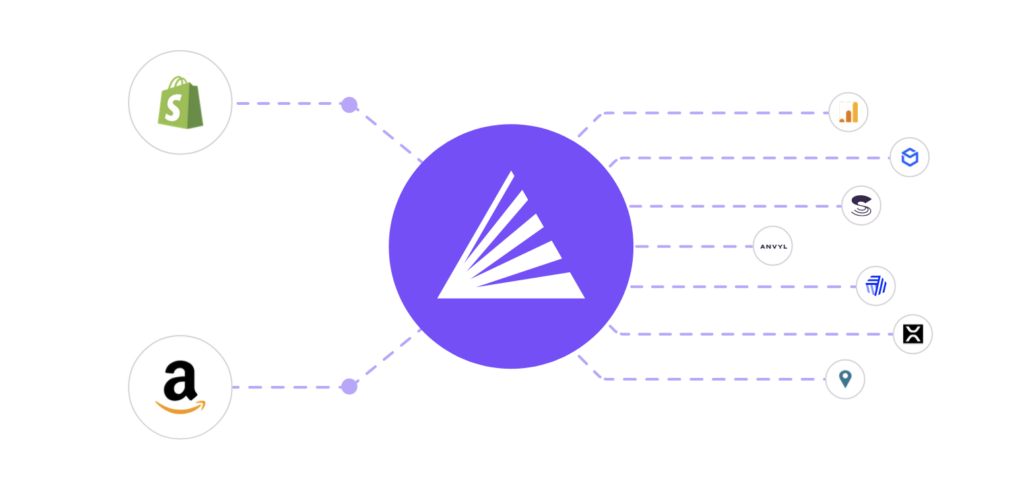 With this free integration, you can start building more accurate inventory forecasts that empower you to only stock with Amazon what will actually sell (and sell fast). That way, you're not risking paying fees on dead stock, maximizing your profits on this channel.
How does the integration work?
The Cogsy + Amazon integration was built from the ground up with your operations team in mind. With it, you can do more with your product data. For example, syncing your product SKU data and order data to surfacing powerful insights to share with your team.
Gone are the days of sharing (and updating) endless spreadsheets just to make one forecast. Instead, you can:
Sync your Amazon SKUs and order data with Cogsy, creating an omnichannel, single source of truth
Gain powerful, real-time insights into inventory trends days before a human analyst would recognize them
Use powerful, predictive demand planning features to scale up inventory needs and hit your most audacious revenue goals
Always stay in stock with replenishment alerts reminding you that it's the ideal time to restock
Safely avoid unnecessary Amazon storage fees by maintaining optimal stock levels with optimized POs
What data sources are supported by the integration?
Cogsy supports both FBA & FBM.
Heads up: For FBA data, we'll track your stock in multiple locations and forecast inventory needs for your multichannel environment.
How to connect the Cogsy + Amazon integration
Connect your Amazon account to automatically sync your product information, sales history, and upcoming product shipping dates.
To sync your Amazon account to Cogsy:
Log in to your Cogsy account
Visit your Settings
Scroll down to the Integrations menu
Click "Add integration"
Select Amazon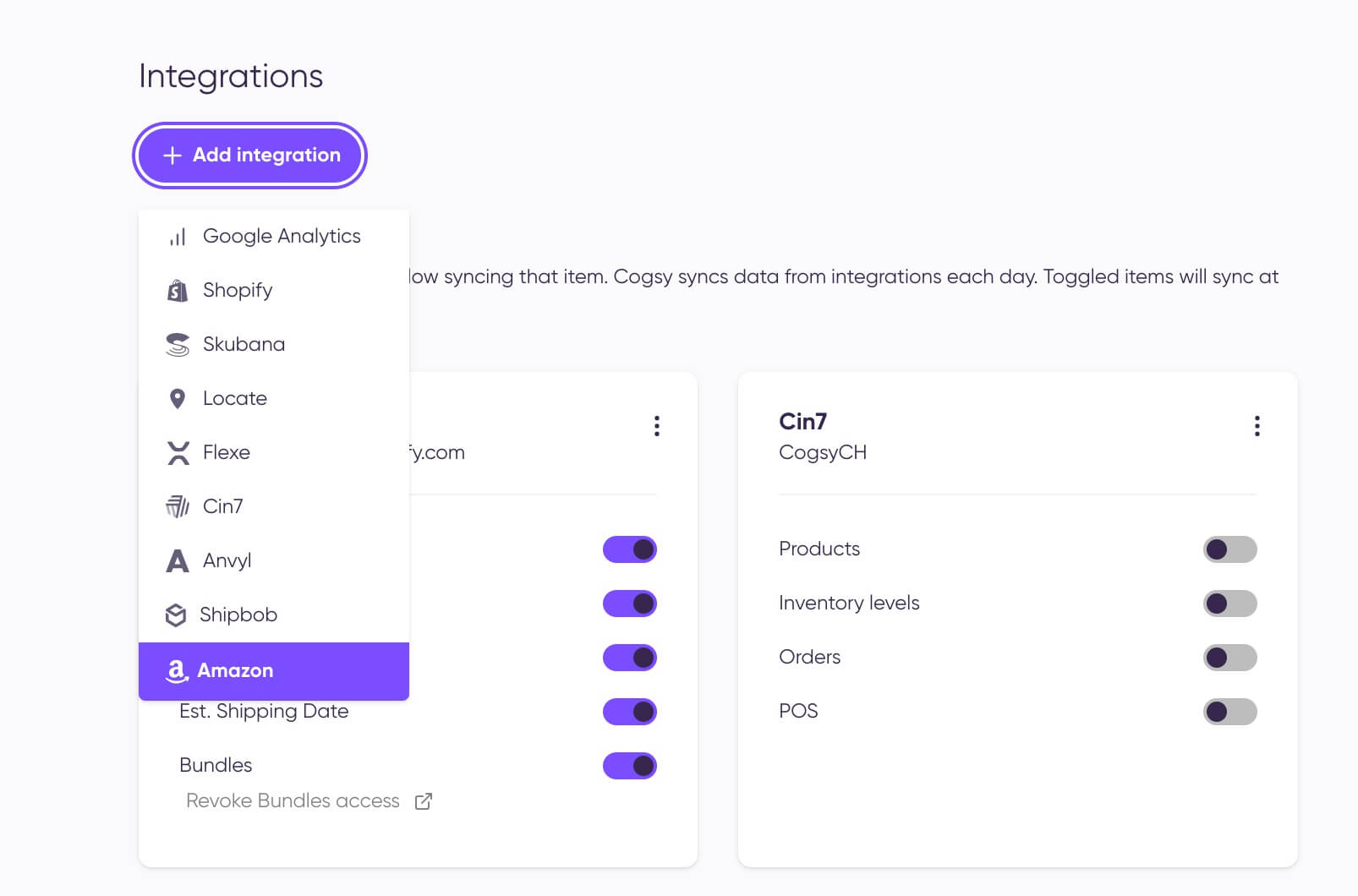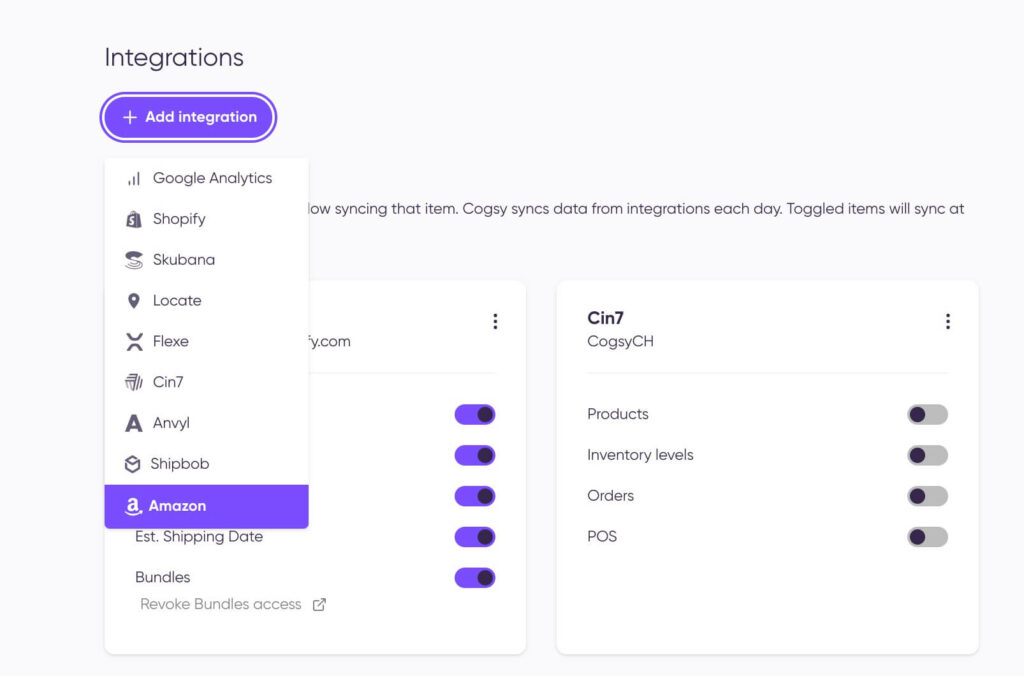 Once synced, your Cogsy forecast and inventory replenishment needs will automatically reflect your Amazon inventory and sales data.
Who can use the Cogsy + Amazon integration?
The Amazon integration is available to all Cogsy users, and it's live for you to use now. If you need any help syncing your Amazon data into your Cogsy account, we're here to help!
Sell with more tools than just Amazon? Check out our full list of integrations. (Spoiler: More Cogsy integrations are on their way!)
Don't use Cogsy yet? No worries — schedule a quick demo today to see how you can get more clarity from your Amazon data.
Reach your revenue goal
See how you can generate 40% more revenue and save 20+ hours a week with Cogsy.
Try free