Resale provides ecommerce brands a massive opportunity to turn profits, lower margins, and own their reputation in the secondhand market.
By 2025, the secondhand market is projected to double, reaching $77B. And recommerce is expected to be the primary driver:
Growing 11x faster than the broader retail market
Occupying 61% of the secondhand market
So, what is recommerce? And how can your DTC brand take advantage of this massive opportunity? Let's dive right in.
What is recommerce?
Recommerce (or reverse commerce) is the selling of previously owned products, primarily electronics, media, and fashion. However, unlike the larger secondhand market, recommerce focuses on more curated assortments of products that tend to retain a large portion of their original value.
For example, Goodwill (a secondhand retailer) will take just about anything as long as it's still in usable condition. Meanwhile, The RealReal (a recommerce platform) only works with lightly-used luxury goods.
And there's a lot more money in the latter. Where Goodwill's pricetags usually sit around a few dollars, items in The RealReal's inventory often sell for several thousand.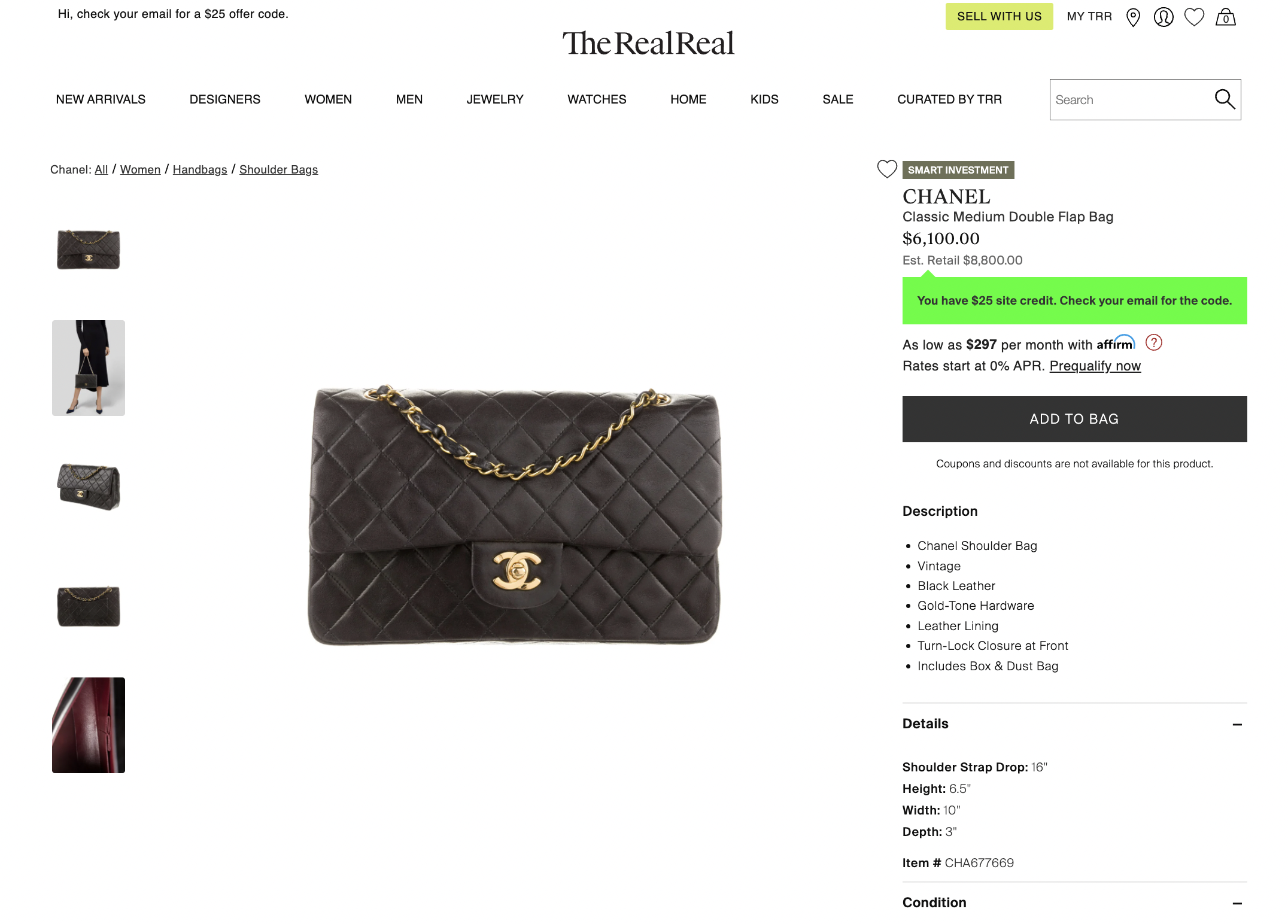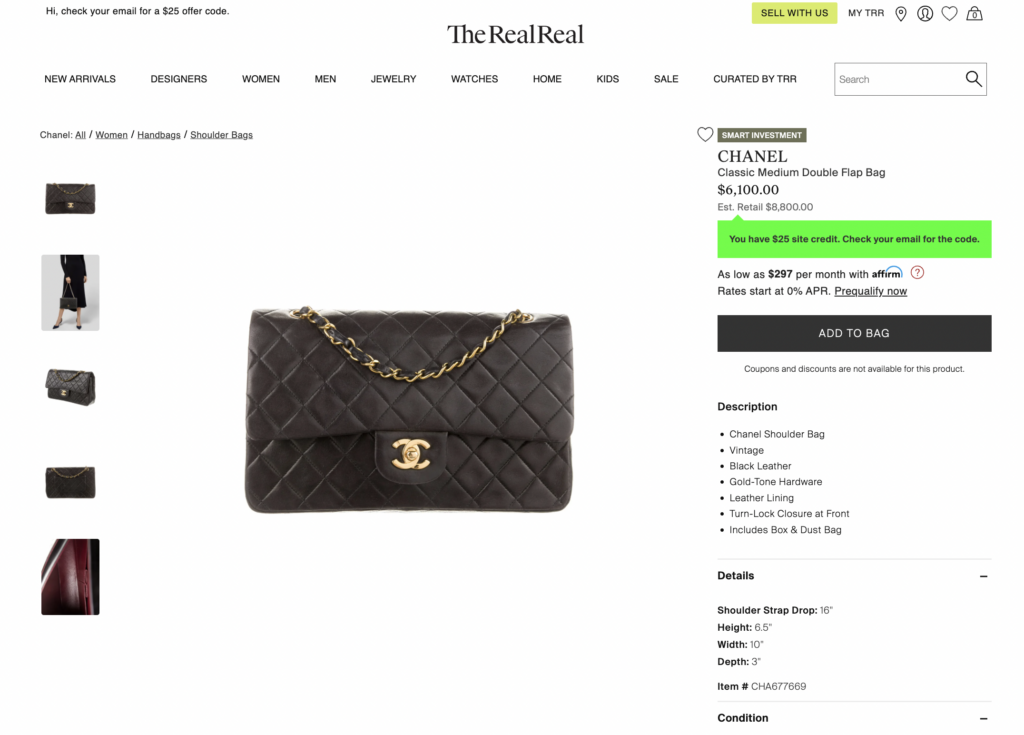 Source: The RealReal
What's fueling resale growth?
Sustainability is the main driver of this sudden growth in recommerce. Fashion, in particular, has a huge waste problem. Roughly 1B garments are produced annually, and half end up in landfills or incinerated within 12 months.
In response, the past few years saw a growing consumer preference for sustainable, environmentally friendly, socially responsible, and economically inclusive products. And recommerce heeds these calls.
Sure, brands can alternatively create lines via recycled materials (sustainable brands like Patagonia built profitable business models doing this). However, logistically, these lines prove difficult for many brands, especially with today's pandemic-fueled supply chain issues.
The first challenge is sourcing enough recycled materials to create a profitable line. For example, one warehouse, located deep in the Brooklyn Army Terminal, houses ~500k pounds of wasted fabric. But the selection is pretty mixed and matched. This drives brands that use these materials to produce small, limited runs–which are more expensive than full runs.
The second challenge is that brands need to rethink how they manufacture these goods to ensure the end-product is truly sustainable (such as manufacturing locally rather than abroad). This only adds to the final cost of goods sold.
At this point, brands can either sell these greener new products around the brand's normal price point, reducing net profits. Or, they can sell the products above their normal price point to preserve margins. Some customers will pay more for sustainability, but others won't be able to afford this new price tag.
Alternatively, recommerce offers brands a quick, sustainable win. Unlike creating new lines from recycled materials, brands don't need to manufacture new items. They can simply resell their existing products. And every time an item resells, its carbon and water footprint reduces by 82%, per ThredUp.
Why DTC needs to embrace recommerce
Many DTC retailers are afraid they'll cannibalize new sales if they embrace resale. But according to Jake Disraeli, co-founder and CEO of Treet, a resale tool on a mission "to make secondhand feel firsthand," recommerce won't cannibalize new sales.
(Psst - Catch all Jake's resale thoughts and tips on The Checkout. 👇)
And DTC retailers that are reluctant to embrace recommerce ultimately limit their market reach and, consequently, their profits.
Here's what I mean:
1. Recommerce works with a completely different persona
The people buying pre-owned are typically a different persona than those buying new. For instance, the recommerce consumer generally is more eco-minded and cost-conscious. They're not super interested in buying products first or at full price. Instead, they're actively seeking last season's trends at a discounted rate.
As a result, brands that don't offer a resale option cut off opportunities to reach this persona. And a majority of this persona is GenZ and millennial consumers with fast-increasing buying power.
In fact, more than 40% of GenZ and millennial consumers buy used clothes and accessories and identify with this persona. More than that plan to prioritize buying secondhand goods within the next five years.
Meaning, as these demographics' pockets grow, so will their spending on recommerce. And with an emphasis on sustainability, many will likely opt for quality over quantity.
This will drive these consumers to spend more on resale goods directly from their original brands or 3rd-party resellers like The RealReal than, say, Goodwill. The RealReal is already reaping these rewards, reporting 67% more revenue in Q4 of 2021 than Q3.
By offering recommerced products, your brand can facilitate these sales and reach this persona directly. And as a result, you can spend less to acquire new customers when customer acquisition costs are so high.
2. Products will resell with or without your permission
For many high-end DTC retailers, reputation is everything. And to protect the "premium" nature of their brand, they'll hold onto items that fall short of their quality standards or destroy them.
Burberry, for instance, admitted in its 2017/18 annual report that it demolished goods as part of a strategy to create scarcity and preserve its exclusivity. While Burberry was the only one to spur a scandal, brands high and low have employed this strategy.
Meaning, rather than letting their slightly used or damaged products sell at a discount, these brands would rather:
Let the items turn into dead stock, racking up expensive holding costs.
Go to waste completely, so there's no chance someone will one day use the product.
But many of these items would (and do) perform well in the recommerce market. That's because people are still reselling these brands' products. Instead, they're just selling through 3rd-party platforms like eBay, Poshmark, and The RealReal. And the original retailer has no control over how these sales go down.
However, if Burberry offered a direct resale channel, they would own the resale market for the products they produce (their specific market is worth several million). And they could protect their brand's reputation in the process. For example, they could:
Ensure items are priced and marketed properly based on their condition, preserving the original price point.
Control how much resale inventory is available at any time, maintaining some sense of scarcity.
Remove merchandise beyond repair from the market and recycle them properly (driving good PR).
3. Resale provides brands new opportunities to profit
Perhaps most obvious, offering both new and used products creates more opportunities for brands to make money. Based on the above 2 points, you're dealing with a new persona, and someone's going to make money anyway–so it might as well be you.
Say your brand uses Treet. If you buy back a dress for $100, the customer reselling it gets the option to get that money as cash or store credit. And, per Jake, they'll opt for store credit most of the time.
This guarantees that you'll retain that customer (increasing their lifetime value). And when they use that credit, they'll spend 2-3x what the credit is worth (or, similar to gift cards, ~$59 more on average).
Meanwhile, someone else will buy that used dress at a discounted price point (so you also acquire a new customer or retain an existing resale customer). All while increasing your margins on that dress because you didn't have to manufacture a new one to facilitate this second sale.
Bestselling items will sometimes be resold several times. So, you could potentially profit off one item a handful of times by offering a recommerce program. And each time it's resold, the product's margins further increase.
How to build a recommerce website
Building a recommerce website doesn't have to be a heavy lift for your team. Services like Treet create a fully branded, custom-built resale experience that seamlessly integrates with your Shopify store. And they can have this website up and running in less than a day.
By doing so, Treet helps brands like sustainable jeans brand Boyish facilitate recommerce sales directly without diluting their own equity or exhausting resources. This way, brands can launch a scalable peer-to-peer recommerce program faster and for a whole lot cheaper.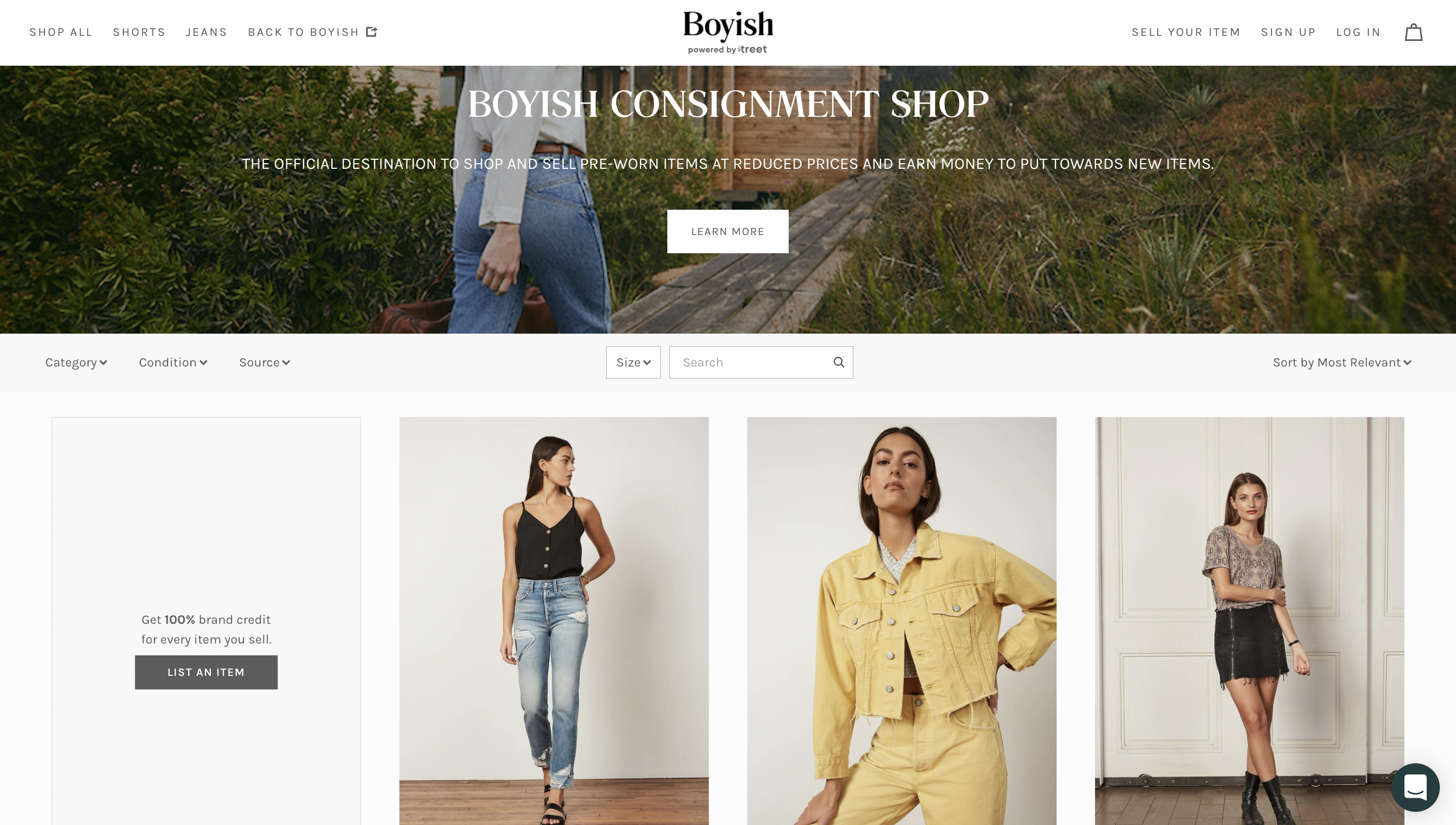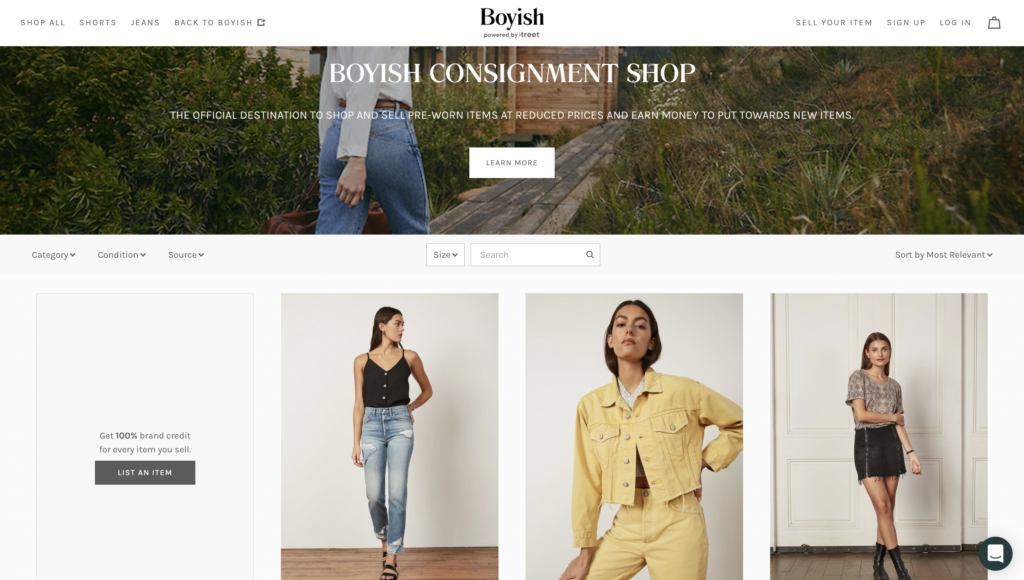 Source: Boyish
Otherwise, top brands like Lululemon, Levi's, and Allbirds have all built and launched their own online recommerce websites. However, doing this in-house can be time and resource-intensive.
Once your recommerce website is up, you can officially launch your recommerce program. Like any other product line, you'll want to leverage your existing owned channels (like your website, newsletter, and social) to promote the program.
As soon as people know about the program, keeping it running takes minimal maintenance marketing-wise. For example, Jake from Treet noted that 50% of their partner brand's resale listings sell within 30 days with little to no marketing.
The operational side of recommerce
Running a resale company can be expensive. The RealReal, for example, operates both online and offline storefronts and is not yet profitable despite rising revenue. Online-only resale marketplace Poshmark, however, is.
And the difference between these platforms' profitability comes down to 3 operational considerations: acquiring inventory, lowering holding costs, and fulfilling orders.
Acquiring inventory
Perhaps the greatest challenge of running a recommerce program is having enough inventory to make the endeavor worthwhile. You'll likely be working with low quantities of several SKUs in various conditions most of the time.
When you buy back an item, Treet will verify its current condition. Then, it will ensure the corresponding listing has accurate photos, size information, and so on.
Then, via a Shopify integration, this information can funnel straight into an ops optimization tool like Cogsy. This way, you always have an accurate pulse on your recommerce store's inventory.
Most of the time, it's no big deal if your consignment inventory only features a few dozen items. This creates scarcity, allowing you to charge more when you resell all-time bestsellers and limited drops. And it ensures all these consignment items sell quickly, keeping holding costs down.
But there are a few holidays where you'll want to ensure your consignment shop is fully stocked, like Earth Day and National Secondhand Wardrobe Day. And you can plan accordingly using Cogsy's Marketing Events feature.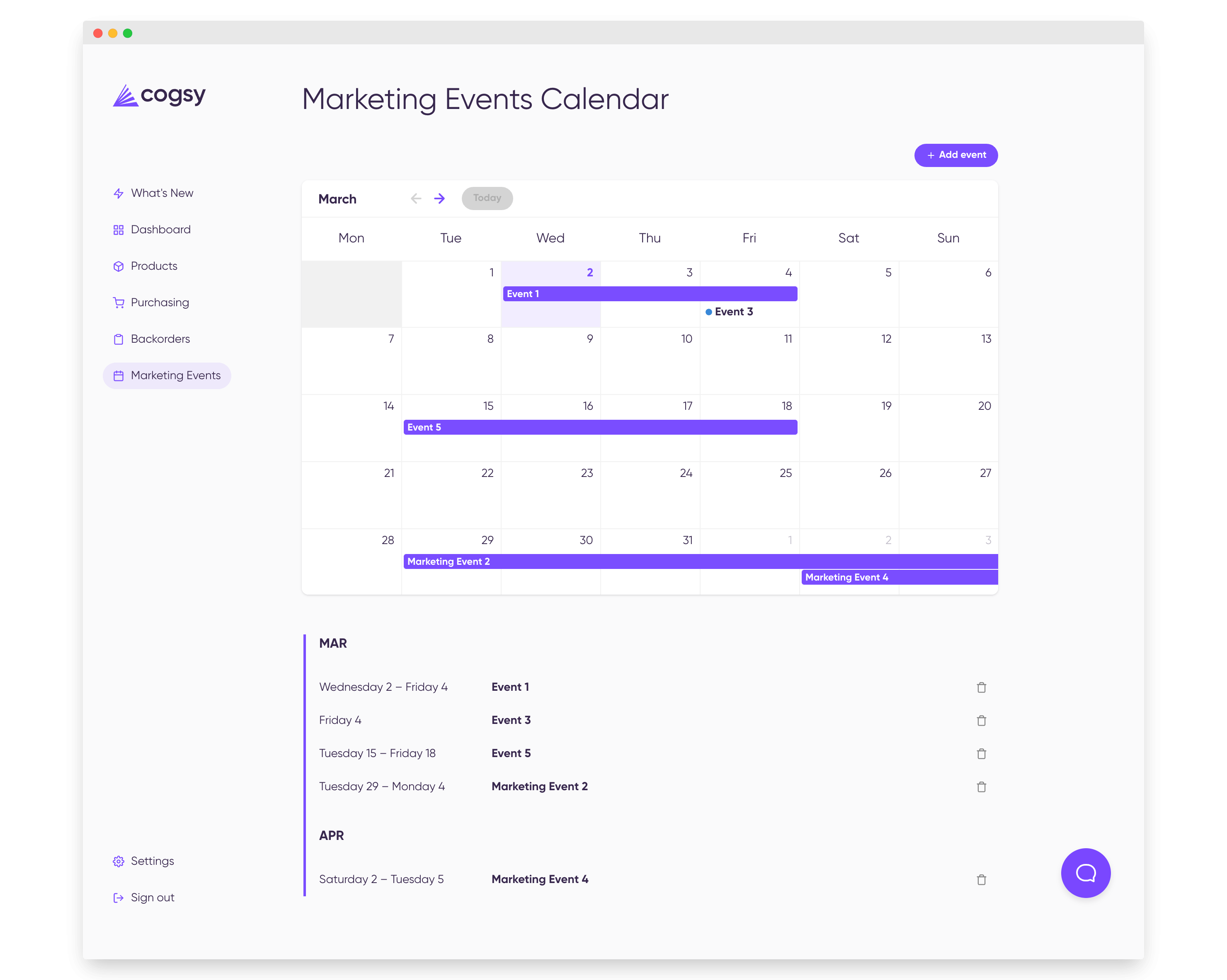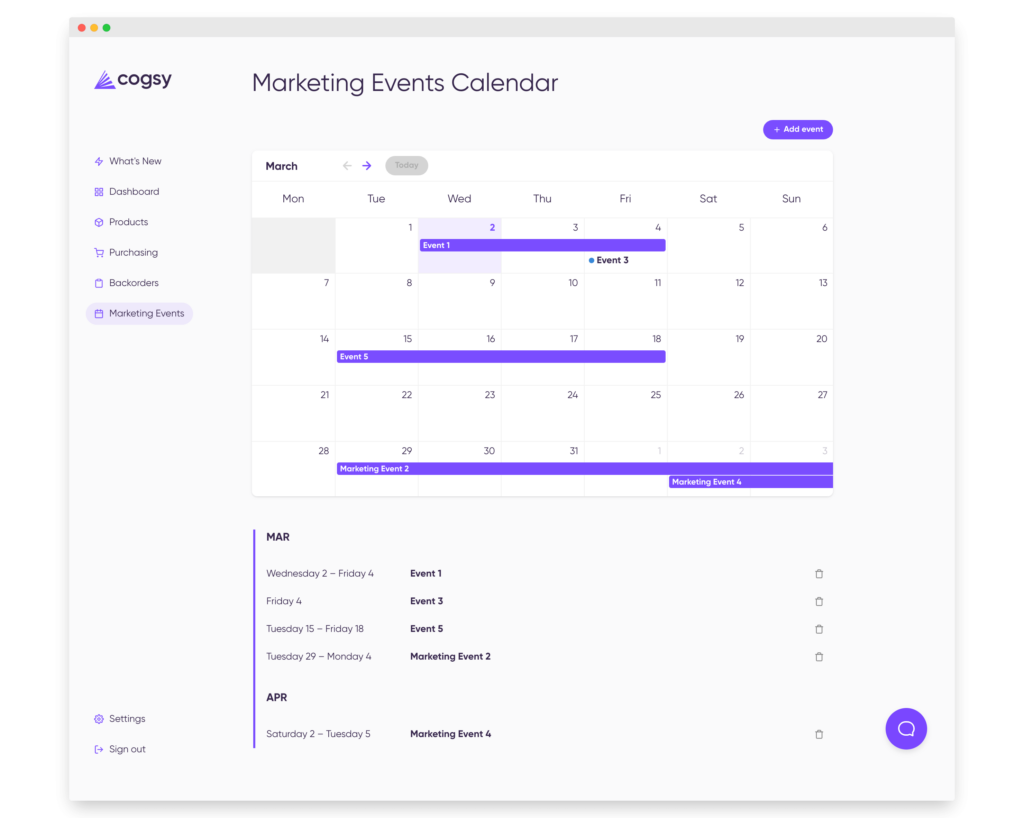 Simply add the event to your marketing calendar inside Cogsy. Typically, these entries trigger replenish alerts when it's time to place a purchase order. That way, you're guaranteed to have the right amount of inventory on hand to pull off a big marketing promotion (your primary store can still use the feature this way).
But for resale promotions, you'll want to do something a little different when you get that replenish alert. Instead of placing a PO, message your existing customer, prompting them to sell back past purchases.
This message can simply say: "Hey, there–hope you're still loving XYZ you bought a few months ago. If not, sell that item back, and we'll get it a new home and give you store credit to buy something new."
Alternatively, you can automate this messaging to send ~6 months after a customer purchases from you (new or used). This way, you're constantly sourcing new inventory for your resale shop, with minimal lift.
Lowering holding costs
Like your primary storefront, you want to maintain optimal levels of recommerce inventory to keep holding costs down. But while optimal levels mean avoiding stockouts of new items, secondhand items are a slightly different story.
That's because recommerce was built off scarcity, and their target customer expects to hunt for the exact items they want. So, brands don't have to sweat over going out of stock on the recommerce site.
The bigger challenge is ensuring they aren't acquiring items that won't sell. DTC brand's active inventories already contain 33% dead stock on average. These items rack up holding costs that wreck the brand's margins.
So, to keep holding costs down, your goal should be two-fold: don't add more dead stock and get rid of the dead stock you already have.
To avoid adding more dead stock, use current trends to inform what price you buy back items for and ultimately sell them. Meaning, buy back items at a price you can flip for a profit and sell quickly (ideally, within 30 days). The faster this inventory turns over, the lower holding costs you acquire and the higher your margins.
And as for getting rid of dead stock you already have? If you're like most brands, some of it is products that flopped. But a majority are returns, samples, and damaged items that you wouldn't want to sell in your primary shop.
However, your recommerce site is the perfect spot to get rid of this inventory. And while you can't sell these items at full price, getting something for them is better than nothing.
Not sure what's dead stock? Use Cogsy to pinpoint your slowest selling SKUs. Specifically, focus on the ones you have a lot of despite not replenishing them recently.
Fulfilling orders
With inventory coming and going in different directions, reselling can quickly become a logistical nightmare.
First, you need to ship the products that you buy back to your warehouse, process the return, and get the listing up. Then, when the item sells, you need to process the order, make sure it gets to the right customer, and handle any customer questions. And you need to do all this for as cheap as possible, so you actually make a profit.
It can be a lot. But by outsourcing most of these logistics, you can ensure that the operations happen smoothly for a set cost. Then, you can work this cost into your mark-up to ensure you're still making a profit.
For example, by launching your resale program with Treet, they'll handle just about everything. This includes quality checking the used goods and listing the approved items appropriately on your recommerce website.
Then, Treet pays the seller that listed the used goods and sends them a pre-paid shipping label when the item sells.
And the seller packs and ships the products to their final destination without the item ever re-entering your warehouse. This ensures that these used goods don't turn into dead stock that you're financially responsible for.
You just have to market your recommerce program (so sellers keep listing their used goods) and collect your commission when they sell.
Make all your DTC operations easier
Whether you sell new products, used goods, or both, make your everyday DTC operations easier with Cogsy.
Cogsy empowers DTC brands like yours to operate proactively by turning static data into smarter insights. And by seamlessly integrating with the tools you already rely on (like Shopify and, by extension, Treet), it replaces confusing spreadsheets with:
One powerful source of truth for all your brand's operational data.
Optimized POs (all you have to do is check and submit) with automatic replenish alerts. 
Accurate demand forecasts using real-time inventory levels and past DTC trends.
Sustainable operational plans to hit your most audacious revenue goals (with the power to effortlessly pivot when needed). 
The ability to sell on backorder when stockouts occur, so you never miss a sale. 
To learn more about Cogsy and how it can make your DTC operations easier, get in touch with our team today.
Reach your revenue goal
See how you can generate 40% more revenue and save 20+ hours a week with Cogsy.
Try free