Product packaging is by far your brand's best open rate. So, how can you use it to make a lasting impression?
Product packaging is the most successful touchpoint between a brand and its customer. It's the only one that guarantees a 100% open rate.
And as the pandemic rolls on, social distancing and other CDC precautions limit customers' exposure to your brand. This leaves most customers shopping online, where you and every other brand try to reach them. The result is a lot of noise, and many brand's touchpoints left unopened.
So, when someone connects with your brand and actually buys something, your product packaging becomes a deal-breaker differentiator. And whether this order is the first tangible experience or the 100th, it literally pays to make it a good one.
So, before you ramp up ad spend (again), let's discuss how to cut through the noise and more effectively generate brand hype and customer loyalty with your product packaging.
What is product packaging?
Product packaging encompasses all activities related to designing, producing, and evaluating containers for your products. And the end product is some sort of shell that protects customer orders from weather, filth, and impact as they travel to their end destination.
Historically, product packaging has been an underrated aspect of a brand's marketing and operations.
But in recent years, customers have put more emphasis on product packaging. In fact, 72% of Americans admit that packaging design and materials influence what items they buy and what companies they purchase from. This number increases to 81% if the product is a gift.
As a result, more and more direct-to-consumer retailers recognize that product packaging is a huge brand-building opportunity. And they're turning their product packaging into a branded experience to increase customer satisfaction and boost profitability.
This means companies are considering more than just packaging materials. They're also thinking about how they present shipped products to their customers. And when done right, this experience is both memorable and shareable.
Why ecommerce packaging matters
As I mentioned earlier, product packaging is the only touchpoint with a 100% open rate, making it your best shot to connect with your target audience.
For ecommerce retailers, it might even be the first tactile experience customers have with your brand. So, you need to make it a memorable first impression, one that differentiates your brand.
When done right, this touchpoint can even lead to happy repeat customers and free marketing, thanks to user-generated unboxing content.
Unboxing content (where people watch videos of vloggers and influencers opening packages from brands and giving candid product reviews) gained traction in the early 2000s. But this craze continues to be a growing phenomenon today.
On YouTube alone, there are 20M full-length feature films worth of unboxing content. And one in five consumers admits they've watched at least one of these videos to research a product at some point.
But influencers aren't the only ones that make unboxing content. Almost 40% of customers said they have or would share their unboxing experience on social media if the product packaging was well-done.
Whether this user-generated content reaches three people or 3M, it advocates for the brand and establishes trust with prospective customers. And if one of these posts goes viral or a bunch of them saturate the internet, it can propel a brand's reputation.
Glossier is proof of this. The beauty brand's cult following was built on the idea that everyone is an influencer. Upon launching, Glossier encouraged customers to share their unboxing experience by reposting user-generated content that matched their branding–no matter the account's follower count.
As a result, #glossier on Instagram has garnered 236k+ results (and counting). And their ultra-Instagrammable signature pink product packaging was soon all over the internet, with everyone from supermodel Karlie Kloss to the girl next door posting about it.
But whether there is a camera recording or not, the unboxing experience is an intimate moment between you and your customer. One that can define the relationship. And the easiest place to start curating this moment is by thinking through what type of product packaging your brand uses.
Types of product packaging
There are four common types of product packaging that ecommerce brands use:
Bags and envelopes. These poly mailers are strong, lightweight, easy to store, and self-sealing. And they're great for shipping light, but not fragile smaller goods.
Padded mailers. These soft-skin mailer boxes are typically used alongside extra padding. And they are perfect for small, delicate items like jewelry, books, or electronics.
Corrugated packaging boxes. The plain brown box is the go-to packaging solution for retailers. Not only are they sturdy, recyclable, cheap, and not super heavy, but they come in a wide variety of shapes and sizes.
Custom product packaging. Unique packaging is designed specifically for your brand and is 100% customizable to your packaging needs. Plus, you can print your brand name and colors all over the box, so there's no question who it's from.
When deciding which type of packaging is best for you, the top considerations should be keeping your product safe, your customer's experience, and your budget.
Generally speaking, bags and envelopes will be the most affordable product packaging solution because they add virtually no storage or shipping costs. But they'll also be the least protective during transit and the least versatile packaging option.
Meanwhile, custom packaging can quickly become the most expensive option, depending on the products' qualifications, specs, and weight. However, it will also be the one that is customized to your brand's needs and provide the best unboxing experience.
Most brands use a few types of product packaging, depending on what a customer orders.
For example, Reformation, a women's apparel brand focusing on sustainability, ships smaller orders in a recycled paper envelope with their name on it. To keep costs and waste down, the company puts all larger orders in one brown branded box (the smallest size possible without damaging the products).
Designing stand-out product packaging
There are many ways to design packaging, and most of them get the job done. But if you want your brand to stand out, here are the four elements that all the best packaging has in common:
Ensure it protects your products
There are several concerns when designing packaging. Most common are: is it "on brand," does it embody our values, and how much will it cost?
But the biggest concern should be that the packaging gets the product to the customer undamaged. Especially when a whopping 58% of consumers said that damaged packaging deters them from buying the product.
For example, Jeni's Splendid Ice Cream is an Atlanta fan-favorite. Year-round, customers sit on the benches outside the corner shop. And many of them can't resist posting a shot of their velvety stacked cone on social media.
This user-generated content is the ultimate free advertising for Jeni's, driving the brand to attract new customers beyond Atlanta's city limits.
This led Jeni's to start selling their ice creams online directly to consumers. But in doing so, they ran into a challenge: how could they get their perishable products safely to destinations that were sometimes thousands of miles away?
Well, that's where product packaging comes in.
At first, Jeni's delivered its pints in brown corrugated boxes with a cooler and a plastic bag of dry ice to keep the ice cream frozen inside. It was pretty lackluster, to say the least.
Many times, the products arrived with clear signs of travel-related trauma. Or they were left sitting on people's porches for hours (sometimes upside down) because nothing about the package screamed ice cream.
As a result, many people would finally open up the package to find pints of melted ice cream. This started taking its toll on the customer experience and brand loyalty.
So, Jeni's partnered with local Georgia-based packaging company Pratt Industries. And together, they created a unique packaging experience that showcases the brand and gets frozen treats safely to their destination.
The outside packaging is covered in Jeni's eye-catching branding to incentivize customers to bring the box inside. And an arrow indicates to handlers which side should face up.
Meanwhile, the inside packaging is designed with a ventilated, corrugated overwrap that keeps ice cream frozen for hours, even if it's sitting in the summer sun. This overwrap holds items in place during transit. And a branded printed message extends the personalized shop experience into the home.
Sure, both boxes technically got Jeni's ice cream to the customer--but only one did it safely.
Keep it "on brand"
While you can always go the route of having your brand name stamped all over the box, in some industries, it's not enough to make your brand stand out.
For example, Jose Alvarez, co-founder of the clean fragrance brand Abbott NYC, says packaging is a deal-breaker in beauty and cosmetics. And good packaging design "captures your customer's attention and communicates your brand ethos."
For Abbott, this means creating packaging that goes back to why they made their products in the first place. Inspired by nature, all their products are environmentally conscious and sustainably sourced.
So, the Abbott team needed packaging that, likewise, "communicated and celebrated nature as the central focus of Abbott products." In other words, they required packaging that not only protects their products but extends the brand's commitment to the environment.
To do this, the brand uses no single-use packaging materials. And on each product page breaks down detailed instructions for how to reuse or recycle each packaging material used.
However, even with the brand's keen focus on sustainability, Abbott never sacrifices the product's safety. The "Exploration Kit," which includes a sample size of each signature scent, is the perfect example of this.
The packaging is shaped like a family photo album. The top cover features a beautiful image of nature, reminding customers that this is what our product is all about.
And the eight glass perfume samples fit snuggly into this outer packaging. That way, they get to the customer lined up the same way they were shipped. Nothing broken, and nothing spilled, while still making the "trying" experience feel playful and elevated.
Heads up: Jose shares an intimate walk through Abbott's packaging journey in his episode of The Checkout. Tune in to hear about the packaging design that didn't work, how he sources materials, and more.
Add a personal touch
Like Abbott, California-inspired food artisan Westbourne was founded with sustainability in mind. The brand has a strict zero waste mission and a core belief in bringing people together.
And Westbourne very intentionally conveys those values in their product packaging, thanks to a few finer details and personal touches.
Right on the brand's homepage, their team shares:
"We love good packaging. Even better: good-for-the-planet packaging. From seeded paper that you can plant to glass jars you can reuse later (we've got some ideas on how-to here), our packaging is 100% compostable-slash-recyclable, down to the plant-based label."
This is messaging that resonates with today's consumers. In fact, 55% of people say they're concerned about the impact of their product's packaging. But, as I mentioned earlier, 72% also won't buy products if they don't like the packaging.
So, Westbourne ships all their products in sustainable custom packaging that doesn't compromise aesthetic. Stunning compostable bags and glass jars, with paper labels that easily scrub off, house the pantry staples. They are then shipped in a wooden box stuffed with compostable hay to protect the products.
But since closing their Soho cafe, the brand knows that whatever they ship is most likely a customer's first physical touchpoint with the brand. So, Westbourne goes the extra mile by greeting customers with a personal note from the founder, sharing her appreciation.
As a result, unboxing Westbourne snacks and spices feels like opening a present from an old friend. And it instantly helps build a connection with the brand and establish customer loyalty.
Not to mention the top-notch packaging seems to beg for a second life. The Westbourne team even encourages this by selling their packaging on its own as gift wrapping (yes, you read that right).
That way, you can pass the sustainable packaging forward, doing good for the environment and bringing friends and family closer together.
However, your brand doesn't need to write thousands of notes to add this personal touch. (Admittedly, that wouldn't be super scalable.)
Lush, for example, makes fresh, handmade cosmetics. And to add a personal, very human touch, Lush put a sticker on each package that introduces who made it. They even add a cartoon version of the person, so you have a face to go with the name.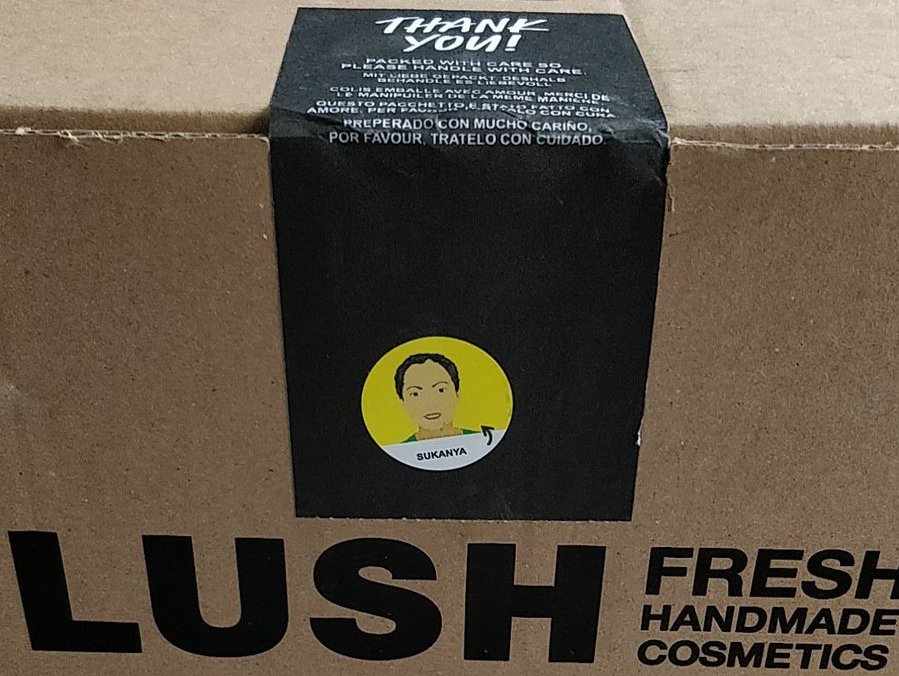 Throw in a free sample
If you're already paying for shipping, you might as well throw in a free sample or two. Mainly because these small, unexpected gifts have been proven to boost sales by as much as 2,000%.
Not to mention free samples also:
Foster customer relationships and build loyalty.
Introduce customers to new products you offer.
Encourage repeat customers and boost sales.
Build hype leading up to a new product launch.
However, be wary of tossing any random sample in with the order.
For example, if someone buys a new toothbrush and toothpaste from you, they clearly care about oral hygiene. So, giving candy as a free sample will leave your brand feeling disconnected. Instead, consider including a complementary product like floss.
Our Place, who dubs themselves "purveyors of cookware," are masters at this. They toss in a product brochure and natural sponge with every product you buy.
The booklet highlights features that make their product superior, reaffirming that the customer's investment was worth it. And it also includes a recipe to dirty up the new pot or pan, and care instructions to keep it clean (it calls out the sponge by name).
Meaning, Our Place provides a quick guide that helps customers get instant value from their new kitchenware.
Similarly, Brooklinen gives customers a free tote bag with any purchase. These branded totes saturate the subway and streets alike, providing the ultimate form of social proof. They're literally walking advertisements carried by real customers that say, without actually saying, this brand's worth it.
However, we've heard brands say they don't want to waste money on free gifts that will likely end up thrown out or guessing what other products customers want to try. And that's great–don't!
Makeup brands like Sephora will actually invite their customers to pick their own free samples. While seemingly small, this gives customers complete autonomy over their experience. And it's a powerful way to encourage customers to come back.
Think about it--if they've been dying to try a new product, here's their chance to do it for free. And if they love it, they'll come right back to buy the full-sized version.
Evaluating your packaging design
You might be wondering if you even need to bother investing in redesigning your product packaging. And you might not need to.
So, here are a few yes-or-no questions to gauge if your product could use some redesigning:
Are you frequently writing off damaged goods and replacements?
Is it obvious who the package is from?
Is the packaging unpleasant to open and close your packaging?
Are there any hard-to-source materials in your packaging?
Is this packaging super costly on returns?
Is building or packing the packaging labor-intensive?
If you answered yes to any of the above questions, you just identified an opportunity to improve your product packaging design.
And while this might seem like a lot of unnecessary, new work, it'll pay off (literally). After redesigning their packaging improvements, 30% of businesses saw a significant revenue bump.
How did they do it? They simply created a better unboxing experience and increased customer loyalty, leading to more sales and improved margins.
How much will this product packaging cost me?
Designing the right packaging for your ecommerce brand often means:
Designing a custom product packaging alongside a graphic designer.
Finding a supplier that can actually bring the template to life.
Ensuring you have enough boxes on-hand to fulfill customer orders.
The only downside to this branded experience is that it can get expensive quickly, especially for small businesses with limited resources.
Luckily, packaging tools like Lumi provide an end-to-end solution for these packaging supply chain needs. All while cutting out the middlemen to keep costs down. With this tool, you're in control over how much your product packaging costs. (Remember, the less you spend on packaging, the higher your margins.)
Just remember–whatever you come up with, it doesn't need to be anything crazy. Just something that will keep your products safe in transit and create a memorable first impression.
For example, the aperitif retailer Haus is building a reputation with their effortlessly cool (and comparatively inexpensive) packaging. The design is classic, other than two standout elements: the all-white cardboard and a bit of newsprint.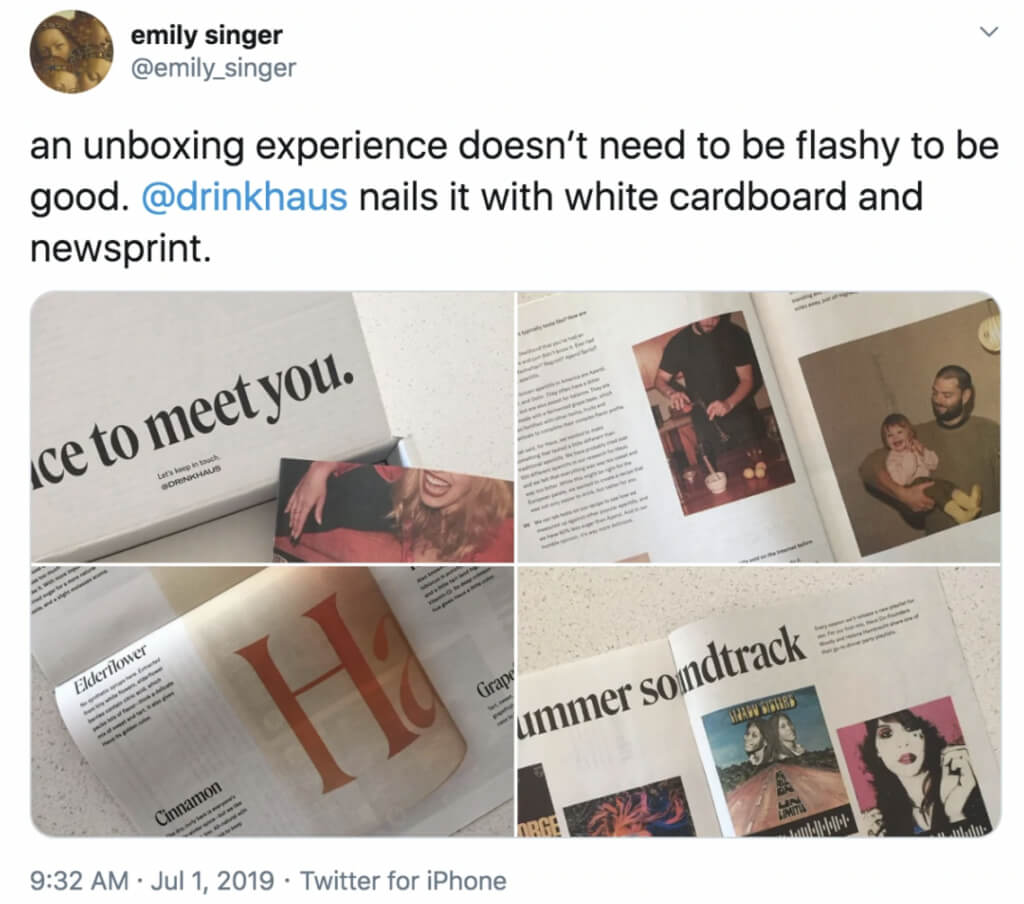 Always have enough shipping materials on-hand with Cogsy
There's probably no bigger bummer for a brand than seeing orders come in and not having the right packaging to fulfill it. A close second is ordering way too much product packaging and paying hefty holding costs to house it.
That's where Cogsy can help.
Cogsy is an ops optimization tool that seamlessly integrates with the other operational tools you rely on (like Shopify, Skubana, Cin7, Flexe, and more). And it pulls all that data into one analytical platform, creating a single source of truth.
That way, you can accurately forecast demand using real-time stock levels and past sales trends. And as a result, you can plan how much of each SKU you need (including how much product packaging).
Cogsy will also track your inventory levels in real-time. As soon as anything starts running low (your best-seller, custom boxes, packing tape, whatever), you'll get a replenish alert, letting you know it's time to restock.
Plus, Cogsy will already have an optimized purchase order ready to go. All you have to do is check it and hit "submit." That way, you'll always have the perfect amount of product packaging and your product offerings in stock.
But don't take my word for it! Join us for a quick demo--whenever works best for you--and see for yourself how Cogsy can optimize your brand's operations.
Reach your revenue goal
See how you can generate 40% more revenue and save 20+ hours a week with Cogsy.
Try free