Supply chain disruptions have left more products out of stock than ever. But brands found a way to cope with stockouts: selling on backorder.
With year-on-year hikes in global online sales, keeping up with consumer demand has begun to prove taxing for many ecommerce businesses, both big and small. But why are so many still placing such a focus on never running out of stock?
Studies repeatedly show that the growth of online consumerism isn't waning. And that a communicated-with customer is a happy customer, regardless of whether they have products in their hand or not. So, why are we still so determined to keep warehouses bursting at the seams with mountains of stock that only tie up capital?
Running out of stock was once an expensive mistake to make. But what if purposely not holding particular products in stock is actually the secret to increasing your ecommerce profit margins? In other words, being "out of stock but in control."
The COVID-19 pandemic, the worst global crisis the modern world has seen, has disrupted individual lives and entire global industries with supply chain issues that businesses are grappling with in 2022. This includes, not least, the ecommerce supply and demand chain.
Has Covid-19 made room for a new backorder game?
Over the last 12 months, demand for goods has been volatile, to say the least. They're at an unprecedented low one minute, followed swiftly by an all-time high the next.
As a result, illness and self-isolation among workforces, national lockdowns, and similar manufacturing disruptions are routinely disrupting supply chains. And it doesn't help that global import volumes are still rising while the space in shipping containers is maxed out. Meaning, companies are waiting weeks to export their regular shipments, let alone get the extras moving.
The direct impact on ecommerce stock levels has been tangible. While demand has risen, supply has fallen – never a good combination in retail, right?
So, what are the predicted lasting effects of these disruptions?
Perhaps the greatest lasting effect, consumers will be much more forgiving than many retailers ever gave them credit for. After a couple years of Covid, they are beginning to accept that they may have to wait longer for specific products.
In previous years, it'd be impossible to think that consumers would accept anything but carelessness or sub-standard stock-keeping systems as the reason products were out of stock. But today, they are openly proving they're happy to wait for products they really want from brands they love.
As a result, now might be the time to harness extended delivery lead times and change the game for good.
Enter selling on backorder.
How brands plan for going out of stock
Well-known ecommerce brands such as Caraway and Maude have all proactively (and successfully) adopted backorder systems when their products have been out of stock.
For example, all three companies have experienced stockouts in the last few months. But rather than marking products as "Out of stock," they've used their product pages to communicate the next available shipment dates.
For example, Caraway puts the estimated shipping date next to specific color information. That way, if someone isn't tied to color, they can order another option and possibly receive the product faster.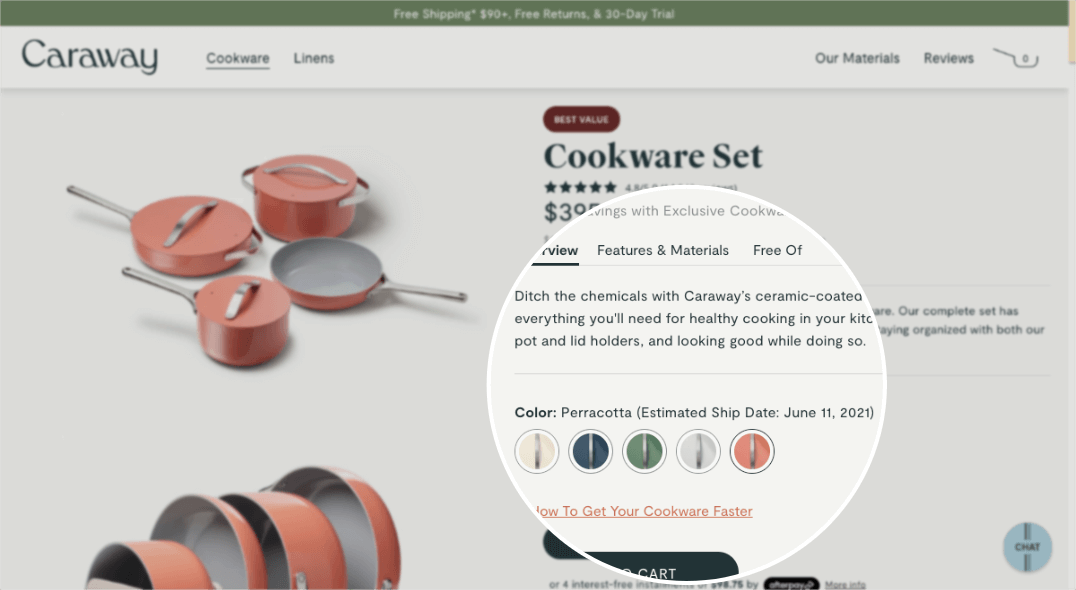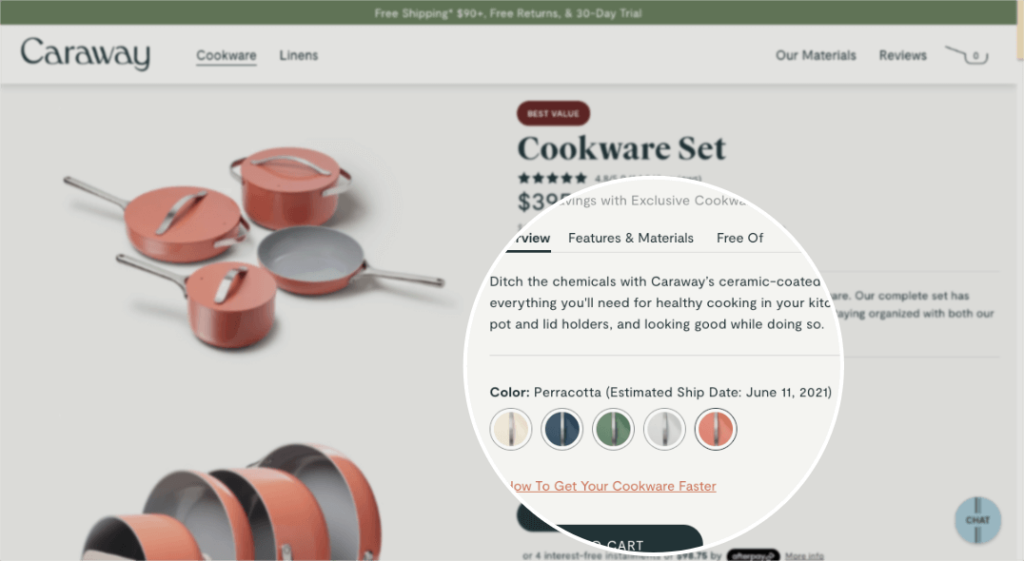 Likewise, Maude rethinks the traditional "Out of stock" tag. Instead of pointing out the negative (that this product is currently unavailable), it provides the positive (this product will be available on this date).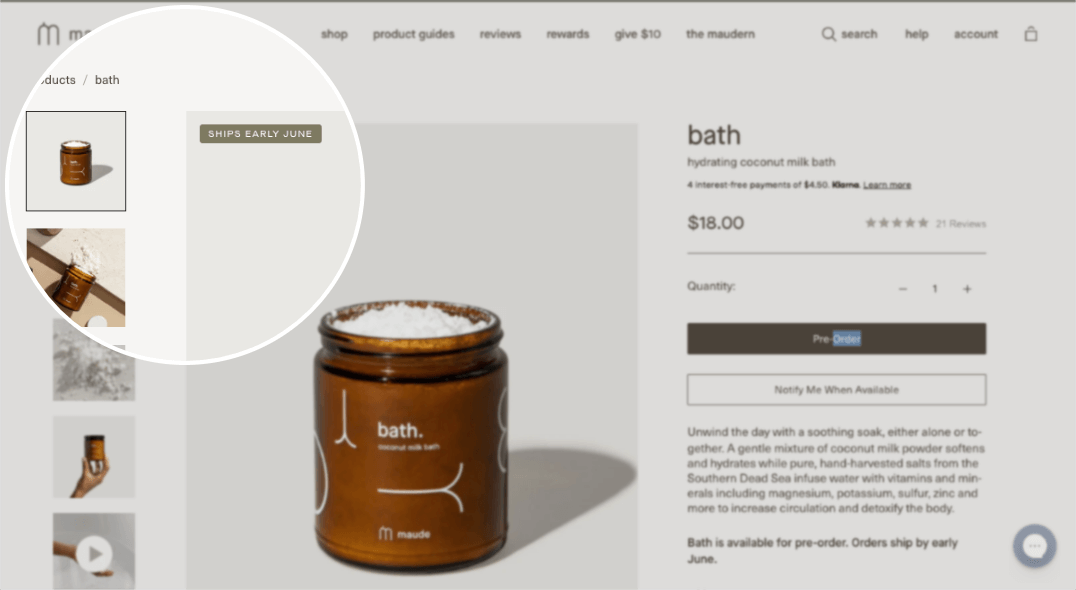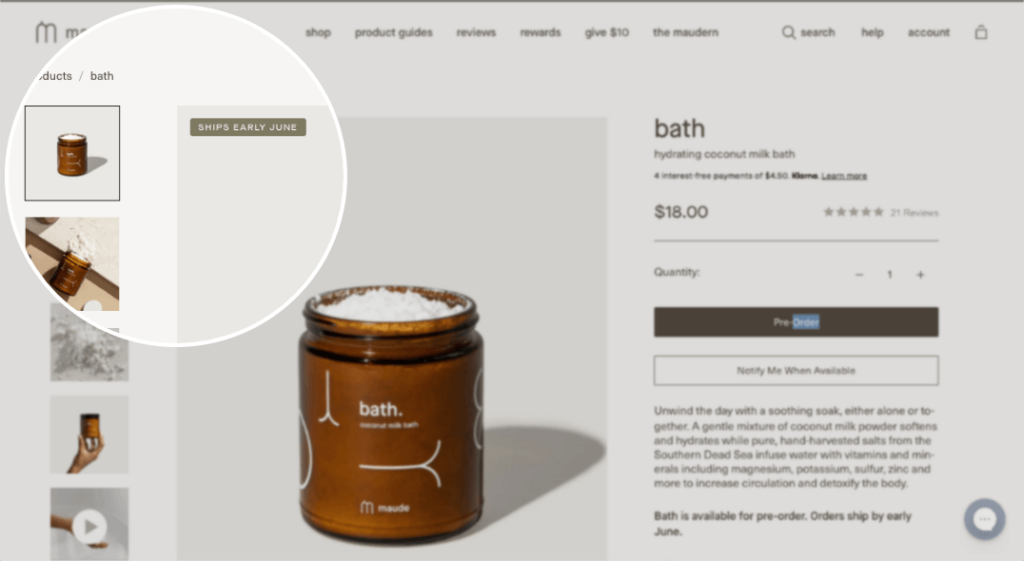 As a result, their customers haven't stopped buying when traditionally, indicated by an "Out of stock" or "Waitlist" label, there wouldn't have been anything available to purchase.
Part of that is because the days of relying solely on demand forecasting to avoid stockouts are rapidly disappearing. And brands are, instead, expected to change the way they approach handling inventory backlogs.
Imagine a world where you never had to markdown and take a hit on margins to shift dead stock. Or one where your cash conversion cycle wasn't beholden to an extensive inventory, and instead that cash remained with you until after you had already sold the product on backorder?
How to prevent runnning out of stock by selling on backorder
But, as with all good games, to play this new backorder one successfully, 3 rules should be followed:
1. Proactively monitor product availability
Weighing up the impact of backorder versus the capital outlay for an accelerated restocking means the economic viability of adjusting upcoming purchase orders (POs) should be carefully and effectively considered.
In other words, is it better for your business to have the products in stock and ready to ship immediately? Or to keep the money in the bank and only place orders once the products are purchased?
And if the latter, how will I manage this new demand and supply?
For Caraway, this meant partnering with Cogsy to achieve inventory optimization and support its new backorder model.
Cogsy helped Caraway monitor and accurately forecast its inventory and communicate with customers about when to expect products to ship. Armed with accurate data generated by inventory forecasting software, the cookware brand could set proper expectations around delivery dates. And as a result, they removed uncertainty and encouraged customers to purchase.
2. Know the actual effect of backorder
The backorder game isn't something you can play blindly. You need to have precise data on what matters. For example, your conversion rates when products are in stock and when they're out stock.
That way, you can calculate how "always in stock" as it compares to "sometimes on backorder" affects your profitability.
This data gets you even farther when you can couple it with tracking the percentage of backorders placed, then canceled before they are fulfilled. Knowing this rate allows you to fully understand how your customers are actually reacting to backorder purchasing.
3. Focus on the customer
When using a backorder system, the most crucial focus is prioritizing customer experience over everything. In other words, keeping consumers updated with every change or development in shipping.
This allows your customers to trust that their purchase will arrive on time, whether that's today or in 16 weeks. Tools like Rush already do this well, but their good customer experience only kicks in once an order starts shipping.
Next, you need to demystify the waiting period between when someone places an order and the stock becomes available. To do this, detail an estimated range of shipping dates or a specific date at checkout, whichever resonates best with your customers. Then, repeat that estimated shipping timeframe in all communication afterward, and update customers if anything changes. AKA, remain transparent, always.
Plus, you can ensure seamless communication by integrating your systems to create a clear, consistent, omnichannel experience for your customers. By providing your customer-facing support team with the same shipping information as the customer, you avoid confusion, further establish trust, and maximize customer satisfaction.
That's because, as I mentioned earlier, a communicated-with customer is a happy one. So, if you go quiet on them or keep them in the dark, you'll likely see a spike in backorder cancellations, lost sales, reduced cash flow, and unhappy reviews.
You can do all this without breaking trust or hurting profits
In other words, excellent customer experience coupled with efficient demand chain management can (and often does) garner loyalty and grow lifetime value.
Providing customers with the information they want and need at the point of sale (specifically shipping dates and updates) helps increase product demand and empowers them to make informed decisions about their purchases.
Say you have your product, market position, and promotion right. In that case, they will be likely to buy whether their order is ready to ship or currently on backorder for a bit longer.
Once your customer buys into your new backorder game and you give them a world-class experience, it can very quickly become their norm.
Out of stock FAQs
Get answers to the most common questions about going out of stock.
What does out of stock mean?
Out of stock (OOS) is a term used to refer to products that are currently unavailable for sale or use.
What is the difference between a sold out and out of stock item?
An out of stock situation is a temporary one and indicates that a particular product will be replenished. On the other hand, sold out items will not be restocked.
How to prevent products from going out of stock?
To improve your inventory management practices and reduce the chances of going out of stock, you can:
Monitor inventory data in real-time with radio-frequency identification (RFID)
Pay close attention to historical sales data to detect seasonal trends 
Identify high-demand SKUs
​Maintain calculated safety stock levels
Place timely replenishment orders
Try vendor managed inventory (VMI)
Reach your revenue goal
See how you can generate 40% more revenue and save 20+ hours a week with Cogsy.
Try free