Your purchasing workflow isn't working for you.
You have little visibility into when products will go out of stock.
You realize too late that you are running critically low on stock at any of your warehousing locations.
You can't act quickly enough to restock in time before going out of stock.
You're missing out on revenue and business growth.
Your customers want to buy from you, but they can't when you're out of stock.
Stockouts lead to a reduction in revenue for your brand.
Your working capital isn't utilized as well as it could be, so your brand isn't growing as you'd like it to.
Move beyond spreadsheets and create a proactive way to automate purchasing and reach your revenue goals with confidence.
Be proactive about your inventory and purchasing.
Stop waiting until it's too late.
Cogsy is always on, constantly monitoring your stock levels, so you have the latest up-to-date calculation on your optimal purchase orders.
Eliminate human errors from hurting your purchasing. You don't need to log in to your dashboard to check on your stock levels. We'll let you know when you need to take action.
Receive notifications at the optimal time to replenish your stock.
Choose the email frequency that feels best to your workflow: every weekday or once a week on Monday.
Not everyone on your team needs to be notified? No problem. Each user on your team can set their notification frequency individually.
Let us do the heavy lifting for you.
No need to export data, build a new model, double-check formulas, and fix errors. Your data is monitored and analyzed constantly and consistently.
When scenarios change, Cogsy can see those changes and let you know how your plan needs to change, as a result.
Always know what SKU need to be replenished, how much to order, when to place the PO, and where to send that inventory.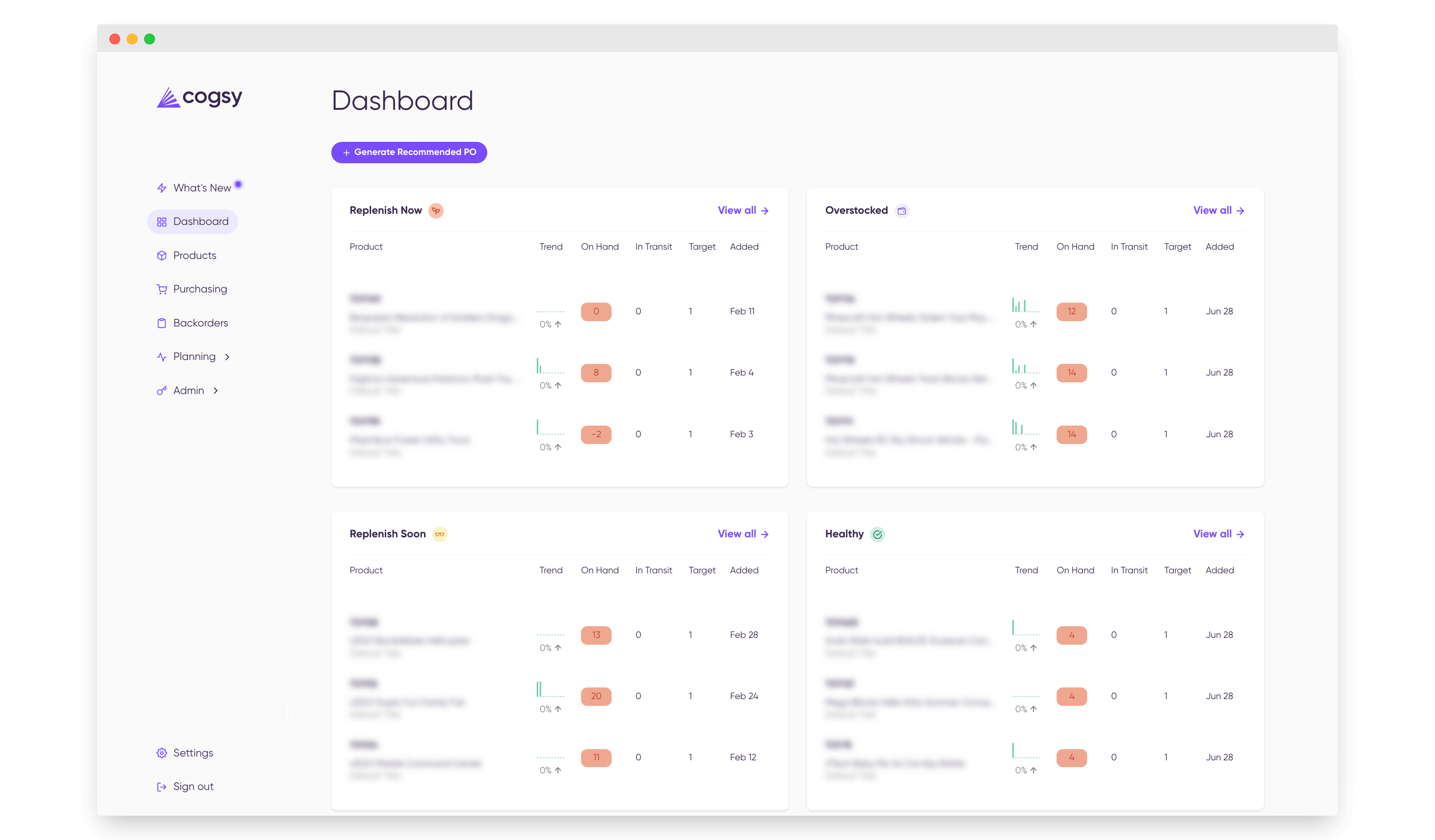 Never miss the optimal purchasing window again.
Grow your business through insightful action.
We're always monitoring your data and providing you with predictive intelligence.
Ensure you have the stock you need when you need it.
Meet your business goals with confidence and without stockouts.
Take smarter action around your stock levels and purchasing.
Cogsy will keep you informed when you need to take action.
Use your increased revenue to invest in your brand's future growth.