Guessing your purchase orders is costing your business.
You have little visibility into when products will go out of stock.
Without real clarity into past sales, you lack accuracy in forecasting future demand.
Predicting customer demand is impossible — a constant struggle to eliminate errors and gather the right data.
Purchasing too much unneeded products ties up cash you could use to grow your brand.
You're stuck paying storage costs, utilities, insurance, and more to protect this inventory on the off chance that it might sell in the future.
Your worst-selling products take up warehouse space that could hold your super-realiable best sellers.
When you add up all these costs, dead inventory costs a shocking 30% more than the inventory's value.
You also end up missing other important opportunities, as well.
If your cash is tied up in stock that doesn't sell, add in roughly 15% cost on missed opportunities you can't take action on.
You can't use that working capital for initiatives that support your growth, like hiring, developing new products, breaking into new markets, and more.
Things change constantly, and nobody can predict the future.
Customer demand is fickle and changes quickly. Your brand needs the agility to respond and adapt.
Supply chain disruptions can happen at any time. Lead times vary by SKU and by vendor, so you're not certain what to order and when.
Leave manually-updated spreadsheets behind for good.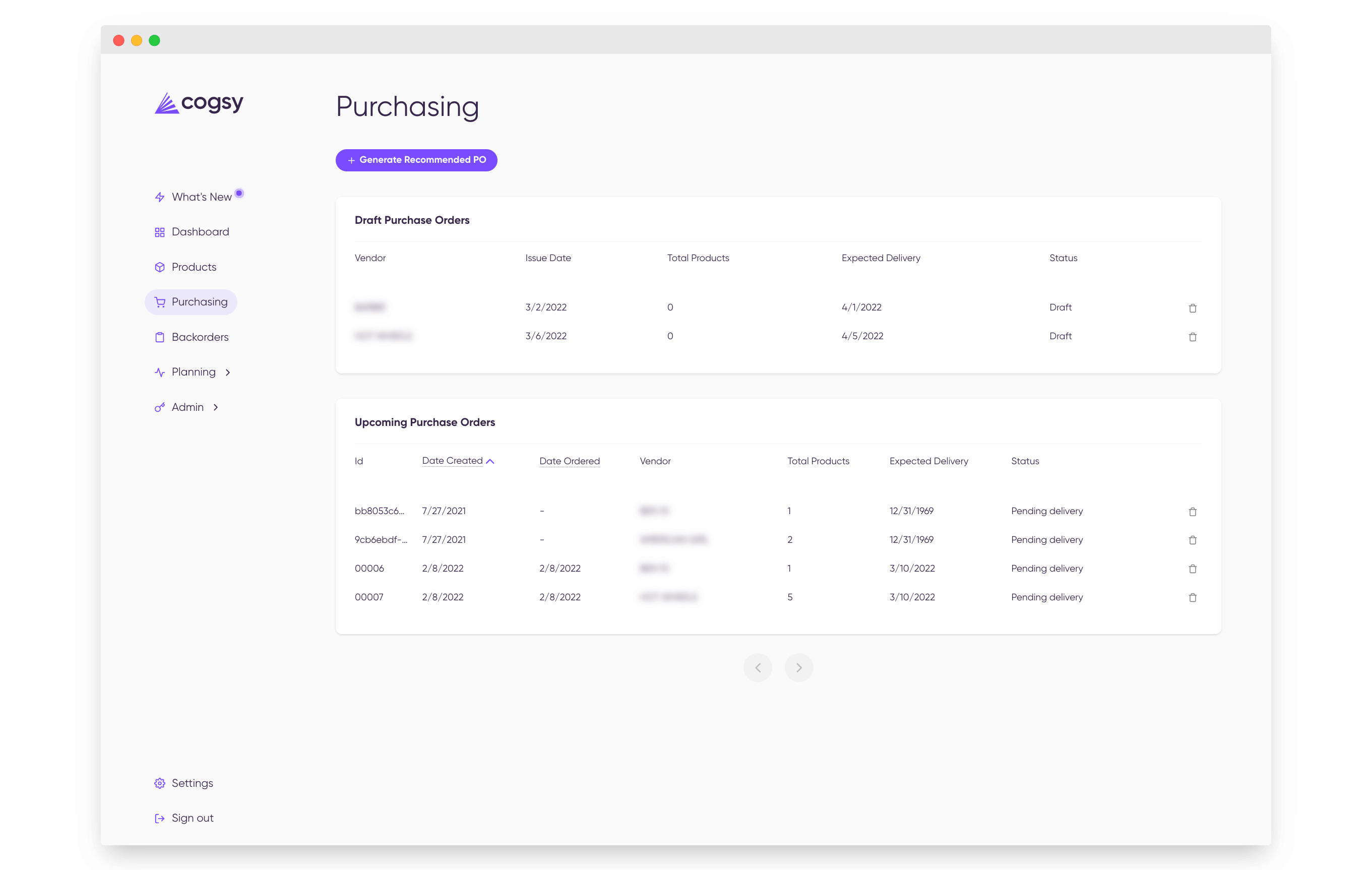 Automate your puchasing to optimize your inventory levels and working capital with confidence.
Keep a pulse on your sales and stock levels to create smarter purchase orders in one click.
Cogsy is always on, constantly monitoring your data, so you have the latest up-to-date calculation on your optimal purchase orders.
Take the guesswork and self-doubt out of your purchasing and planning.
Replace manually updated spreadsheets with proactive sales predictions that automatically forecast your sales, so you know what to expect and can prepare accordingly.
Eliminate human error and identify patterns before they affect your bottom line.
Know exactly when you need to order your products.
Our predictive inventory intelligence notifies you when you need to replenish, long before you run out.
Make proactive purchasing decisions to ensure you have the stock you need when you need it.
Set your lead times at the SKU, vendor or global level.
Get as specific as you want about how long it takes to receive your ordered products from your vendors.
Based on your lead times and historical sales data, we'll recalculate the products you need to order and when.
Create the optimal purchase order at the click of a button.
Once you've created a purchase order, you can edit it as you wish.
Make better, more proactive purchasing decisions.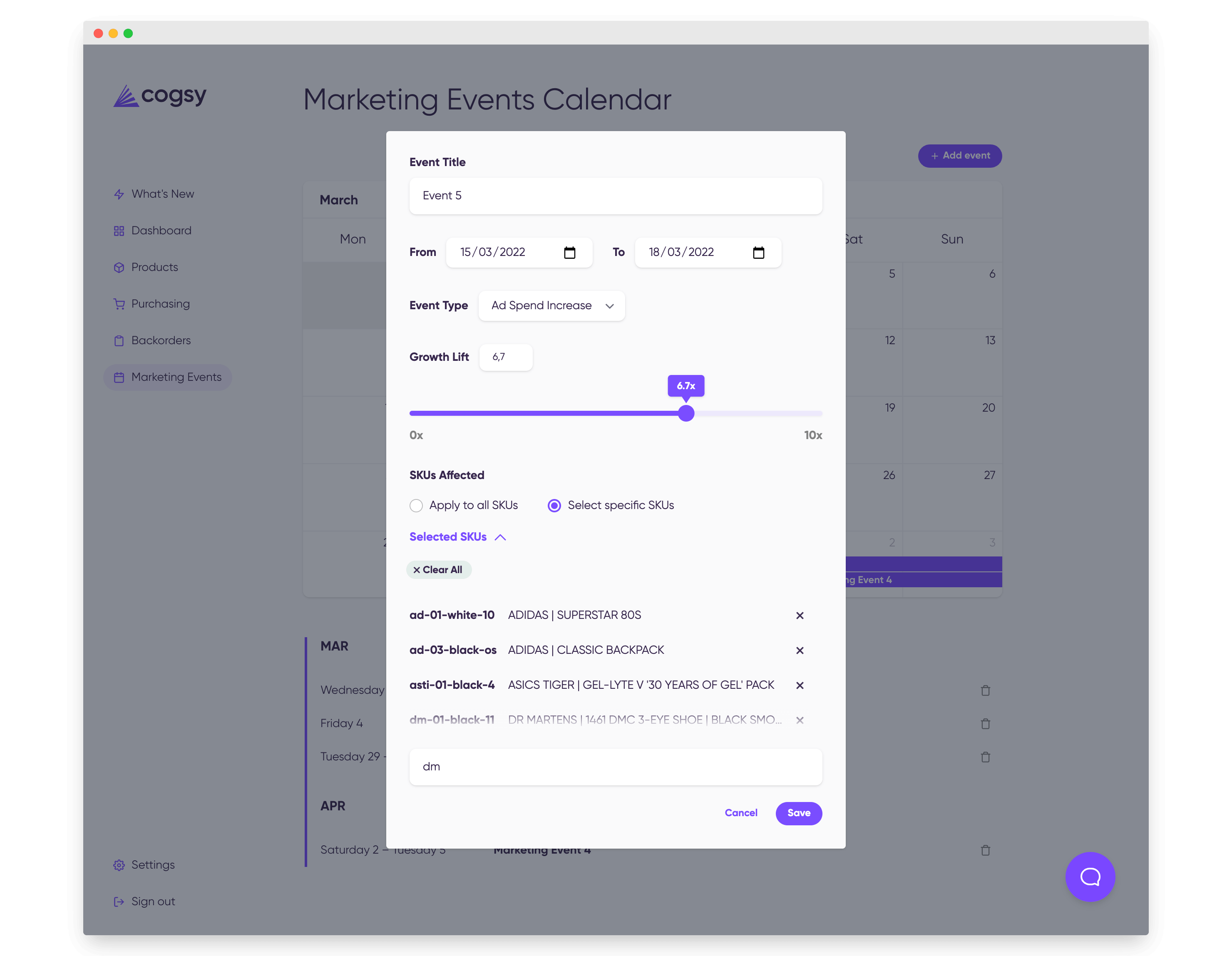 Set your brand up for long-term success.
Order the right amount of inventory — not too much, not too little.
Eliminate the accrued costs you're incurring on excess inventory laying around.
Keep your products in stock to avoid losing revenue during stockouts.
Utilize your working capital in the best way possible.
Run a lean operation while maintaining the agility your brand needs to thrive.
Invest your freed up working capital in projects that can lead your brand to future growth.