You can't make sense of all your data.
You don't need more data—you already have so much—and you need help making better decisions and taking smarter action.
It's difficult to pull insights out of all the numbers and disparate dashboards your team uses.
It's unclear how data from one tool relates to data from another tool.
This hinders your ability to take action.
Without true clarity into the levers that grow your business, you aren't sure what the next best step should be.
You can't be proactive about capitalizing on unexpected opportunities as they arise.
You aren't sure how to prioritize your best-selling products.
You buy too much of low-performing SKUs, which end up taking up space and accruing costs in warehouses.
Your brand's working capital isn't used effectively, and your growth is hindered as a result.
You need clarity to grow better.
Find signal in the noise.
Turn data into insight-driven action.
This is not a reporting tool or a system of record. We drive actions based on data insights.
If we find an insight amidst your data, we link it to a valuable action for your team.
Take proactive steps to maintain agility and growth.
Replace manually updated spreadsheets with predictive sales and inventory intelligence that automates your demand planning and purchasing, so you know what to expect and can prepare accordingly.
Ensure you have the stock at all your warehousing locations — so you don't miss out on revenue when customer demand knocks at your door.
View how future marketing events will have an effect on revenue and your stock levels.
Thrive in a volatile environment.
Cogsy is always "on", automatically monitoring the most important parts of your business in the background. Our customers trust the product to always have their back.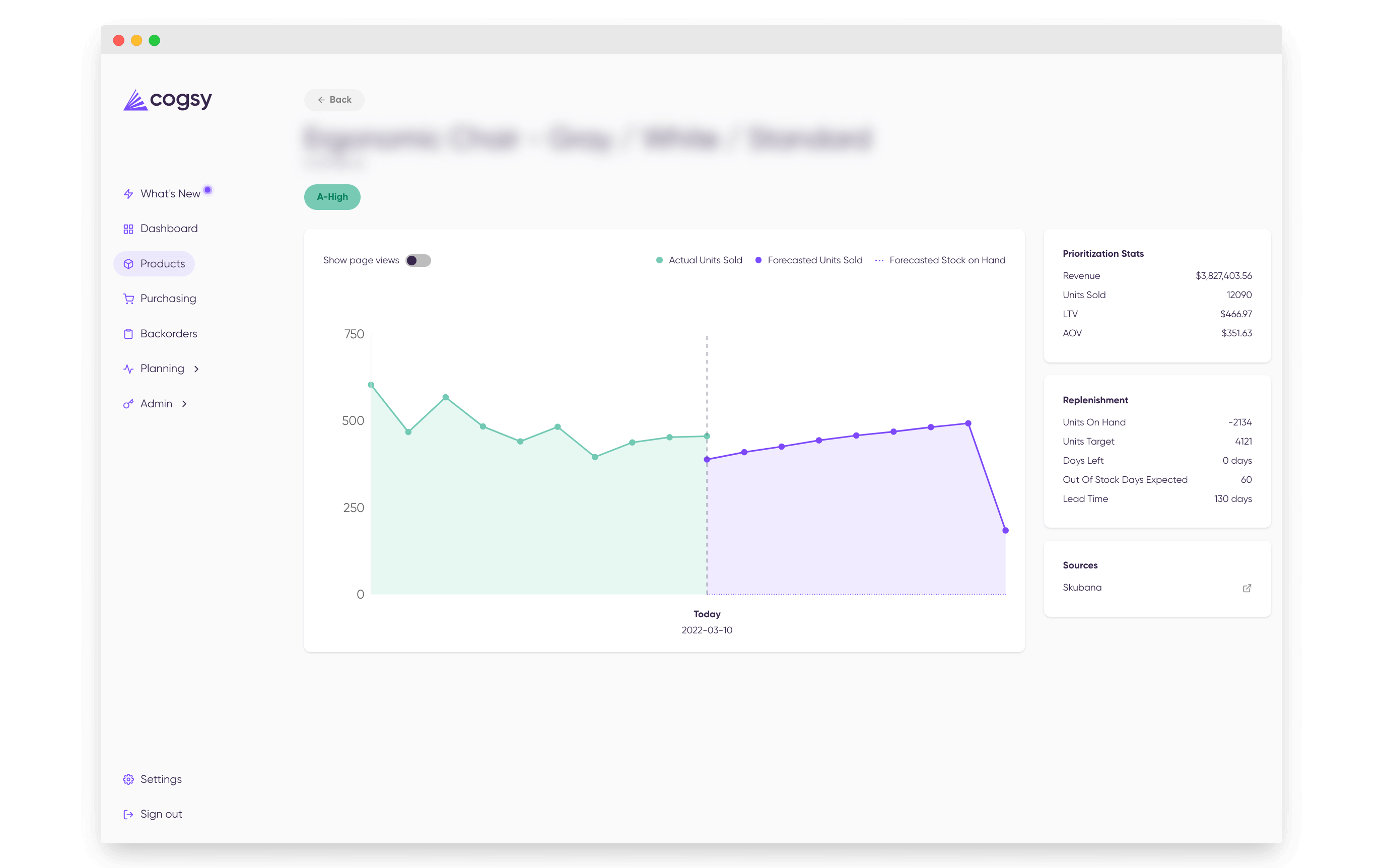 Bring your own tech stack.
Cogsy empowers brands to integrate data across the other choices they've made for best-in-class tools.
We ingest, sanitize and correlate data from multiple sources.
Pull in useful data from the tools you've chosen and we'll turn them into insights you can use to drive smart action.
Integrate with the tools that drive your retail brand's operations: