Is your planning growing your business as well as it should?
It takes way too long to create your operational plans.
It can take days or weeks to send data and spreadsheets out, have teams make edits, and then readjust the plan.
With some operational plans encompassing thousands of spreadsheets, it's a constant struggle to maintain links, eliminate errors, and keep all the information together.
Your ability to take action is hindered.
You have to wait for all that to conclude in order to make decisions and act.
This delays your abilities to capitalize on your opportunities and mitigate risks.
Nobody can predict the future, and you need more agility.
Growth is never as linear as planning predicts it to be.
Seasonality isn't taken into consideration.
Things change constantly, whether it's on the operational side or the customer demand side.
You're eager to find a way to create a plan and stay on track.
Because inaccurate and reactive planning negatively affects your bottom line.
How much is this costing your business?
Move beyond spreadsheets to create proactive models and reach your revenue goals.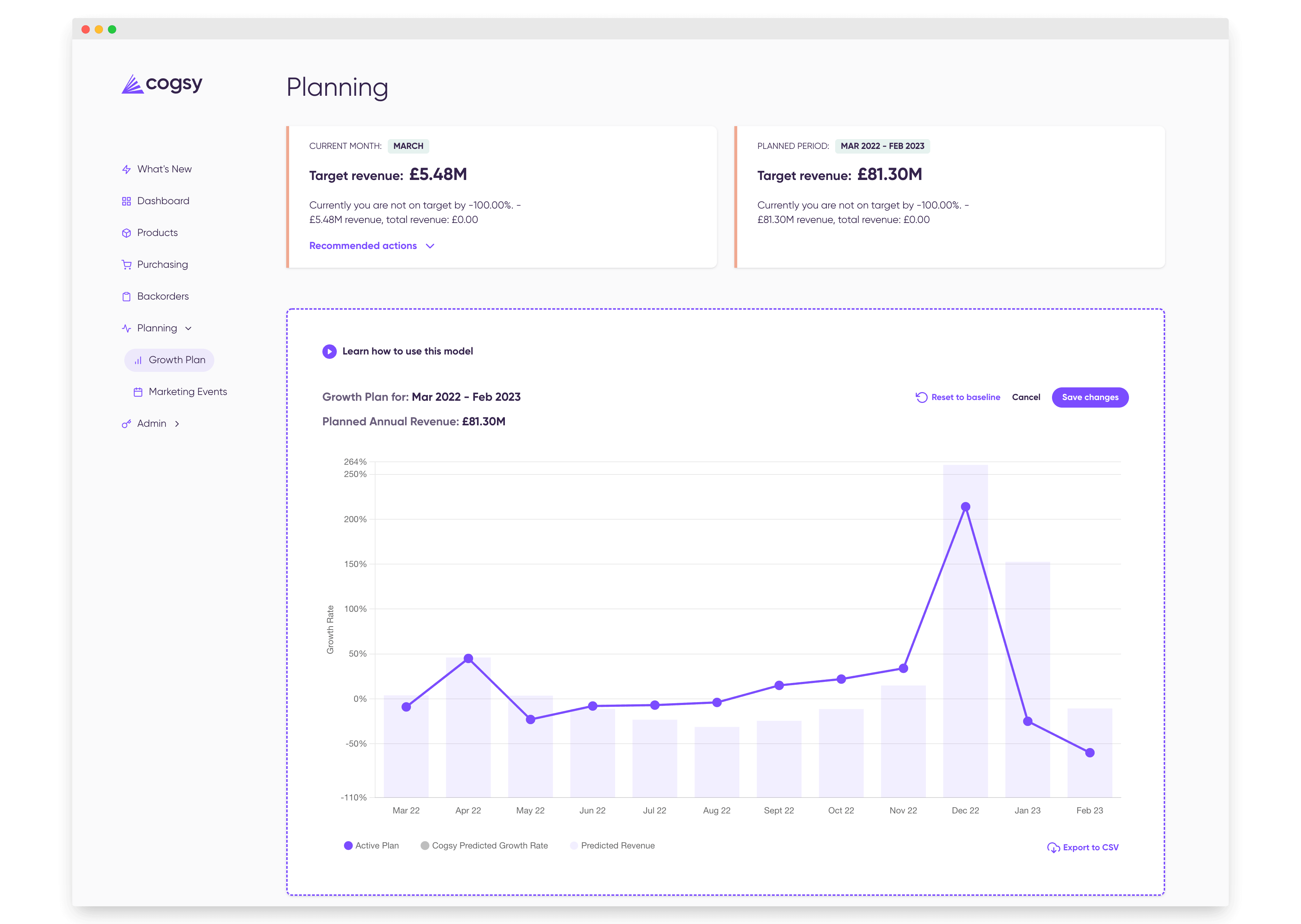 Your growth in your hands.
… not having to touch a spreadsheet to create your operational plan.
… no human errors contaminating your hard work.
… not worrying about gaps in your data and always having the latest data at your fingertips.
Move different growth levers to view how they affect your operational plan.
Input your month-over-month growth rate.
View how seasonality affects your revenue.
Add in future marketing events to view their effect on revenue.
View how your ad spend and metrics (like CAC, CVR, repeat purchase rate) change your plan.
Easily analyze the spectrum of plans and where the potential pitfalls are.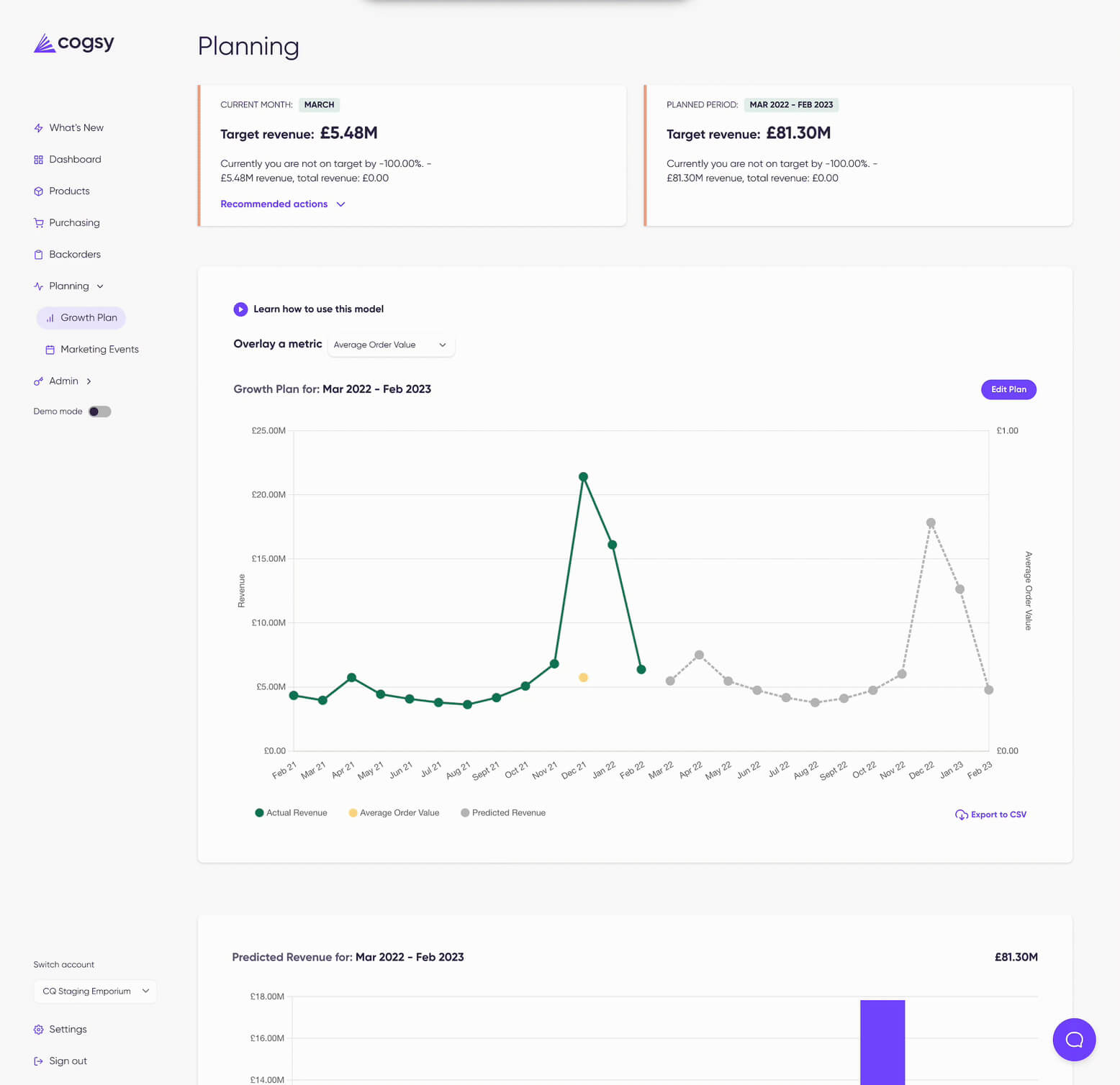 Carry out your operational plan with agility and confidence.
View your predicted revenue adjust in different scenarios.
Based on your adjusted growth rate, you'll view your predicted revenue and see how it fluctuates based on each change.
Evaluate whether or not the predicted revenue fits your intended business goals.
We'll help keep you on track.
Creating a plan is only the first part of success.
We're always monitoring your data to illuminate where plans go awry.
We'll notify you when things change, when you need to take action and how to adjust the plan and catapult your growth.
Make better, more proactive decisions for your business growth.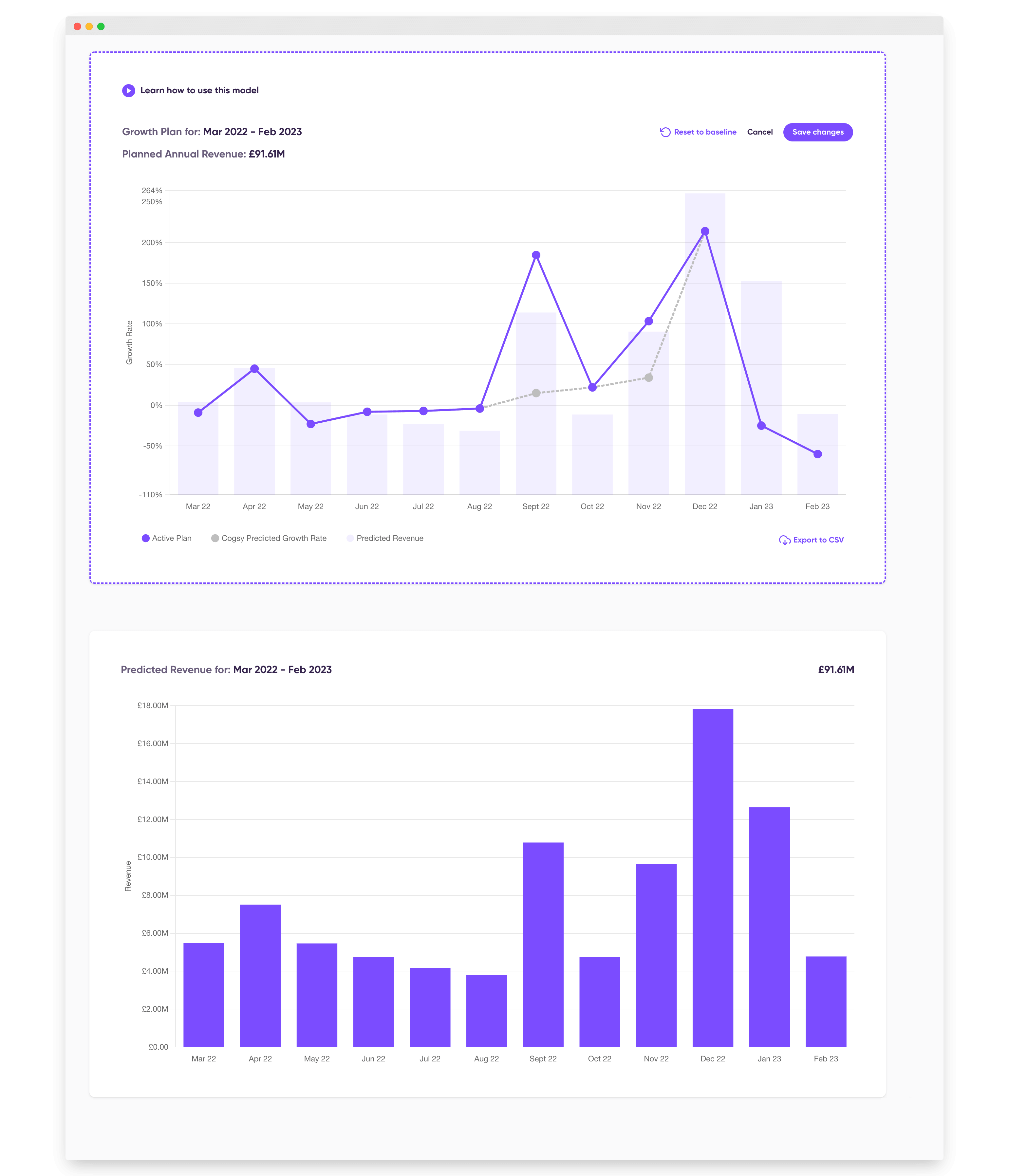 Set your business up for success in the upcoming year.
Map out different growth scenarios, so you can prepare accordingly.
Play with assumptions to model different growth scenarios.
Stay agile and adjust the plan when things go off track.
Create a better operational plan and stick to what's best for your growth.
Negotiate better deals with manufacturers.
Free up working capital for projects that can grow your brand.
Build a better, more agile future for your brand.