Today's bull market and stressed supply chain make stockouts inevitable. But back-in-stock notifications are no longer the best way to handle going out of stock. So, what is?
Direct-to-consumer (DTC) brands have long relied on back-in-stock alerts to stay in touch with customers when stockouts happen. After all, you can't sell inventory that you don't have. But you can entice those customers to come back and complete the purchase once you replenish
But how successful are these notifications for recouping revenue during stockouts? Do they convert customers? And is there a better way to sell the inventory you don't have right now?
Let's find out.
What are back-in-stock notifications?
Back-in-stock notifications let customers know that an out-of-stock product they recently showed interest in is once again in stock. This incentivizes customers to come back and complete the purchase.
Then, once it's replenished, you'll send an email or text (usually automated) to that prospective customer. This alert lets them know that the item is back and invites them to buy it.
Alternatively, some brands leverage browsing data and cookies instead of a contact capture form to reengage prospective buyers. Using the information gathered, the brand can either:
Send traditional back-in-stock notifications via email.
Target the customer with ads for that product once it's replenished.
No matter how you go about back-in-stock notifications, you can use these alerts to hopefully recoup revenue lost during a stockout.
However, back-in-stock notifications are not terrifically effective. Sure, they offer your brand a hands-off way to try and win back customers. But the reality is 21-41% of customers will purchase a similar product from your competitor before they ever get this notification.
As a result, back-in-stock notifications see a dismal 5-15% conversion rate. This means that most back-in-stock notifications only marginally outperform stockouts, which don't convert at all.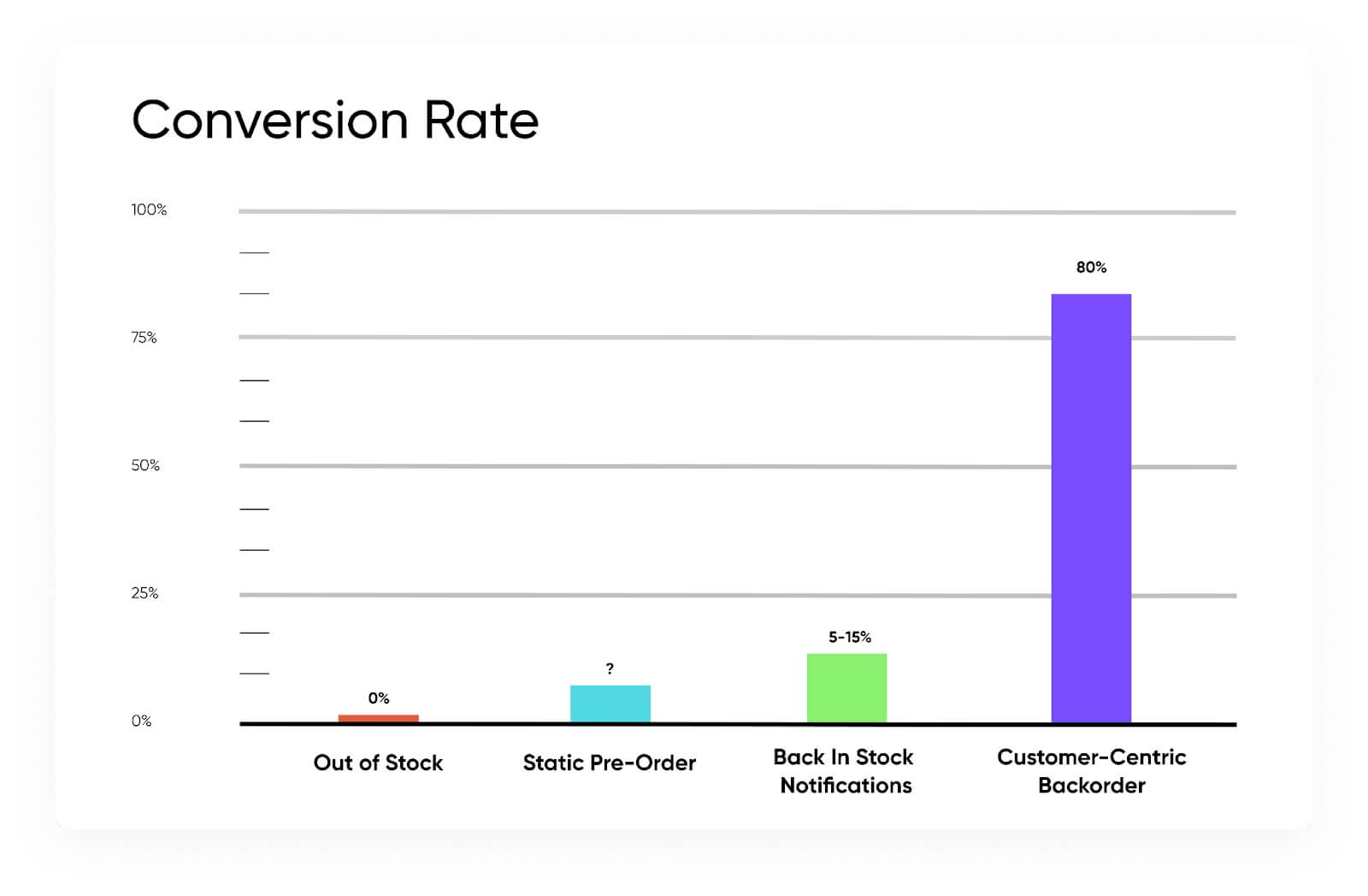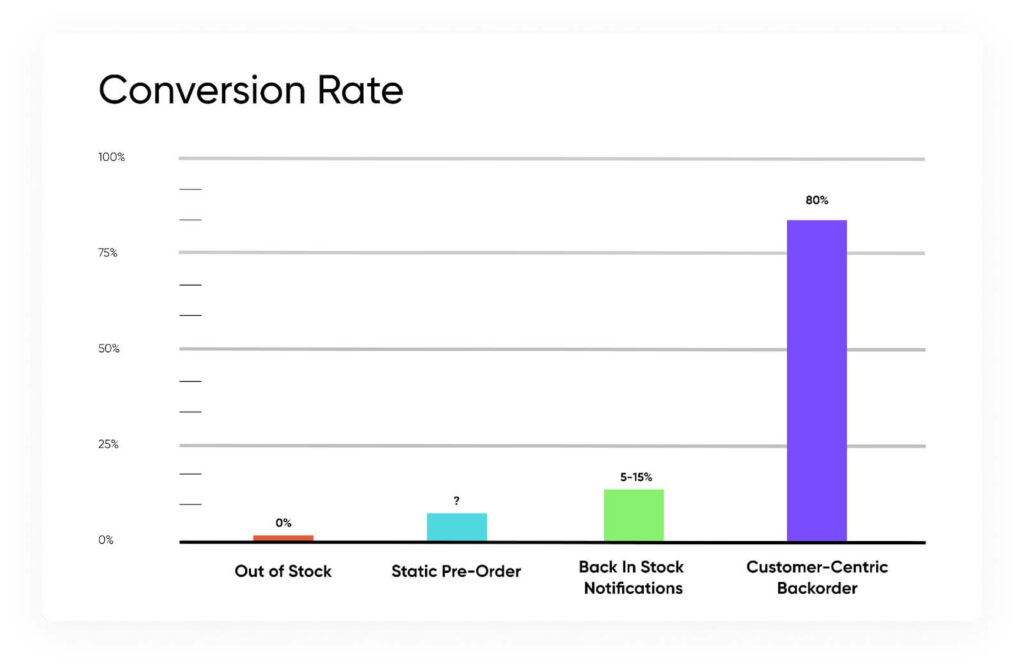 So, how can you boost your back-in-stock notifications so they consistently perform closer to that 15% conversion rate (or better)? Make sure they include all the right information.
How to set up back-in-stock notifications
First things first, before you can send back-in-stock notifications, your brand has to have the right infrastructure in place to collect the customer's contact information. And how you go about that depends on the tool you use.
Here's how to set up back-in-stock notifications on the most common seller's platforms: Shopify, WooCommerce, and Amazon Sellers.
Shopify back-in-stock notifications
For Shopify brands, the Back In Stock: Customer Alerts app is the best way to manage back-in-stock notifications. It only takes five minutes to set up. And once configured, the app starts collecting customer emails (or phone numbers for SMS alerts) on your sold-out product pages. Then, it automatically alerts prospective buyers when the item is back in stock.
Plus, Shopify Back in Stock notifications come with customizable email notification templates and work with any Shopify theme. They can also be personalized to match your branding.
WooCommerce back-in-stock notifications
For WooCommerce brands, a $50 add-on called "Back In Stock Notifications" is the best way to set up back-in-stock notifications. Like the Shopify plug-in, the WooCommerce competitor prompts buyers to submit their emails when they show interest in a sold-out product. Then, it automatically notifies them when the item is back in stock.
But the WooCommerce add-on also offers inventory insights into customer demand for these out-of-stock items. With this information, you can better gauge how much you need to reorder.
Plus, Back In Stock Notifications automatically adds the collected contact information to your email marketing lists (with an easy option for customers to unsubscribe). This way, you can continue to nurture the relationship, even if the person doesn't decide to complete this sale.
Amazon Sellers back-in-stock notifications
Back-in-stock notifications work a little differently for Amazon Sellers because you can list a product as backordered instead of setting up back-in-stock alerts. That means you can accept orders right away and ship them at a later date (once you've replenished inventory).
But this backorder option only works for out-of-stock items you've already sold and can ship within the next 30 days. And with longer order lead times and unreliable supply chains, this option isn't a real option for most Amazon sellers.
Customers can use Back In Stock Alerts, a free 3rd-party tool, to know when your products are back in stock outside this 30-day window. But only if they know that the tool exists (most people don't).
What information should back-in-stock alerts have?
Back-in-stock notifications have two critical components: the confirmation and the actual alert. And both should feature only the most pivotal information to ensure they're as successful as possible.
The confirmation
As soon as someone signs up for back-in-stock notifications, reassure the prospective customer that they'll be the first to know when that item is back. Typically, brands send a simple email or text to confirm the contact information. But you can also do this as a pop-up on the sold-out product page after you've collected the customer's data.
Either way, this message should verify the item they're interested in. Then, set the expectation that they'll be notified as soon as the item's back in stock (ideally with a rough timeline for when that will be).
However, knowing that back-in-stock notifications aren't hyper-effective, you can also use this touchpoint to try and make another sale. For example, try highlighting recommended products (use sales trends to suggest items frequently bought with the sold-out item or bought instead). That way, you can hopefully close a sale by striking while the intent is still there.
Plus, once a customer gives you their email, you're allowed to add it to your mailing list unless the person has specifically opted out of your marketing messages. In other words, while you're waiting for the product to replenish, you can continue to nurture the customer. And if you can keep the lead warm, they'll be much more likely to buy your product when it's back in stock.
For example, Public Rec, an athleisure clothing brand, sends out an email right away to reassure buyers that they're on the back-in-stock notification list. This kind of email helps customers encourage them to wait (instead of shopping elsewhere) and hopefully ties their future purchases to your brand.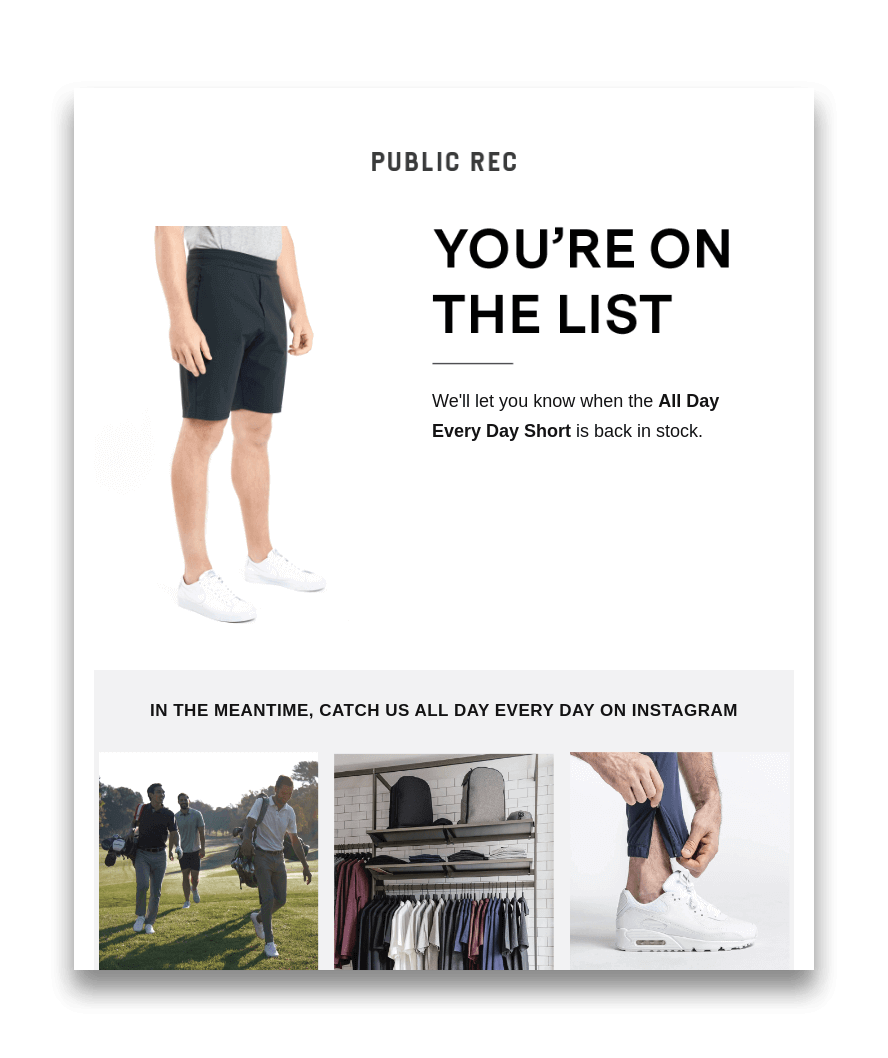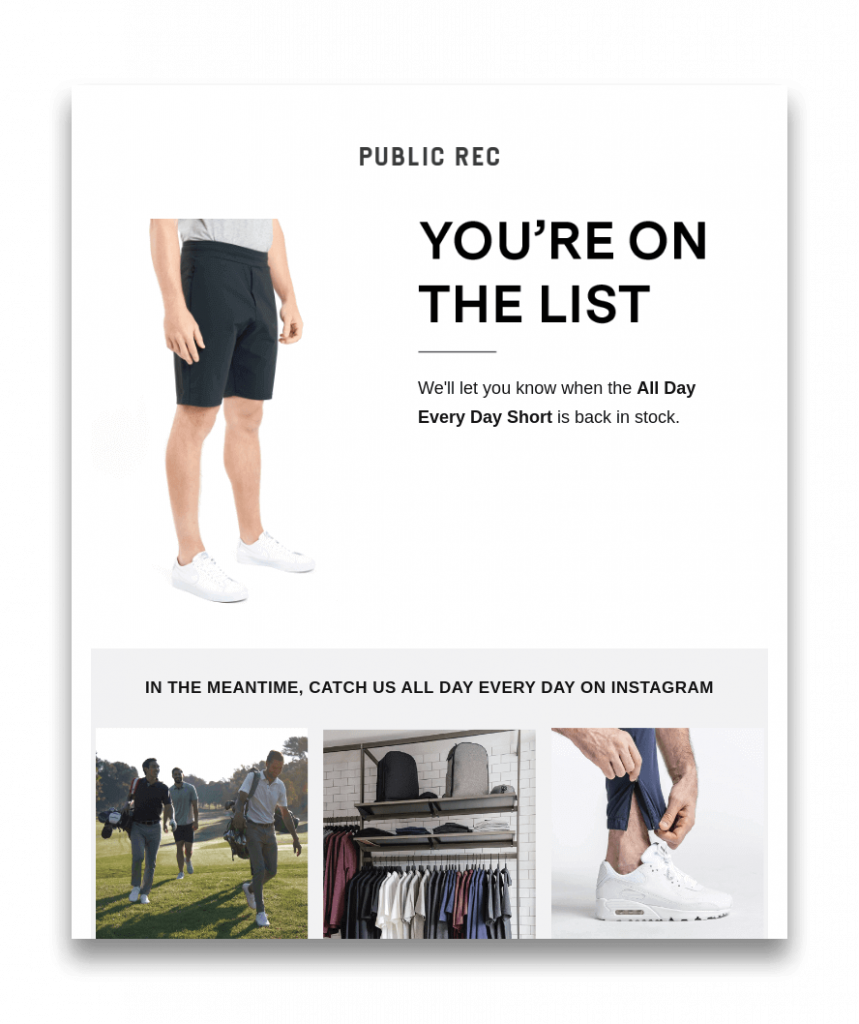 The back-in-stock alert
Back-in-stock notifications are, admittedly, pretty formulaic. The alerts that perform best include:
Clear subject line: Get right to the point with your email subject, include the exact product you've replenished, and make it personal if you can. For example, "Your favorite item is back in stock" is much more enticing than just "The item is back in stock!"
Sense of urgency: Create some urgency for the buyer by tapping into the fear of mission out (FOMO). Your email template should include something like, "Don't miss out on this chance again" or even "Get it before it's gone" nudges customers to act before the next batch sells out.
Incentivize to purchase: Encourage email readers to buy right away by offering bonuses in the email, like free shipping. An incentive can also offset any customer frustration for the product being out of stock in the first place. Or you can add customer reviews to help readers decide to buy before clicking through to the product page.
Cross-sell, personalization, and storytelling: Back-in-stock emails focus on the replenished product. But that doesn't mean you can't also plug other products or your brand in general. Cross-sell slow-moving SKUs or use your CRM data to build customized shopping lists. You can even tie in your brand story (via striking visuals and concise copy) to reignite the intent to purchase.
Call-to-action (CTA): Obviously, you want to make it easy for customers to purchase products from the email. So, make sure you add a clear CTA (Buy Now or Shop Now) after announcing the product is back in stock and link it to the product page.
For example, Sonos is a leader in home audio and uses incredibly light copy and simple imagery to make their back-in-stock notifications stand out. The super clear subject "Restock alert: Your favorites are back" helps increase the email's open rate. Then, the inside content keeps the product front-and-center and incentivizes buyers with free shipping.
Likewise, home essentials retail brand Snowe takes a more whimsical and storytelling approach with their notifications. They pull readers in with on-brand imagery, and they create a sense of urgency with playful copy that reads, "Now I'm back. Don't let me go."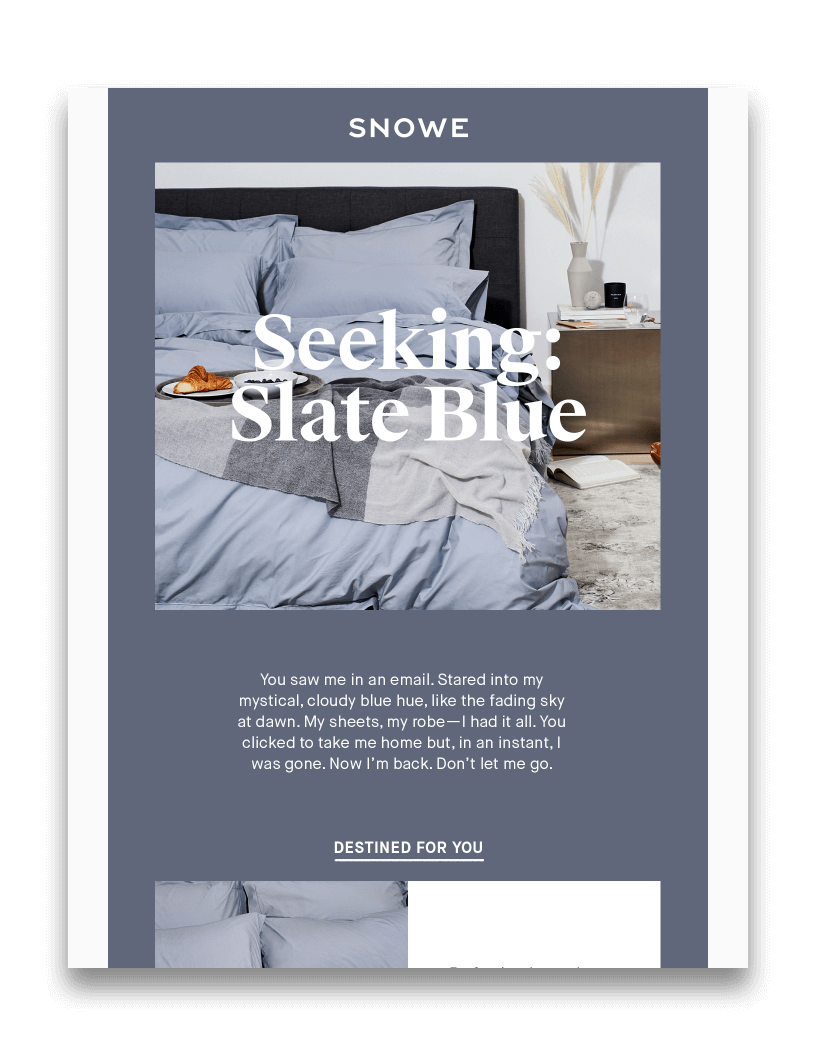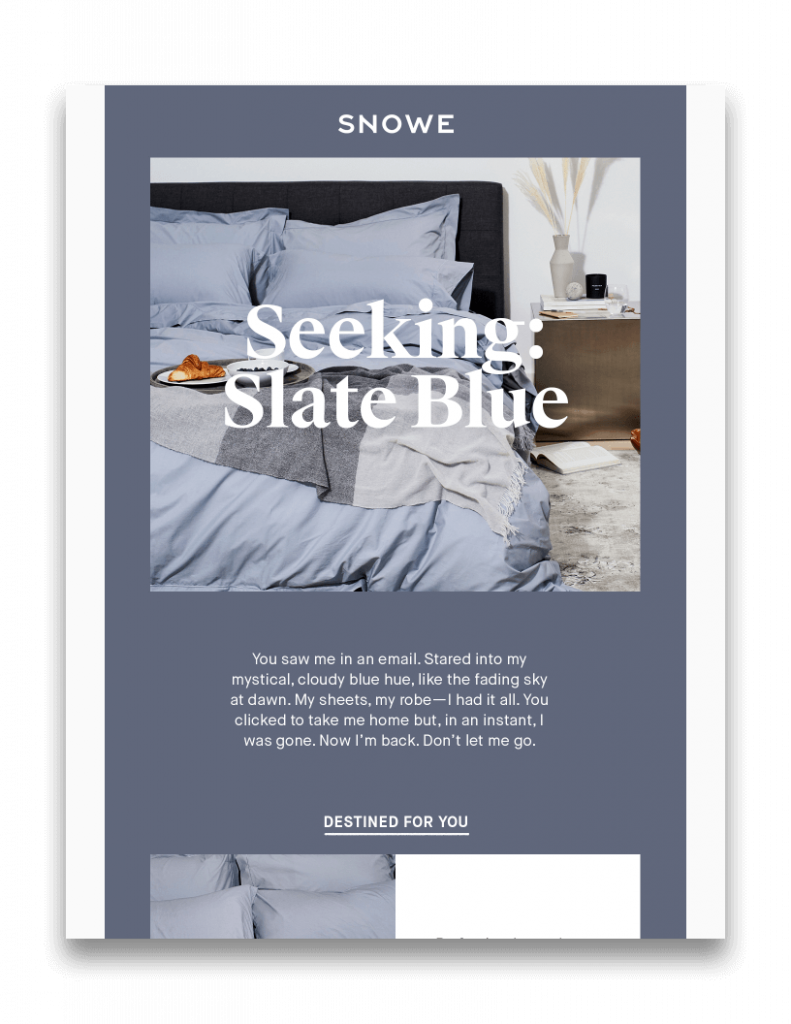 The problem with back-in-stock notifications
Like I mentioned earlier, back-in-stock notifications have long been ecommerce retailers' go-to solutions for stockouts. But there's one major problem that even the best back-in-stock alerts can't solve. They can't guarantee that customers will come back and make the purchase later, and it's actually more likely that they won't.
And while this is better than 0% conversion when you don't use back-in-stock notifications to handle stockouts, you're still leaving a lot of revenue on the table.
Not to mention the more severe the stockout is (meaning, the more products you have out of stock), the more it costs your brand. This is especially true if you're running social media ads during your stockout.
For example, say you spend $10k on ads per month. These ads convert at a conservative 3% rate when all your products are in stock. This means if the ads drove 5k visitors to your website, 150 of them converted, and you spent $66.67 to acquire each new customer.
But when products are out of stock, these ads get more expensive.
For example, say that you spend the same $10k on ads but are out-of-stock on a best-seller. So, your ads conversion rate drops to 2.8%. In this case, the same ad drives the same number of visitors. But it only leads to 140 new customers, increasing customer acquisition costs (CAC) to $71.41.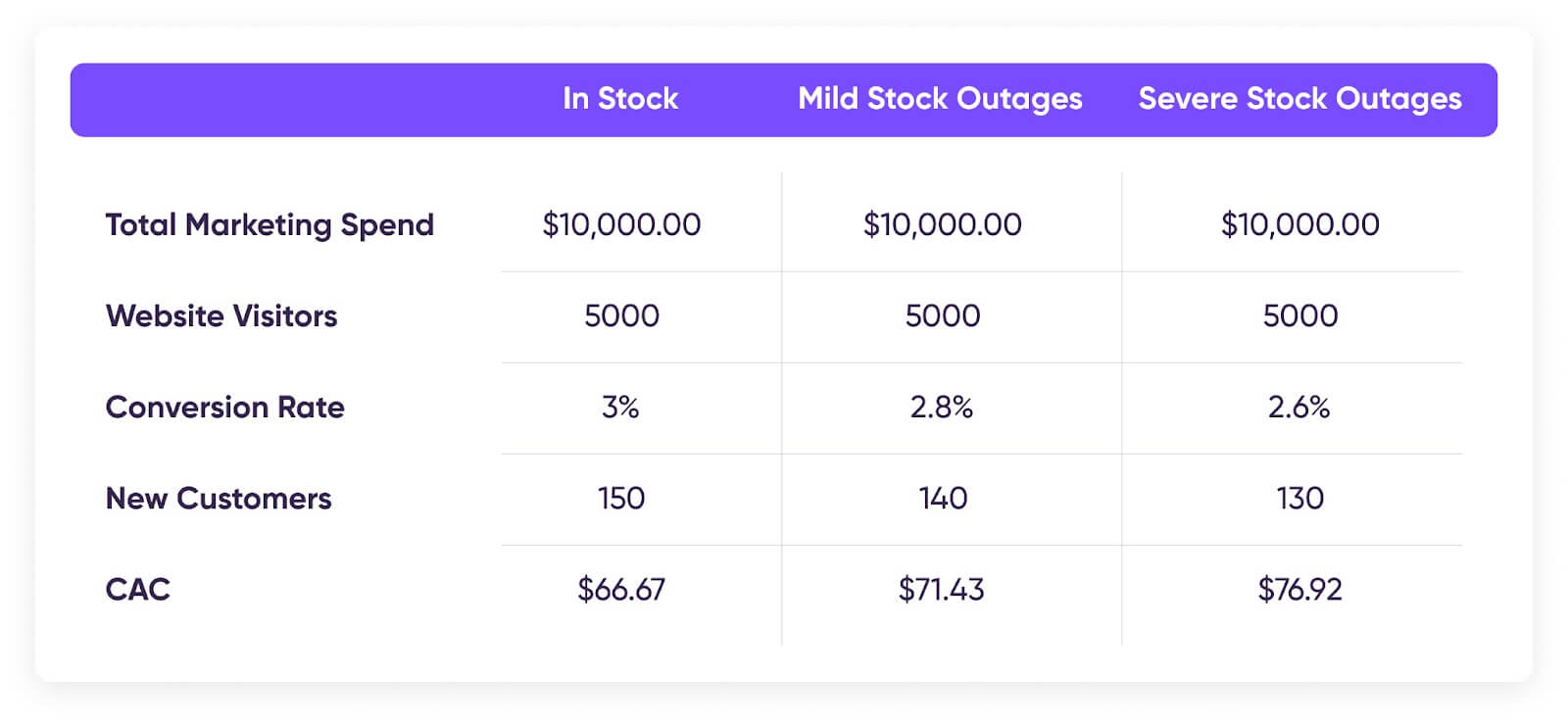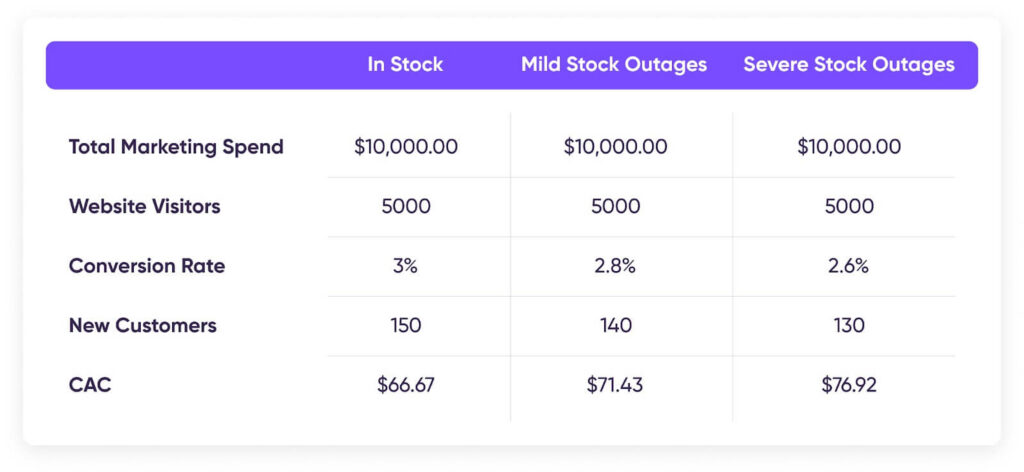 The more severe your stockout gets, the more your conversion rate drops, and the higher CAC rises. And unlike returning customers, this traffic doesn't have any loyalty to your brand yet. So, while they might sign up for your back-in-stock notifications, there's little chance they'll actually come back to complete the purchase.
Because of this, you want to close the sale when the prospective customers' intent is highest (in this case, when they're on your sold-out product page). The best way to do this is by selling on backorder with a tool like Cogsy.
Selling on backorder: the better way to handle stockouts
Modern retail brands (like Instagram's favorite clean cookware company Caraway) are ditching back-in-stock notifications and selling on backorder with Cogsy. And they're seeing a negligible drop in sales, compared to selling the product in stock, as a result.
That's because when you sell on backorder, you don't have to wait until products are back-in-stock to recoup revenue. Instead, you can maintain a reliable revenue stream by empowering people to complete the purchase even if you can't fulfill their order immediately.
Not to mention you flip the cash conversion cycle by reducing the time your business is cash flow negative during a stockout. As a result, you're untieing capital that would otherwise be stuck waiting for your purchase order to arrive, so you can invest in other growth initiatives.
I know – but won't people be frustrated by this customer experience? Not if you set clear and accurate expectations around when they'll get their back-ordered products. And Cogsy makes communicating this information easy by automatically and dynamically displaying the next shipment date across your entire store:
On the product page
In the customer's cart
On the emailed receipt
This extra layer of transparency encourages customers to complete the purchase. And it minimizes frustration when the product doesn't shop up in 3-5 business days. (That means less people reaching out to your support team, asking for refunds.)
Plus, with Cogsy, you can avoid stockouts in the first place by:
Accurately forecasting demand using real-time inventory levels and past trends
Optimizing your purchase orders (all you have to do is check and submit)
Reminding you to replenish, so you always submit your order with plenty of lead time before the stockout
Building sustainable operational plans to hit your most audacious revenue goals
See how Cogsy can improve your brand's operations – set up a quick demo today!
Back in stock notification FAQs
How do you send back-in-stock notifications?
Sending back-in-stock notifications requires you to collect your customers' contact information. Shopify and WooCommerce brands can use the Customer Alerts app and the Back In Stock Notifications add-on respectively, while Amazon sellers can sell out-of-stock items on backorder.
How do you write a back-in-stock email?
A back in stock email should have a clear subject line, create a sense of urgency and an incentive to purchase with a call to action. A back in stock alert following these guidelines will improve the customer experience, while resulting in higher click-through and conversion rates.
Reach your revenue goal
See how you can generate 40% more revenue and save 20+ hours a week with Cogsy.
Try free